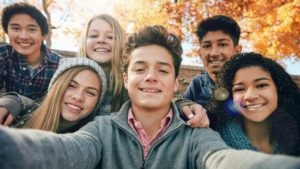 Mindfulness Area Research: Effects of Mindfulness with Adolescents
Adolescence is a time of mental, physical, social, and emotional growth. It is during this time that higher levels of thinking, sometimes called executive function, develops. But adolescence can be a difficult time, fraught with challenges. During this time the child transitions to young adulthood; including the development of intellectual, psychological, physical, and social abilities and characteristics. There are so many changes occurring during this time that the child can feel overwhelmed and unable to cope with all that is required. Indeed, up to a quarter of adolescents suffer from depression or anxiety disorders, and an even larger proportion struggle with subclinical symptoms. Mindfulness training in adolescents it has been shown to improve emotion regulation and to benefit the psychological and emotional health.
Summaries of recent studies of the application of mindfulness training for the treatment of addictions can be found at the Adolescents link http://contemplative-studies.org/wp/index.php/category/research-news/adolesence/ on the Contemplative Studies blog http://contemplative-studies.org/wp/ .
Links to the Research
Restrain Body Fatness Growth During Adolescence with Yoga
http://contemplative-studies.org/wp/index.php/2019/01/31/restrain-body-fatness-growth-during-adolescence-with-yoga/
Mindfulness is Associated with Lower Anxiety and Depression in Adolescents Partly by Higher Emotional Intelligence
http://contemplative-studies.org/wp/index.php/2019/01/30/mindfulness-is-associated-with-lower-anxiety-and-depression-in-adolescents-partly-by-higher-emotional-intelligence/
Mindfulness is Associated with Higher Emotional Intelligence
http://contemplative-studies.org/wp/index.php/2018/12/29/mindfulness-is-associated-with-higher-emotional-intelligence/
Promote Healthy Eating and Physical Activity in Adolescents with Yoga
http://contemplative-studies.org/wp/index.php/2018/12/28/promote-healthy-eating-and-physical-activity-in-adolescents-with-yoga/
Improve Adolescent's Self-Compassion and Reduce Emotional Eating with Mindful Parenting
http://contemplative-studies.org/wp/index.php/2018/12/19/improve-adolescents-self-compassion-and-reduce-emotional-eating-with-mindful-parenting/
Improve Emotional Responding in Adolescents with School-Based Mindfulness Training
http://contemplative-studies.org/wp/index.php/2018/12/08/improve-emotional-responding-in-adolescents-with-school-based-mindfulness-training/
Improve Psychological Health of Youthful Criminal Offenders with Mindfulness
http://contemplative-studies.org/wp/index.php/2018/12/06/improve-psychological-health-of-youthful-criminal-offenders-with-mindfulness/
Improve Emotion Regulation and Gait in Obese Adolescents with Yoga
http://contemplative-studies.org/wp/index.php/2018/10/06/improve-emotion-regulation-and-gait-in-obese-adolescents-with-yoga/
Improve Depression in Overweight Adolescent Girls with Mindfulness
http://contemplative-studies.org/wp/index.php/2018/08/24/improve-depression-in-overweight-adolescent-girls-with-mindfulness/
Reduce Self-Harming in Adolescents with Mindfulness
http://contemplative-studies.org/wp/index.php/2018/08/14/reduce-self-harming-in-adolescents-with-mindfulness/
Improve PTSD and Academic Burnout in Adolescents with Mindfulness and Parental Attachment
http://contemplative-studies.org/wp/index.php/2018/08/02/improve-ptsd-and-academic-burnout-in-adolescents-with-mindfulness-and-parental-attachment/
Decrease Adolescent Emotional Problems with Mindful Parenting
http://contemplative-studies.org/wp/index.php/2018/06/07/decrease-adolescent-emotional-problems-with-mindful-parenting/
Improve Health Behaviors in Adolescents with Mindfulness
http://contemplative-studies.org/wp/index.php/2018/05/21/improve-health-behaviors-in-adolescents-with-mindfulness/
Reduce Psychological Symptoms of Trauma with Mindfulness
http://contemplative-studies.org/wp/index.php/2018/02/21/reduce-psychological-symptoms-of-trauma-with-mindfulness/
Improve Pain Responding in Adolescents with Mindfulness
http://contemplative-studies.org/wp/index.php/2018/02/13/improve-pain-responding-in-adolescents-with-mindfulness/
Improve Children's Absorption of Micronutrients with Yoga
http://contemplative-studies.org/wp/index.php/2017/12/19/improve-childrens-absorption-of-micronutrients-with-yoga/
Mindfulness is Associated with Reduced Inflexibility and Psychopathology in Adolescents
http://contemplative-studies.org/wp/index.php/2017/12/14/mindfulness-is-associated-with-reduced-inflexibility-and-psychopathology-in-adolescents/
Improve Emotions of Ethnically Diverse At-Risk Students with Mindfulness
http://contemplative-studies.org/wp/index.php/2017/12/13/improve-emotions-of-ethnically-diverse-at-risk-students-with-mindfulness/
Improve Adolescent Mental Health and School Performance with Yoga
http://contemplative-studies.org/wp/index.php/2017/08/15/improve-adolescent-mental-health-and-school-performance-with-yoga/
Improve Anxiety in Adolescents with Mindfulness
http://contemplative-studies.org/wp/index.php/2017/07/15/improve-anxiety-in-adolescents-with-mindfulness/
Improve Sleep Problems in Adolescents with Mindfulness
http://contemplative-studies.org/wp/index.php/2017/06/08/improve-sleep-problems-in-adolescents-with-mindfulness/
Decrease Alcohol Intake and Related Consequences in Teens with Mindfulness
http://contemplative-studies.org/wp/index.php/2017/06/06/decrease-alcohol-intake-and-related-consequences-in-teens-with-mindfulness/
Improve Adolescents Psychological Health Self-Compassion and Mindfulness
http://contemplative-studies.org/wp/index.php/2017/04/11/improve-adolescents-psychological-health-self-compassion-and-mindfulness/
Reduce Adolescent Risk Taking with Mindful Parenting
http://contemplative-studies.org/wp/index.php/2017/03/29/reduce-adolescent-risk-taking-with-mindful-parenting/
Reduce Youth Dissociative Disorders with Mindfulness
http://contemplative-studies.org/wp/index.php/2017/02/22/reduce-youth-dissociative-disorders-with-mindfulness/
Help Headaches in Adolescents with Mindfulness
http://contemplative-studies.org/wp/index.php/2016/12/12/help-headaches-in-adolescents-with-mindfulness/
Mindfulness is Associated with Less On-Line Reduce Dating Violence
http://contemplative-studies.org/wp/index.php/2016/11/19/mindfulness-is-associated-with-less-on-line-reduce-dating-violence/
Produce Better Diabetes Management in Adolescents with Mindful Parenting
http://contemplative-studies.org/wp/index.php/2016/11/05/produce-better-diabetes-management-in-adolescents-with-mindful-parenting/