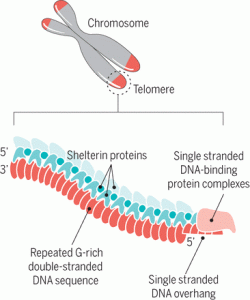 Slow Cellular Aging with Mindfulness
By John M. de Castro, Ph.D.
"those with more years of meditation practice had longer telomere length overall, and that women meditators had significantly longer telomeres as compared to women non-meditators. These findings further support meditation's positive effect on healthy cellular aging." – Sonima Wellness
One of the most exciting findings in molecular biology in recent years was the discovery of the telomere. This is a component of the DNA molecule that is attached to the ends of the strands. Recent genetic research has suggested that the telomere and its regulation is the biological mechanism that produces aging. It has been found that the genes, coded on the DNA molecule, govern cellular processes in our bodies. One of the most fundamental of these processes is cell replication. Cells are constantly turning over. Dying cells or damaged are replaced by new cells. The cells turn over at different rates but most cells in the body are lost and replaced between every few days to every few months. Needless to say, we're constantly renewing ourselves.
As we age the tail of the DNA molecule called the telomere shortens. When it gets very short cells have a more and more difficult time reproducing and become more likely to produce defective cells. On a cellular basis, this is what produces aging. As we get older the new cells produced are more and more likely to be defective. The shortening of the telomere occurs each time the cell is replaced. So, slowly as we age it gets shorter and shorter. This has been called a "mitotic clock." This is normal. But telomere shortening can also be produced by oxidative stress, which can be produced by psychological and physiological stress. This is mediated by stress hormones and the inflammatory response. So, chronic stress can accelerate the aging process. In other words, when we're chronically stressed, we get older faster.
Fortunately, there is a mechanism to protect the telomere. There is an enzyme in the body called telomerase that helps to prevent shortening of the telomere. It also promotes cell survival and enhances stress-resistance.  Research suggests that processes that increase telomerase activity tend to slow the aging process by protecting the telomere.  One activity that seems to increase telomerase activity and protect telomere length is mindfulness practice. Hence, engaging in mindfulness practices may protect the telomere and thereby slow the aging process.
In today's Research News article "Association among dispositional mindfulness, self-compassion, and leukocyte telomere length in Chinese adults." (See summary below or view the full text of the study at: https://www.ncbi.nlm.nih.gov/pmc/articles/PMC6647116/), Keng and colleagues recruited adults, aged 18 to 55 years of age, with no regular meditation or mindfulness practice. Blood samples were drawn and leukocyte telomere length measured. In addition, they were measured for mindfulness, self-compassion, anxiety, depression, and stress.
They found that, as expected, the older the participant the shorter the telomere length and the higher the levels of perceived stress, the shorter the telomere length. When controlling for age they found that the higher the levels of overall mindfulness and the nonreactivity facet of mindfulness the longer the length of the telomeres. Also, when controlling for age the higher the levels of overall self-compassion and the common humanity and de-identification from one's thoughts and emotions facets of self-compassion the longer the length of the telomeres.
It needs to be kept in mind that these results are correlational and as such causation cannot be determined. However, previous research has demonstrated a causal link by training mindfulness and finding increased telomere lengths. This suggests that the present associations were due to a causal connection between mindfulness and telomere length.
In addition, these were young and middle-aged adults who did not display high levels of mindfulness, stress or psychological distress. Mindfulness is thought to affect telomere length as a result of reducing stress which is responsible for shortening the telomers. So, only mild association would be expected. Clearer larger association may require older more distressed participants. The fact that it was the nonreactivity facet of mindfulness that was most strongly associated with longer telomeres supports the contention that stress reduction is the critical effect of mindfulness. By reducing the reaction to events, stress is lowered which, in turn, decreases cellular aging.
These results suggest that mindfulness, particularly the nonreactivity facet of mindfulness and self-compassion common humanity and de-identification from one's thoughts and emotions facets of self-compassion reduces cellular aging. Mindfulness increases self-compassion. So, although not tested here, mindfulness may decrease cellular aging both directly and indirectly via self-compassion. By protecting the telomeres from shortening and mindfulness reduces cellular aging. In this way mindfulness may lead to happier and longer lives.
So, slow cellular aging with mindfulness.
"one of the most effective interventions, apparently capable of slowing the erosion of telomeres – and perhaps even lengthening them again – is meditation." – Jo Marchant
CMCS – Center for Mindfulness and Contemplative Studies
This and other Contemplative Studies posts are also available on Google+ https://plus.google.com/106784388191201299496/posts and on Twitter @MindfulResearch
Study Summary
Keng, S. L., Yim, O. S., Lai, P. S., Chew, S. H., & Ebstein, R. P. (2019). Association among dispositional mindfulness, self-compassion, and leukocyte telomere length in Chinese adults. BMC psychology, 7(1), 47. doi:10.1186/s40359-019-0323-y
Abstract
Background
Whereas meditation training has been purported to support slower cellular aging, little work has explored the association among different facets of dispositional mindfulness, self-compassion, and cellular aging. The present study aimed to examine the relationship between leukocyte telomere length (LTL), an index of cellular aging, dispositional mindfulness, and self-compassion in a sample of Singaporean Chinese adults.
Methods
One hundred and fifty-eight Chinese adults (mean age = 27.24 years; 63.3% female) were recruited from the community and completed self-report measures assessing dispositional mindfulness, self-compassion, and psychological symptoms, as well as provided blood samples for analyses of LTL. Multiple regression analyses were conducted to examine the role of trait mindfulness and self-compassion in predicting LTL, taking into consideration potential covariates such as chronological age and psychological symptoms.
Results
Results showed that nonreactivity, one of the five facets of dispositional mindfulness, was significantly associated with LTL, after controlling for chronological age. There was also a trend for dispositional mindfulness, self-compassion, and their selected facets (i.e., nonjudging, common humanity, and de-identification) to each be associated with longer LTL.
Conclusions
Overall, the findings provide preliminary support for the association among aspects of dispositional mindfulness, self-compassion, and aging. In particular, individuals high on nonreactivity experience slower aging at the cellular level, likely through engaging in more adaptive coping mechanisms.
https://www.ncbi.nlm.nih.gov/pmc/articles/PMC6647116/