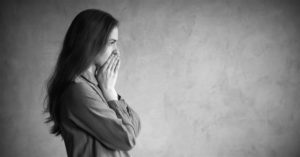 Improve Executive and Emotional Control of Grief with Mindfulness
By John M. de Castro, Ph.D.
"Mindfulness for grief is not about whitewashing your pain, or "getting over" your loss. It is about learning how to stay present, cultivate compassion, and make wise choices that will help you cope with this new normal known as life after loss." – Heather Stang
Grief is a normal, albeit complex, process that follows a loss of a significant person or situation in one's life. This can involve the death of a loved one, a traumatic experience, termination of a relationship, loss of employment etc. Exactly what transpires depends upon the individual and the nature of the loss. It involves physical, emotional, psychological and cognitive processes. Not everyone grieves in the same way but there have been identified four general stages of grief, shock and denial, intense concern, despair and depression, and recovery. These are normal and healthy. But, in about 15% of people grief can be overly intense or long and therapeutic intervention may become necessary.
Mindfulness practices have been found to help with coping with loss and its consequent grief.  Mindfulness-Based Cognitive Therapy (MBCT)  was specifically developed to treat depression. MBCT involves mindfulness training, containing sitting, walking and body scan meditations, and cognitive therapy That is designed to alter how the patient relates to the thought processes that often underlie and exacerbate psychological symptoms. This would seem to be an ideal treatment protocol to treat intense grief.
In today's Research News article "Mindfulness Improves Emotion Regulation and Executive Control on Bereaved Individuals: An fMRI Study." (See summary below or view the full text of the study at: https://www.ncbi.nlm.nih.gov/pmc/articles/PMC6360180/ ), Huang and colleagues recruited participants who had lost a significant relative within the last 4 years and self-reported intense unresolved grief. They completed an 8-week, once a week for 2.5 hours Mindfulness-Based Cognitive Therapy (MBCT) treatment including daily, 30-40 minute, home practice. The participants were measured before and after treatment for grief, anxiety, depression, and emotion regulation.
The participants also underwent 3 brain scanning sessions with functional Magnetic Resonance Imaging (fMRI). During 2 of the sessions they performed a numerical Stroop task in which they were to report which of 2 numerals was larger. In one session they were to ignore the physical size of the numeral and only report on the numerically larger numeral. In the second session they were to ignore the numerical magnitude of the numeral and only report on the physically larger numeral. This task measures cognitive interference and executive control.
They found that after MBCT treatment there were large and highly significant increases in mindfulness and emotion regulation and decreases in grief, anxiety, and depression. They also found that after treatment the higher the level of mindfulness the lower the levels of grief, anxiety, and depression. In addition, the participants after treatment were significantly better at ignoring irrelevant stimuli and respond faster in the Stroop task. This suggests reduced negative emotionality and improved cognitive control.
The researchers observed that after treatment during the cognitive task there was a decrease in activity in the cingulate cortex. These areas are involved in what is termed the Default Mode Network which becomes active during mind wandering and self-referential thinking. In other words, the brain areas associated with a lack of attention to the task at hand became less active. This suggests that there was greater attention to the present moment after MBCT training.
Long-term intense grief can be very harmful to the psychological and physical well-being of the individual. The present findings suggest that MBCT practice may be an effective treatment. It appears to reduce the negative emotions and improve the ability to regulate them in grieving individuals. It appears to do so, by altering the brain systems associated with mind wandering. It is during mind wandering where rumination occurs that tends to exacerbate anxiety and depression. So, the brain changes produced by MBCT treatment tend to keep the individual focused on the present lowering the impact of the past on their emotional state.
So, improve executive and emotional control of grief with mindfulness.
"Mindfulness reminds us that pain and sorrow, like all else, are impermanent.  Does this mean grief goes away completely?  Of course not.   But it does mean that it will change shape and form, it will ebb and flow, some days it will hurt like hell and some days you will start to smile.  It means that our grief, like everything else, is impermanent and ever-changing.  Once we accept this, even if only on a rational level, some of the need to avoid our grief starts to diminish.  We can stop believing it is permanent and will never change, even when we feel it will last forever.  We can start noticing and accepting our grief for what it really is and the small changes every day in our experiences.' – WYG
CMCS – Center for Mindfulness and Contemplative Studies
This and other Contemplative Studies posts are also available on Google+ https://plus.google.com/106784388191201299496/posts and on Twitter @MindfulResearch
Study Summary
Huang, F. Y., Hsu, A. L., Hsu, L. M., Tsai, J. S., Huang, C. M., Chao, Y. P., Hwang, T. J., … Wu, C. W. (2019). Mindfulness Improves Emotion Regulation and Executive Control on Bereaved Individuals: An fMRI Study. Frontiers in human neuroscience, 12, 541. doi:10.3389/fnhum.2018.00541
Abstract
The grief of bereavement is recognized as a severe psychosocial stressor that can trigger a variety of mental and physical disorders, and the long-lasting unresolved grief has a detrimental effect on brain functionality. Literature has documented mindfulness-based cognitive therapy (MBCT) as an efficient treatment for improving well-being, specifically related to the mood and cognition, in a variety of populations. However, little attention has been devoted to neural mechanisms with regard to bereaved individuals' cognition after MBCT intervention. In this study, we recruited 23 bereaved participants who lost a significant relative within 6 months to 4 years to attend 8-week MBCT course. We used self-reporting questionnaires to measure emotion regulation and functional magnetic resonance imaging (fMRI) with the numerical Stroop task to evaluate the MBCT effect on executive control among the bereaved participants. The self-reported questionnaires showed improvements on mindfulness and reductions in grief, difficulties in emotion regulation, anxiety, and depression after the MBCT intervention. The fMRI analysis demonstrated two scenarios: (1) the activity of the fronto-parietal network slightly declined accompanied with significant improvements in the reaction time of incongruent trials; (2) the activities in the posterior cingulate cortex and thalamus were positively associated with the Texas Revised Inventory of Grief, implying emotional interferences on cognitive functions. Results indicated that MBCT facilitated the executive control function by alleviating the emotional interferences over the cognitive functions and suggested that the 8-week MBCT intervention significantly improved both executive control and emotion regulation in bereaved individuals.
https://www.ncbi.nlm.nih.gov/pmc/articles/PMC6360180/