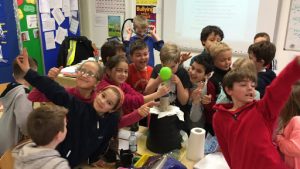 Improve Primary School Students' Attention and Behavior with Mindfulness
By John M. de Castro, Ph.D.
"For kids who have suffered from prolonged stress or trauma, mindfulness seems to offer a way of "short-circuiting" the fight-or-flight response. It helps kids with the greatest self-regulation challenges adapt to slower, more methodical classroom settings." – Amanda Moreno
Childhood is a miraculous period during which the child is dynamically absorbing information from every aspect of its environment. It is here that behaviors, knowledge, skills, and attitudes are developed that shape the individual. But what is absorbed depends on the environment. If it is replete with speech, the child will learn speech, if it is replete with trauma, the child will learn fear, if it is replete with academic skills the child will learn these, and if it is replete with interactions with others, the child will learn social skills.
Elementary school environments have a huge effect on development. They are also excellent times to teach children the skills to adaptively negotiate its environment. Mindfulness training in school, at all levels has been shown to have very positive effects. These include academic, cognitive, psychological, and social domains. Importantly, mindfulness training in school appears to improve the student's self-concept. It also improves attentional ability and reduces stress, which are keys to successful learning in school. Since, what occurs in the early years of school can have such a profound, long-term effect on the child it is important to further study the impact of mindfulness training on the development of thinking skills in elementary school children.
In today's Research News article "The Effect of a Mindfulness-Based Intervention on Attention, Self-Control, and Aggressiveness in Primary School Pupils." (See summary below or view the full text of the study at: https://www.ncbi.nlm.nih.gov/pmc/articles/PMC7178275/), Suárez-García and colleagues recruited two 3rd grade primary school classes with children between the ages of 7 to 10 years. One class received 8 weekly mindfulness training sessions with 10 minutes of daily practice. At the end of the 8 weeks of training for the first class, the second class received the mindfulness training. They were measured before and after each intervention for intellectual ability and attentional ability. In addition, the teachers were asked to evaluate the children for attentional problems, self-control deficits, and aggressiveness.
They found that in comparison to the control classroom and the baseline the mindfulness trained children had significant reductions in attentional problems and self-control deficits. The second class after their mindfulness training also showed significant reductions in attentional problems and self-control deficits. No significant changes in aggressiveness were observed.
The results are similar to findings with adults that mindfulness training improves attention and self-control and that mindfulness training can be successfully implemented in schools producing improvements in attentional ability. The findings that mindfulness training in 3rd grade classrooms can also improve attention and self-control is important as these abilities are essential to the education of the students. The improvements would also contribute to better management of the classroom. Changes in academic progress were not measured. But the results suggest that the children would perform better in school after mindfulness training.
So, improve primary school students' attention and behavior with mindfulness.
"for students specifically, mindfulness has been shown to improve cognitive performance, so students can focus and concentrate better." – Anya Kamenetz
CMCS – Center for Mindfulness and Contemplative Studies
This and other Contemplative Studies posts arealso available on Google+ https://plus.google.com/106784388191201299496/posts and on Twitter @MindfulResearch
Study Summary
Suárez-García, Z., Álvarez-García, D., García-Redondo, P., & Rodríguez, C. (2020). The Effect of a Mindfulness-Based Intervention on Attention, Self-Control, and Aggressiveness in Primary School Pupils. International journal of environmental research and public health, 17(7), 2447. https://doi.org/10.3390/ijerph17072447
Abstract
The objective of this study was to examine the effect of Mindkeys Training, a mindfulness-based educational intervention, on attention, self-control, and aggressiveness in third-year primary school pupils. In order to achieve this aim, a switching replications design was used. Two groups of third year primary students (nGE1 = 40; nGE2 = 33), aged between 7 and 10 years old (M = 8.08; DT = 0.49), had the intervention at different time points, such that while one served as the experimental group, the other served as the control group. Longitudinal differences were examined in both groups, and cross-sectional differences were examined between the two groups at three time points; at the start of the study, and following the intervention with each group. To that end, measurements of problems of attention, deficits of self-control, and aggressiveness for students were obtained via a teacher rating scale. The intervention program demonstrated a positive effect on the reduction of pupils' attention problems, deficits of self-control, and aggressiveness. The effects were greater on the cognitive variables that the intervention worked on directly (attention and self-control). Attention was the variable on which the intervention exhibited the longest term effects.
https://www.ncbi.nlm.nih.gov/pmc/articles/PMC7178275/