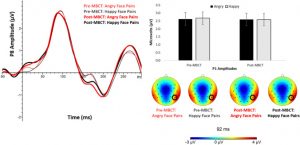 Alter Cognition of Patients with Anxiety with Mindfulness
By John M. de Castro, Ph.D.
"Anxiety can mentally exhaust you and have real impacts on your body. But before you get anxious about being anxious, know that research has shown you can reduce your anxiety and stress with a simple mindfulness practice." – Mandy Ferreira 
Anxiety disorders are the most common mental illness in the United States, affecting 40 million adults, or 18% of the population. A characterizing feature of anxiety disorders is that the sufferer overly identifies with and personalizes their thoughts. The sufferer has recurring thoughts, such as impending disaster, that they may realize are unreasonable, but are unable to shake. Anxiety disorders have generally been treated with drugs. But there are considerable side effects, and these drugs are often abused. There are several psychological therapies for anxiety. But, about 45% of the patients treated do not respond to the therapy. So, there is a need to develop alternative treatments. Recently, it has been found that mindfulness training can be effective for anxiety disorders.
Mindfulness-Based Cognitive Therapy (MBCT) has been shown to be effective in treating anxiety disorders. MBCT involves mindfulness training, containing sitting, walking and body scan meditations, and cognitive therapy that attempts to teach patients to distinguish between thoughts, emotions, physical sensations, and behaviors, and to recognize irrational thinking styles and how they affect behavior. But how MBCT affects the thought processes in anxiety disorders needs further investigation.
In today's Research News article "Mindfulness-Based Cognitive Therapy: A Preliminary Examination of the (Event-Related) Potential for Modifying Threat-Related Attentional Bias in Anxiety." (See summary below or view the full text of the study at: https://www.ncbi.nlm.nih.gov/pmc/articles/PMC9159034/ ) Gupta and colleagues recruited adults with high levels of anxiety and randomly assigned them to receive 8 weekly 2.5 hour sessions of Mindfulness-Based Cognitive Therapy (MBCT) along with home practice presented either online of in-person. Before and after training they were measured for anxiety, depression, and perceived stress. In addition, the participants had their electroencephalogram (EEG) recorded while performing a task to measure threat-related attentional bias.
They found that after Mindfulness-Based Cognitive Therapy (MBCT) there were significantly lower levels of anxiety, depression, and perceived stress. In addition, after MBCT EEG responses and response times to pictures of faces showing emotions were reduced. Hence, mindfulness training improved the psychological well-being of anxious adults in association with reduced brain responses to emotional faces.
"As you become more mindful, you will also notice that you will become more centered, happier, and less depressed and this in turn has a direct positive effect on your anxiety." – Stefan G. Hofmann
CMCS – Center for Mindfulness and Contemplative Studies
This and other Contemplative Studies posts are also available on Twitter @MindfulResearch
Study Summary
Gupta, R. S., Kujawa, A., Fresco, D. M., Kang, H., & Vago, D. R. (2022). Mindfulness-Based Cognitive Therapy: A Preliminary Examination of the (Event-Related) Potential for Modifying Threat-Related Attentional Bias in Anxiety. Mindfulness, 1–14. Advance online publication. https://doi.org/10.1007/s12671-022-01910-x
Abstract
Objectives
Mindfulness-based cognitive therapy (MBCT) can reduce anxiety and depression symptoms in adults with anxiety disorders, and changes in threat-related attentional bias may be a key mechanism driving the intervention's effects on anxiety symptoms. Event-related potentials (ERPs) can illuminate the physiological mechanism through which MBCT targets threat bias and reduces symptoms of anxiety. This preliminary study examined whether P1 ERP threat–related attentional bias markers in anxious adults change from pre- to post-MBCT delivered in-person or virtually (via Zoom) and investigated the relationship between P1 threat–related attentional bias markers and treatment response.
Methods
Pre- and post-MBCT, participants with moderate to high levels of anxiety (N = 50) completed a dot-probe task with simultaneous EEG recording. Analyses focused on pre- and post-MBCT P1 amplitudes elicited by angry-neutral and happy-neutral face pair cues, probes, and reaction times in the dot-probe task and anxiety and depression symptoms.
Results
Pre- to post-MBCT, there was a significant reduction in P1-Probe amplitudes (d = .23), anxiety (d = .41) and depression (d = .80) symptoms, and reaction times (d = .10). Larger P1-Angry Cue amplitudes, indexing hypervigilance to angry faces, were associated with higher levels of anxiety both pre- and post-MBCT (d = .20). Post-MBCT, anxiety symptoms were lower in the in-person versus virtual group (d = .80).
Conclusions
MBCT may increase processing efficiency and decreases anxiety and depression symptoms in anxious adults. However, changes in threat bias specifically were generally not supported. Replication with a comparison group is needed to clarify whether changes were MBCT-specific.
https://www.ncbi.nlm.nih.gov/pmc/articles/PMC9159034/