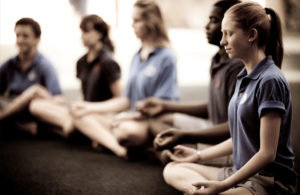 Improve Coping Strategies to Stress with Mindfulness
By John M. de Castro, Ph.D.
"Student life can be stressful, but that doesn't mean students have to let stress take over their lives. By incorporating mindfulness and meditation into daily routines, students can not only relieve the pressure, but also improve their memory, focus and ultimately their grades." – Todd Braver
In the modern world education is a key for success. Where a high school education was sufficient in previous generations, a college degree is now required to succeed in the new knowledge-based economies. There is a lot of pressure on students to excel so that they can get the best jobs after graduation. This stress might in fact be counterproductive as the increased pressure can actually lead to stress and anxiety which can impede the student's physical and mental health, well-being, and school performance. It is, for the most part, beyond the ability of the individual to change the environment to reduce stress, so it is important that methods be found to reduce the college students' responses to stress; to make them more resilient when high levels of stress occur.
So, it would seem important to examine various techniques to improve coping strategies for stress in college students. Contemplative practices including meditation, mindfulness training, and yoga practice have been shown to reduce the psychological and physiological responses to stress. Indeed, these practices have been found to reduce stress and improve psychological health in college students.  In today's Research News article "Differential Effect of Level of Self-Regulation and Mindfulness Training on Coping Strategies Used by University Students." (See summary below or view the full text of the study at: https://www.ncbi.nlm.nih.gov/pmc/articles/PMC6210926/ ), Fuente and colleagues examined the ability of students to cope with the stress of final exams and the ability of mindfulness training to produce more effective coping strategies.
They recruited college students and randomly assigned them to receive either 10 weeks, once a week for 1.5 hours, mindfulness training or to a no-treatment control condition. They were measured before and after training (during final exams) for self-regulation, including goal setting, perseverance, decision-making, and learning from mistakes, and coping strategies, including avoidant distraction, reducing anxiety and avoidance, preparing for the worst, emotional venting and isolation, resigned acceptance, family help and counsel, self-talk, positive reappraisal and firmness, communicating feelings and social support, and seeking alternative reinforcements.
They found that there was an increase in coping strategies at the end of training during final exams for those students who were high in self-regulation. With students with low levels of self-regulation mindfulness training appeared to help by decreasing emotion-focused coping particularly preparing for the worst, resigned acceptance, emotional venting, and isolation, and by increasing positive coping including positive reappraisal and firmness, self-talk, help for action.
These results suggest that students who have difficulty with regulating their own behavior benefit the most from mindfulness training, decreasing ineffective coping strategies and increasing effective strategies. So, mindfulness training improves the student's ability to cope with stress effectively when the student has difficulty regulating themselves. This makes sense as students who are self-disciplined can deal with stress without mindfulness, but those who are not self-disciplined need the assistance of the non-judgmental awareness characteristic of mindfulness to identify the most effective coping strategies to deal with the stress.
So, improve coping strategies to stress with mindfulness.
"a mindfulness intervention can help reduce distress levels in college students during a stressful exam week, as well as increase altruistic action in the form of donating to charity." – AMRA
CMCS – Center for Mindfulness and Contemplative Studies
This and other Contemplative Studies posts are also available on Google+ https://plus.google.com/106784388191201299496/posts and on Twitter @MindfulResearch
Study Summary
Fuente, J., Mañas, I., Franco, C., Cangas, A. J., & Soriano, E. (2018). Differential Effect of Level of Self-Regulation and Mindfulness Training on Coping Strategies Used by University Students. International journal of environmental research and public health, 15(10), 2230. doi:10.3390/ijerph15102230
Abstract
The purpose of this research was to verify, in a group of psychology students, whether mindfulness training in conjunction with the individual's level of self-regulation behavior would produce a change in the use of coping strategies. A total of 38 students participated in this study, with one experimental group and one control group, in a randomized controlled trial. Observation of the experimental group revealed a significant decrease in specific emotion-focused, negative coping strategies (preparing for the worst, resigned acceptance, emotional venting, and isolation), and a significant increase in specific problem-focused, positive coping (positive reappraisal and firmness, self-talk, help for action), in combination with students' existing low-medium-high level of self-regulation. The importance and usefulness of mindfulness techniques in Higher Education is discussed, in conjunction with differences in university students' level of self-regulation behavior.
https://www.ncbi.nlm.nih.gov/pmc/articles/PMC6210926/