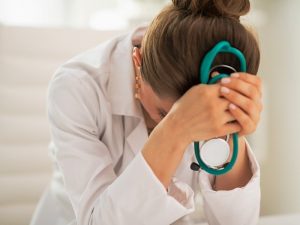 Reduce Burnout in Medical Residents with Mindfulness
By John M. de Castro, Ph.D.
"while they appreciate the great meaning in their work, clinicians' ability to disconnect and recharge may be even more critical than it is for others when it comes to how they view work environments and feel as employees." – David Gregg
Stress is epidemic in the western workplace with almost two thirds of workers reporting high levels of stress at work. In high stress occupations, like healthcare, burnout is all too prevalent. Burnout is the fatigue, cynicism, emotional exhaustion, sleep disruption, and professional inefficacy that comes with work-related stress. It is estimated that over 45% of healthcare workers experience burnout. It not only affects the healthcare providers personally, but also the patients, as it produces a loss of empathy and compassion. Burnout, in fact, it is a threat to the entire healthcare system. Currently, over a third of healthcare workers report that they are looking for a new job. Hence, burnout contributes to the shortage of doctors and nurses.
Preventing burnout has to be a priority. Unfortunately, it is beyond the ability of the individual to change the environment to reduce stress and prevent burnout. So, it is important that methods be found to reduce the individual's responses to stress; to make the individual more resilient when high levels of stress occur. Contemplative practices have been shown to reduce the psychological and physiological responses to stress and improve well-being. Indeed, mindfulness has been shown to be helpful in treating and preventing burnout, increasing resilience, and improving sleep. Hence, mindfulness may be a means to reduce burnout and improve well-being in hospital residents.
In today's Research News article "Evidence-Based Interventions that Promote Resident Wellness from the Council of Emergency Residency Directors." (See summary below or view the full text of the study at: https://www.ncbi.nlm.nih.gov/pmc/articles/PMC7081870/), Parsons and colleagues review and summarize the published research regarding methods to reduce burnout in medical residents. From this research they formed conclusions  and recommendations.
They report that the published studies demonstrate that medical resident burnout is mitigated by interventions that emphasize mindfulness, stress management, and resilience training. The evidence is fairly strong from well conducted controlled trials. It should be noted that mindfulness training improves both stress management and resilience. So, mindfulness training may be the key to all of the effective training strategies. They also report that working conditions tend to produce fatigue and stress that contribute to burnout. Reduction in burnout can be accomplished by adjustments to the work environment including shift scheduling.
So, reduce burnout in medical residents with mindfulness.
"Research exploring the effects of mindfulness training suggests it produces broad and significant improvements in attributes applicable to patient care and physician well-being." – American Medical Association
CMCS – Center for Mindfulness and Contemplative Studies
This and other Contemplative Studies posts are also available on Google+ https://plus.google.com/106784388191201299496/posts and on Twitter @MindfulResearch
Study Summary
Parsons, M., Bailitz, J., Chung, A. S., Mannix, A., Battaglioli, N., Clinton, M., & Gottlieb, M. (2020). Evidence-Based Interventions that Promote Resident Wellness from the Council of Emergency Residency Directors. The western journal of emergency medicine, 21(2), 412–422. https://doi.org/10.5811/westjem.2019.11.42961
Abstract
Initiatives for addressing resident wellness are a recent requirement of the Accreditation Council for Graduate Medical Education in response to high rates of resident burnout nationally. We review the literature on wellness and burnout in residency education with a focus on assessment, individual-level interventions, and systemic or organizational interventions.
Best Practice Recommendations for Individual Interventions
Mindfulness training should be incorporated into residency training to improve wellness and reduce burnout (Level 1b, Grade B).
Consider incorporating behavioral interventions, such as reframing, self-compassion, and empathy into residency training (Level 4, Grade C)
Encourage self-care with respect to physical, psychological, and emotional health. This should include an emphasis on sleep, healthy eating, regular exercise, development of social and professional support networks, PCP visits, resources for substance abuse, and counseling or mentoring programs (Level 4, Grade C)
Program faculty should meet privately with residents potentially suffering from burnout to identify the unique causes and appropriate interventions. Close follow-up meetings should assess improvement (Level 4, Grade C)
https://www.ncbi.nlm.nih.gov/pmc/articles/PMC7081870/