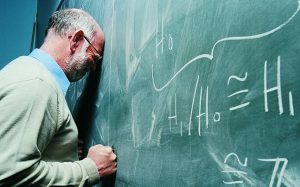 Reduce Teacher Stress with Mindfulness
By John M. de Castro, Ph.D.
"Daily mindfulness practice has been scientifically proven to reduce teacher stress and burnout, in turn improving their effectiveness and engagement with their students." – InnerExplorer
Stress is epidemic in the western workplace with almost two thirds of workers reporting high levels of stress at work. This often produces burnout; fatigue, cynicism, emotional exhaustion, and professional inefficacy. Teachers experience burnout at high rates. Roughly a half a million teachers out of a workforce of three million, leave the profession each year and the rate is almost double in poor schools compared to affluent schools. Indeed, nearly half of new teachers leave in their first five years.
Mindfulness techniques are gaining increasing attention for the treatment of the symptoms of stress and burnout. They have been demonstrated to be helpful in reducing the psychological and physiological responses to stress and for treating and preventing burnout in a number of work environments including schools.
In today's Research News article "The effectiveness of mindfulness-based stress reduction for school teachers: a cluster-randomized controlled trial." (See summary below or view the full text of the study at: https://www.ncbi.nlm.nih.gov/pmc/articles/PMC8975540/ ) Bonde and colleagues recruited school teachers and randomly assigned them to either a wait-list control condition or to receive 8 weekly 2.5 hour sessions of Mindfulness-Based Stress Reduction (MBSR) consisting of training in meditation, yoga, and body scan, with group discussion, and homework. They were measured before and after training and 3 months later for perceived stress, anxiety, depression, well-being, resilience, mindfulness, and resting state.
They found that in comparison to baseline and the wait-list control group, the teachers who received Mindfulness-Based Stress Reduction (MBSR) had significantly lower levels of perceived stress, discontinuity of mind, and bodily awareness that were maintained 3 months later. Although there were no direct measures of burnout, the reductions in stress produced by MBSR would suggest that the training reduced the likelihood of burnout in school teachers.
Mindfulness training reduces stress in school teachers.
"Research shows that teachers experience stress as a result of multiple factors. One thing that can help educators work through this stress, reduce teacher burnout, improve self-efficacy, and increase job satisfaction is meditation and mindfulness." – April Netz
CMCS – Center for Mindfulness and Contemplative Studies
This and other Contemplative Studies posts are also available on Twitter @MindfulResearch
Study Summary
Bonde, E. H., Fjorback, L. O., Frydenberg, M., & Juul, L. (2022). The effectiveness of mindfulness-based stress reduction for school teachers: a cluster-randomized controlled trial. European journal of public health, 32(2), 246–253. https://doi.org/10.1093/eurpub/ckab223
Abstract
Background
Teaching has been found to be one of the most stressful occupations. Hence, current interest in reducing stress and enhancing the well-being of teachers is strong. Mindfulness-based stress reduction (MBSR) is documented to be effective in reducing stress and increasing well-being. This study investigated the effectiveness of delivering MBSR to lower secondary school teachers as a part of a teacher-training programme.
Methods
This study was a nested trial within the parallel cluster-randomized controlled trial, Stress-free Everyday LiFe for Children and Adolescents REsearch (SELFCARE). Schools were recruited from all five geographical regions in Denmark between May 2018 and May 2019. One to three teachers from each school were allowed to participate. At baseline, 110 schools, representing 191 lower secondary school teachers, were cluster-randomized to intervention or a wait-list control group. The intervention group received MBSR during 2019 and the wait-list control group during 2020. Data were collected at baseline and after 3  and 6 months. The primary outcome was measured by Cohen's Perceived Stress Scale (PSS). Data were analyzed using a mixed-effect linear regression model and bootstrapped for cluster effects.
Results
At 3 months, the intervention group statistically significantly reduced their PSS score 1.7 [95% confidence interval (CI) 0.04–3.3] points more than did the wait-list control group. At 6 months, the intervention group had statistically significantly reduced their mean PSS score 2.1 (95% CI: 0.5–3.8) points more than the wait-list control group.
Conclusion
It is possible to reduce perceived stress among lower secondary school teachers by delivering MBSR as part of a teacher-training programme.
https://www.ncbi.nlm.nih.gov/pmc/articles/PMC8975540/