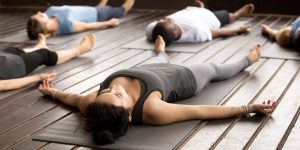 Improve Stress-Related Neuropsychiatric Disorders with Yoga and Mindfulness
By John M. de Castro, Ph.D.
"Mindfulness training holds promise for treating mood disorders partly because it may lead to changes in patients' brains, improving connectivity among some brain areas and changing tissue density in key regions, research suggests." – Stacy Lu
Over the last several decades, research and anecdotal experiences have accumulated an impressive evidential case that the development of mindfulness has positive benefits for the individual's mental, physical, and spiritual life. Mindfulness appears to be beneficial both for healthy people and for people suffering from a myriad of mental and physical illnesses. It appears to be beneficial across ages, from children, to adolescents, to the elderly. And it appears to be beneficial across genders, personalities, race, and ethnicity. The breadth and depth of benefits is unprecedented. There is no other treatment or practice that has been shown to come anyway near the range of mindfulness' positive benefits.
Meditation and yoga training have been shown to be effective for a large array of medical and psychiatric conditions, either stand-alone or in combination with more traditional therapies. Meditation and yoga appear to improve the individual's ability to cope with stress and stress is the source of or aggravates many mental disorders. There are a number of ways that meditation and yoga practices produce these benefits, including changes to the brain and physiology. It is useful to review and summarize what has been discovered regarding how meditation and yoga practices improve mental disorders.
In today's Research News article "Role of Yoga and Meditation as Complimentary Therapeutic Regime for Stress-Related Neuropsychiatric Disorders: Utilization of Brain Waves Activity as Novel Tool." (See summary below or view the full text of the study at: https://www.ncbi.nlm.nih.gov/pmc/articles/PMC7545749/ ) Kaushik and colleagues review and summarize the published research on the effectiveness of meditation and yoga for the treatment of neuropsychiatric disorders.
They report that the published research finds that stress is highly related to anxiety and depression and that meditation and yoga practices, including breathing exercises and postures, significantly reduce perceived stress, anxiety, and depression. They further report that meditation and yoga may produce these improvements by increasing brain activity particularly in the frontal regions of the brain. They also report that meditation and yoga produce very few if any deleterious side effects.
Previous research has conclusively demonstrated that mindfulness practices in general are safe and effective in altering the electrical activity of the brain and reducing perceived stress, anxiety, and depression. It can be speculated that meditation and yoga reduce the responses to stress by altering brain activity and this, in turn, produces improvements in anxiety and depression. It remains for future research to investigate this model. Regardless, the employment of meditation and yoga practices for neuropsychiatric conditions has been shown to be safe and effective alternative treatments for the relief of the suffering of these patients.
So, improve stress-related neuropsychiatric disorders with yoga and mindfulness.
"mindfulness has become a household word, and the psychiatric and psychological literature abound with publications implementing mindfulness as a treatment or self-help tool for everything that ails you." – John J. Miller
CMCS – Center for Mindfulness and Contemplative Studies
This and other Contemplative Studies posts are also available on Google+ https://plus.google.com/106784388191201299496/posts and on Twitter @MindfulResearch
Study Summary
Kaushik, M., Jain, A., Agarwal, P., Joshi, S. D., & Parvez, S. (2020). Role of Yoga and Meditation as Complimentary Therapeutic Regime for Stress-Related Neuropsychiatric Disorders: Utilization of Brain Waves Activity as Novel Tool. Journal of evidence-based integrative medicine, 25, 2515690X20949451. https://doi.org/10.1177/2515690X20949451
Abstract
During recent decades, stress-related neuropsychiatric disorders such as anxiety, depression, chronic tension headache, and migraine have established their stronghold in the lives of a vast number of people worldwide. In order to address this global phenomenon, intensive studies have been carried out leading to the advancement of drugs like anti-depressants, anxiolytics, and analgesics which although help in combating the symptoms of such disorders but also create long-term side effects. Thus, as an alternative to such clinical practices, various complementary therapies such as yoga and meditation have been proved to be effective in alleviating the causes and symptoms of different neuropsychiatric disorders. The role of altered brain waves in this context has been recognized and needs to be pursued at the highest level. Thus, the current study provides a review focused on describing the effects of yoga and meditation on anxiety and depression as well as exploring brain waves as a tool for assessing the potential of these complementary therapies for such disorders.
https://www.ncbi.nlm.nih.gov/pmc/articles/PMC7545749/