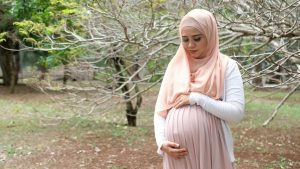 Reduce Anxiety and Improve Self-Efficacy in Pregnancy with Mindfulness
By John M. de Castro, Ph.D.
"Mindfulness practices during pregnancy has several benefits: better manage chronic pain, depression, and anxiety, reduce fears about childbirth, reduce fears surrounding your pregnancy and parenting, increase confidence for birth and parenting, reduce perception of pain in birth." – Cara Terreri
The period of pregnancy is a time of intense physiological and psychological change. Anxiety, depression, and fear are quite common during pregnancy. More than 20 percent of pregnant women have an anxiety disorder, depressive symptoms, or both during pregnancy. A debilitating childbirth fear has been estimated to affect about 6% or pregnant women and 13% are sufficiently afraid to postpone pregnancy. It is difficult to deal with these emotions under the best of conditions but in combinations with the stresses of pregnancy can turn what could be a joyous experience of creating a human life into a horrible worrisome, torment.
It is clear that there is a need for methods to treat depression, and anxiety during pregnancy. Since the fetus can be negatively impacted by drugs, it would be preferable to find a treatment that did not require drugs. Mindfulness training has been shown to improve anxiety and depression normally and to relieve maternal anxiety and depression during pregnancy.
In today's Research News article "The effect of mindfulness-based stress reduction on maternal anxiety and self-efficacy: A randomized controlled trial." (See summary below or view the full text of the study at: https://www.ncbi.nlm.nih.gov/pmc/articles/PMC7177577/), Zarenejad and colleagues recruited women pregnant with their first child between 24 and 36 weeks of pregnancy. They were randomly assigned to either usual care or to receive 6 weeks of twice a week for 1-hour group mindfulness training based upon the Mindfulness-Based Stress Reduction (MBSR) program. The training employs meditation, body scan, yoga, discussions, and home practice. They were measured before and after training and 1 month later for mindfulness, pregnancy related anxiety, and self-efficacy.
They found that in comparison to baseline and the usual care group, the women who received mindfulness training had significant increases in mindfulness and significant decreases in pregnancy related anxiety immediately after training and one month after training where there was also a significant increase in self-eficacy..
Mindfulness training has been repeatedly demonstrated in prior research to decrease anxiety and increase self-efficacy in a wide range of healthy and ill populations. The present study demonstrates that this training has similar effects with late-term pregnant women in Iran. The increase in self-efficacy suggests that mindfulness training improves the women's beliefs that they can deal with their situation and the reduction in anxiety suggests that they can approach delivery with greater levels of confidence and relaxation. This should reduce the stress of delivery and increase the likelihood of a satisfactory and health outcome.
So, reduce anxiety and improve self-efficacy in pregnancy with mindfulness.
"By learning mindfulness skills as part of their childbirth education, expectant mothers can reappraise the impending birth as something they can handle instead of viewing it as something they fear,"- Larissa Duncan
CMCS – Center for Mindfulness and Contemplative Studies
This and other Contemplative Studies posts are also available on Google+ https://plus.google.com/106784388191201299496/posts and on Twitter @MindfulResearch
Study Summary
Zarenejad, M., Yazdkhasti, M., Rahimzadeh, M., Mehdizadeh Tourzani, Z., & Esmaelzadeh-Saeieh, S. (2020). The effect of mindfulness-based stress reduction on maternal anxiety and self-efficacy: A randomized controlled trial. Brain and behavior, 10(4), e01561. https://doi.org/10.1002/brb3.1561
Abstract
Objective
The aim of the study was to assess the effect of mindfulness‐based stress reduction (MBSR) on anxiety and self‐efficacy in coping with childbirth.
Material and Methods
This randomized controlled trial was conducted on 70 pregnant women in Abyek city of Qazvin province in Iran. The convenient sampling method was recruited. Samples were assigned to control and intervention groups using random blocks. In addition to routine care, individuals in the intervention group received 6 MBSR training sessions. The data gathering questionnaire in this study included mindfulness, Pregnancy‐Related Anxiety Questionnaire, and self‐efficacy in coping with childbirth questionnaire.
Results
There was no statistically significant difference between the demographic characteristics in the control and intervention groups. The results of the analysis of variance (ANOVA) with repeated measures indicated the effect of time on the change in the total score of anxiety in the intervention group (p = .001). There was a significant difference between the two groups (p = .001). Also, the results of ANOVA with repeated measures showed that time had no impact on the score of self‐efficacy in delivery coping (p = 0/1) and that there was no significant difference between the two groups in this respect (p = .6).
Conclusion
The result of this study showed that mindfulness reduces anxiety of pregnant mothers, and it is suggested that mindfulness programs be educated for healthcare providers and pregnant mothers to reduce maternal anxiety and improve pregnancy outcomes and delivery.
https://www.ncbi.nlm.nih.gov/pmc/articles/PMC7177577/