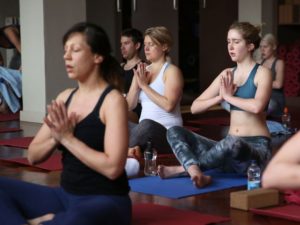 Improve Cognitive Function in Breast Cancer Survivors with Mindfulness
By John M. de Castro, Ph.D.
"Participation in a mindfulness-based stress reduction program yields robust and sustained improvement in cancer-related cognitive impairment, a prevalent and potentially debilitating condition that affects attention, memory and executive function in survivors." – ScienceDaily
Receiving a diagnosis of cancer has a huge impact on most people. Feelings of depression, anxiety, and fear are very common and are normal responses to this life-changing and potentially life-ending experience. But cancer diagnosis is not necessarily a death sentence. Over half of the people diagnosed with cancer are still alive 10 years later and this number is rapidly increasing. But, surviving cancer carries with it a number of problems. Cognitive impairments are a frequent side effect of cancer treatment. This has been dubbed "chemo brain." Patients often refer to it as a mental cloudiness.
The patients report problems including forgetting things, trouble concentrating, trouble remembering details like names and dates, trouble multi-tasking, like answering the phone while cooking, taking longer to finish things, disorganized and slower thinking, and trouble remembering common words. These cognitive impairments generally produce problems with work and even social relationships such that patients tend to isolate themselves. They can also produce treatment problems as the patients often forget to take their medications.
These problems result from the fact that chemotherapy, radiation therapy and many cancer drugs directly affect the nervous system. At present, there are no known treatments for these cognitive impairment side effects of chemotherapy. Contemplative practices have been shown to affect memory and have positive effects on cancer treatment and recovery.  There is some evidence that contemplative practices may be useful for the alleviation of "chemo brain" symptoms. So, it makes sense to step back and review what is known regarding the ability of mindfulness training to improve the cancer patient's cognitive abilities.
In today's Research News article "Mindfulness-based interventions and cognitive function among breast cancer survivors: a systematic review." (See summary below or view the full text of the study at: https://www.ncbi.nlm.nih.gov/pmc/articles/PMC6260900/ ), Cifu and colleagues review and summarize the published research studies on the effectiveness of mindfulness training for the cognitive deficits present after recovery from breast cancer. They identified 6 studies; 5 of which were randomized controlled studies and 4 of which used the Mindfulness-Based Stress Reduction (MBSR) program.
They found mixed results from the studies but the majority found that mindfulness training produced significant improvements in the cognitive abilities of the patients. The 2 studies that reported follow-up data demonstrated that the improvements were sustained 2 and 6 months after the end of the program. These mixed findings suggest that mindfulness training may be useful in treating the problems with thinking, memory, and attention that result from treatment for breast cancer, but more research is needed to reach firm conclusions.
It is not known what the mechanism might be by which mindfulness training relieves these cognitive impairments. But it has been previously demonstrated that mindfulness training improves cognition in healthy and aging populations by changing the brain, particularly the frontal cortical regions. It is possible that this is the same phenomenon only with breast cancer survivors.
So, improve cognitive function in breast cancer survivors with mindfulness.
"Mindfulness-based stress reduction (MBSR) may improve cognitive function in breast and colorectal cancer survivors." Neurology Advisor
CMCS – Center for Mindfulness and Contemplative Studies
This and other Contemplative Studies posts are also available on Google+ https://plus.google.com/106784388191201299496/posts and on Twitter @MindfulResearch
Study Summary
Cifu, G., Power, M. C., Shomstein, S., & Arem, H. (2018). Mindfulness-based interventions and cognitive function among breast cancer survivors: a systematic review. BMC cancer, 18(1), 1163. doi:10.1186/s12885-018-5065-3
Abstract
Background
Breast cancer survivors have an elevated risk of cognitive impairment compared to age-matched women without cancer. Causes of this impairment are complex, including both treatment and psychological factors. Mindfulness-based interventions, which have been shown to improve cognitive function in the general population, may be one approach to mitigate cognitive impairment in this survivor population. Our objective was to conduct a systematic literature review of studies on the effect of mindfulness-based interventions on cognition among breast cancer survivors.
Methods
We conducted searches of three electronic databases (Scopus, PubMed and Cochrane Database of Systematic Reviews) in September 2017 for studies pertaining mindfulness and cognitive function among breast cancer survivors. Abstracts were manually searched by two reviewers and additional articles were identified through reference lists.
Results
A total of 226 articles were identified through our systematic search and six met inclusion criteria for this review. The reviewed studies lacked consistency in terms of the cognition domains studied (e.g. executive function, recent memory, etc) and in the measures used to assess cognition. Of the included studies, two found no association between mindfulness interventions and cognitive function, two found improvement that was not sustained at the follow-up, and another two found sustained improvement at 2- or 6-months.
Conclusions
Mindfulness-based interventions have shown some evidence for improving cognition among breast cancer survivors, but further research using validated and comprehensive cognitive assessments is needed. More research is also needed related to the timing, duration and content of mindfulness interventions.
https://www.ncbi.nlm.nih.gov/pmc/articles/PMC6260900/