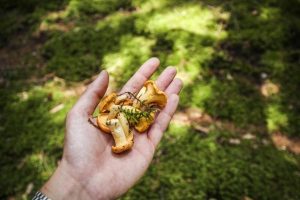 Improve Major Depressive Disorder with Psilocybin and Mindfulness Meditation
By John M. de Castro, Ph.D.
"mindfulness training enhances the positive effects of a single dose of psilocybin, and can increase empathy and permanently reduce ego-centricity. This opens up new therapeutic avenues, for example for the treatment of depression." – Franz Vollenweider
Psychedelic substances have been used almost since the beginning of recorded history to alter consciousness and produce spiritually meaningful experiences. People find these experiences very pleasant and eye opening. They often report that the experiences changed them forever. Even though the effects of psychedelic substances have been experienced and reported on for centuries, only very recently have these effects come under rigorous scientific scrutiny.
Psilocybin is a psychedelic substance that is found naturally in a number of varieties of mushrooms. It has been used for centuries particularly by Native Americans for their spiritual practices. When studied in the laboratory under double blind conditions, Psilocybin has been shown to "reliably occasion deeply personally meaningful and often spiritually significant experiences (e.g. mystical-type experiences)." Psilocybin has also been shown to improve clinical depression. Mindfulness training has also been found to improve depression. Since the effects of meditation and psilocybin appear similar, it's important to look at the mechanism by which mindfulness meditation and psilocybin improve depression.
In today's Research News article "Depression, Mindfulness, and Psilocybin: Possible Complementary Effects of Mindfulness Meditation and Psilocybin in the Treatment of Depression. A Review." (See summary below or view the full text of the study at: https://www.ncbi.nlm.nih.gov/pmc/articles/PMC7136554/), Heuschkel and colleagues review and summarize the published research studies of the effectiveness of meditation and psilocybin for the treatment of depression. They identified 95 published articles on the effectiveness of either mindfulness or psilocybin on major depressive disorders.
They found that the published reports that both mindfulness meditation and psilocybin produce significant and lasting improvements in mood, cognitive function, and social skills in patients with major depressive disorders. Mindfulness training has been shown through extensive research with a variety of healthy and ill individuals to reduce depression, stress responses, and inflammatory responses, and improves cognition, and social skills. It is interesting that both have similar effects.
The published research also reports that both mindfulness meditation and psilocybin produce significant neuroplastic changes in the nervous system but act different where mindfulness meditation produces slow changes that accumulate over time while psilocybin produces rapid changes in the brain. They also affect different neural circuits where mindfulness meditation increases activity and connectivity in brain systems associate with interoceptive awareness, psilocybin appears to disrupt function integrity of brain systems, promoting cognitive flexibility.
Both mindfulness meditation and psilocybin produce changes in endocrine and immune function. Both produce significant reductions in perceived stress and reduce inflammatory responses, they appear to do so through different mechanisms. Where mindful meditation appears to lower stress responses through the lowering cortisol, psilocybin appears to work through the anti-inflammatory cytokines.
Hence, the published research suggests that mindfulness meditation and psilocybin produce similar effects on patients with major depressive disorders, reducing depression, altering the brain both chronically and acutely, and reducing stress and inflammatory responses. But they appear to produce these effects through different biological processes. This suggests that they may complement each other. So, combining the two in a treatment for major depressive disorder may increase overall effectiveness. It remains for future research to investigate the effectiveness of combined treatment.
So, improve major depressive disorder with psilocybin and mindfulness meditation.
"A growing body of evidence suggests that psychedelic drugs, such as psilocybin, may be effective at treating a variety of psychological disorders, including depression and anxiety, and could one day be prescribed to patients." – Traci Pederson
CMCS – Center for Mindfulness and Contemplative Studies
This and other Contemplative Studies posts are also available on Google+ https://plus.google.com/106784388191201299496/posts and on Twitter @MindfulResearch
Study Summary
Heuschkel, K., & Kuypers, K. (2020). Depression, Mindfulness, and Psilocybin: Possible Complementary Effects of Mindfulness Meditation and Psilocybin in the Treatment of Depression. A Review. Frontiers in psychiatry, 11, 224. https://doi.org/10.3389/fpsyt.2020.00224
Abstract
Depression is a major public health problem that affects approximately 4.4% of the global population. Since conventional pharmacotherapies and psychotherapies are only partially effective, as demonstrated by the number of patients failing to achieve remission, alternative treatments are needed. Mindfulness meditation (MM) and psilocybin represent two promising novel treatments that might even have complementary therapeutic effects when combined. Since the current literature is limited to theoretical and empirical underpinnings of either treatment alone, the present review aimed to identify possible complementary effects that may be relevant to the treatment of depression. To that end, the individual effects of MM and psilocybin, and their underlying working mechanisms, were compared on a non-exhaustive selection of six prominent psychological and biological processes that are well known to show impairments in patients suffering from major depression disorder, that is mood, executive functioning, social skills, neuroplasticity, core neural networks, and neuroendocrine and neuroimmunological levels. Based on predefined search strings used in two online databases (PubMed and Google Scholar) 1129 articles were identified. After screening title and abstract for relevance related to the question, 82 articles were retained and 11 were added after reference list search, resulting in 93 articles included in the review. Findings show that MM and psilocybin exert similar effects on mood, social skills, and neuroplasticity; different effects were found on executive functioning, neural core networks, and neuroendocrine and neuroimmune system markers. Potential mechanisms of MM's effects are enhanced affective self-regulation through mental strategies, optimization of stress reactivity, and structural and functional adjustments of prefrontal and limbic areas; psilocybin's effects might be established via attenuation of cognitive associations through deep personal insights, cognitive disinhibition, and global neural network disintegration. It is suggested that, when used in combination, MM and psilocybin could exert complementary effects by potentiating or prolonging mutual positive effects, for example, MM potentially facilitating psilocybin-induced peak experiences. Future placebo-controlled double-blind randomized trials focusing on psilocybin-assisted mindfulness-based therapy will provide knowledge about whether the proposed combination of therapies maximizes their efficacy in the treatment of depression or depressive symptomatology.
https://www.ncbi.nlm.nih.gov/pmc/articles/PMC7136554/