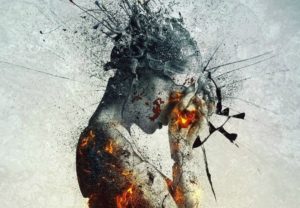 Reduce Anxiety and Depression with Mindfulness
By John M. de Castro, Ph.D.
"If you have unproductive worries, you can train yourself to experience those thoughts completely differently. "You might think 'I'm late, I might lose my job if I don't get there on time, and it will be a disaster!' Mindfulness teaches you to recognize, 'Oh, there's that thought again. I've been here before. But it's just that—a thought, and not a part of my core self,'" – Elizabeth Hoge.
Anxiety disorders are the most common mental illness in the United States, affecting 40 million adults, or 18% of the population. A characterizing feature of anxiety disorders is that the suffer overly identifies with and personalizes their thoughts. The sufferer has recurring thoughts, such as impending disaster, that they may realize are unreasonable, but are unable to shake. This may indicate that treating the cognitive processes that underlie the anxiety may be an effective treatment. Indeed, Mindfulness practices have been shown to be quite effective in relieving anxiety. Clinically diagnosed depression is the most common mental illness, affecting over 6% of the population. Depression can be difficult to treat. Fortunately, Mindfulness training is also effective for treating depression.
Acceptance and Commitment Therapy (ACT) is a mindfulness-based psychotherapy technique that is based upon Cognitive Behavioral Therapy (CBT) and has also been shown to relieve anxiety and to be effective for depression. ACT focuses on the individual's thoughts, feelings, and behavior and how they interact to impact their psychological and physical well-being. It then works to change thinking to alter the interaction and produce greater life satisfaction. ACT employs mindfulness practices to increase awareness and develop an attitude of acceptance and compassion in the presence of painful thoughts and feelings. Additionally, ACT helps people strengthen aspects of cognition such as in committing to valued living. ACT teaches individuals to "just notice", accept and embrace private experiences and focus on behavioral responses that produce more desirable outcomes.
In today's Research News article "Effectiveness of Acceptance and Commitment Therapy on Anxiety and Depression of Razi Psychiatric Center Staff." (See summary below or view the full text of the study at: https://www.ncbi.nlm.nih.gov/pmc/articles/PMC5839459/ ), Heydari and colleagues recruited adult volunteers with moderate symptoms of burnout and randomly assigned them to either receiving a program of Acceptance and Commitment Therapy (ACT) or to a no-treatment control condition. The ACT program was delivered over 8 weeks in once a week, 90-minute sessions. The participants were measured before and after training and 2 months later for anxiety and depression.
They found that after treatment and 2 months later the group that received Acceptance and Commitment Therapy (ACT) had large and significant decreases in both anxiety (35% reduction) and depression (20% reduction) while there were no significant changes in the no-treatment control participants. It is interesting that the participants were suffering from moderate burnout in their jobs. This indicates that ACT may be effective in treating career burnout.
It is important to note that these effects were still present 2 months after the completion of the therapy program. They thus appear to have lasting beneficial effects. It should be noted that since the there was no treatment in the control condition that a placebo effect may still be present and may potentially account for at least some of the improvements. Nevertheless the results are in line with previous studies that demonstrate that mindfulness training is effective in relieving anxiety and depression.
So, Reduce Anxiety and Depression with Mindfulness
"Anxiety softens when we can create a space between ourselves and what we're experiencing. . .
When you become aware of the present moment, you gain access to resources you may not have had before. You may not be able to change a situation, but you can mindfully change your response to it." – Mindful
CMCS – Center for Mindfulness and Contemplative Studies
This and other Contemplative Studies posts are also available on Google+ https://plus.google.com/106784388191201299496/posts and on Twitter @MindfulResearch
Study Summary
Heydari, M., Masafi, S., Jafari, M., Saadat, S. H., & Shahyad, S. (2018). Effectiveness of Acceptance and Commitment Therapy on Anxiety and Depression of Razi Psychiatric Center Staff. Open Access Macedonian Journal of Medical Sciences, 6(2), 410–415. http://doi.org/10.3889/oamjms.2018.064
Abstract
AIM:
Considering the key role of human resources as the main operator of organisations, the present research aimed to determine the effectiveness of acceptance and commitment therapy for anxiety and depression of Razi Psychiatric Center staff.
MATERIALS AND METHODS:
This research follows a quasi-experimental type with pre-test, post-test plans, and control group. Accordingly, 30 people were selected through volunteered sampling among Razi Psychiatric Center staff. Then, they were randomly placed into two groups of 15 (experimental and control) and evaluated using research tools. Research tools consisted of Beck Anxiety and Depression Inventories whose reliability and validity have been confirmed in several studies. Research data were analysed using the analysis of covariance (ANCOVA).
Results:
The statistical analysis confirmed the difference in the components of anxiety and depression in the experimental group, which had received acceptance and commitment therapy compared to the group that had not received any therapy in this regard (control group) (p < 0.05).
CONCLUSION:
Acceptance and commitment therapy reduces anxiety and depression.
https://www.ncbi.nlm.nih.gov/pmc/articles/PMC5839459/