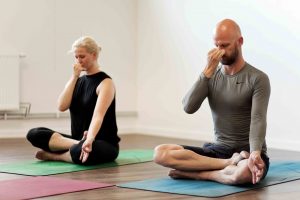 Reduce Anxiety Around Cardiac Surgery with Yogic Breathing
By John M. de Castro, Ph.D.
"Anxiety is the physical, mental and emotional reaction to stress. Both can be calmed through the practice of yoga breathing, also called pranayama." – M. Patino
Patients scheduled for major surgeries usually experience anxiety. This is thoroughly understandable, but this anxiety can contribute to cardiac mortality. Yoga training has been shown to improve health and well-being. It has also been found to be effective for a large array of medical and psychiatric conditions, either stand-alone or in combination with more traditional therapies. There are a wide variety of different yoga training techniques. But most contain breathing exercises. It is not known if these yogic breathing techniques can help relieve anxiety associated with major surgery.
In today's Research News article "Effect of Short-Term Yoga-Based-Breathing on Peri-Operative Anxiety in Patients Undergoing Cardiac Surgery." (See summary below or view the full text of the study at: https://www.ncbi.nlm.nih.gov/pmc/articles/PMC8191222/ ) Azeez and colleagues recruited adult patients who were scheduled for cardiac surgery and randomly assigned them to either a no-treatment control condition or to receive 5 daily 60-minute sessions of yogic breathing including alternate nostril breathing, bee breathing, Udgith breathing, Sheetali breathing, and yoga nidra. They completed measures of anxiety before training, pre-surgery and post-surgery.
They found that in comparison to baseline and the control condition, the group that performed yogic breathing had significantly lower levels of both state and trait anxiety before surgery and another significant decrease after surgery. These findings need to be tempered with the understanding that the comparison, control, condition was passive leaving open the possibility of expectancy (placebo) effects, bias, and attentional effects. Future research should incorporate an active control condition, e.g. cardiac education.
Previous controlled research has demonstrated that yogic breathing reduces stress levels and improves psychological well-being. So, it I likely that the present results were due to yogic breathing exercises relieving anxiety. Although not measured, it would be expected that the lower anxiety levels in these cardiac surgery patients would lead to better surgical outcomes. It remains for future research to follow the patients after surgery to examine recovery and cardiac outcomes.
So, reduce anxiety around cardiac surgery with yogic breathing.
"There are many ways to combat anxiety, but perhaps none as quickly – and naturally – effective as certain forms of Pranayama. Pranayama is conscious breathwork and is often used in yoga, mindfulness practices and meditation." – YogiApproved
CMCS – Center for Mindfulness and Contemplative Studies
This and other Contemplative Studies posts are also available on Google+ https://plus.google.com/106784388191201299496/posts and on Twitter @MindfulResearch
Study Summary
Azeez, A. M., Puri, G. D., Samra, T., & Singh, M. (2021). Effect of Short-Term Yoga-Based-Breathing on Peri-Operative Anxiety in Patients Undergoing Cardiac Surgery. International journal of yoga, 14(2), 163–167. https://doi.org/10.4103/ijoy.IJOY_120_20
Abstract
Background:
Peri-operative anxiety in patients scheduled for cardiac surgery is detrimental. This study evaluated the effect of short-term yoga based-breathing with different variations on peri-operative anxiety.
Materials and Methods:
A prospective randomized controlled study was conducted in patients aged 20–60 years scheduled for major cardiac surgery. Patients in Yoga group were trained for yoga based-breathing with different variations for 5 days; no intervention was done in controls.
Results:
We analyzed twenty patients in each group. Anxiety scores measured at baseline, presurgery, and postsurgery were entered as the within-subjects factor; group status was entered as the between-subjects factor in the RMANOVA. Baseline demographics and anxiety scores were comparable. The short-term yoga-based breathing exercise-training program had a statistically significant effect on state (F = 13.45, P < 0.0001), Trait (F = 13.29, P < 0.0001) and total anxiety scores (F = 29.44, P < 0.0001) at different time points for yoga over control group.
Conclusion:
Short-term yoga-based breathing for 5 days lowers presurgery and postsurgery anxiety in patients undergoing cardiac surgery.
https://www.ncbi.nlm.nih.gov/pmc/articles/PMC8191222/