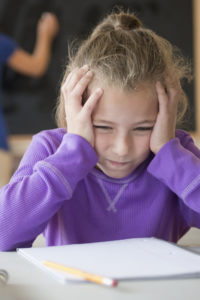 Improve the Social, Emotional, and Behavioral Functioning of Autistic Children and Their Parents with Mindfulness
By John M. de Castro, Ph.D.
"A weekly mindfulness session for children with autism and a separate program for their parents showed promising results. After nine weekly sessions of mindfulness training, 21 adolescents with autism reported better quality of life and less time spent wandering in thought about topics like sadness, pain, and why they react to things the way they do. Parents reported that their children were more socially responsive. Parents also reported reduced stress and less frequent use of "dysfunctional parenting styles," such as shouting." – Sarah Hansen
Autism spectrum disorder (ASD) is a developmental disability that tends to appear during early childhood and affect the individual throughout their lifetime. It affects a person's ability to communicate, and interact with others, delays learning of language, makes eye contact or holding a conversation difficult, impairs reasoning and planning, narrows and intensifies interests, produces poor motor skills and sensory sensitivities, and is frequently associated with sleep and gastrointestinal problems. ASD is a serious disorder that impairs the individual's ability to lead independent lives including complete an education, enter into relationships or find and hold employment. It is also difficult and stressful for the caregivers.
The diagnosis of autism spectrum disorder (ASD) has been increasing markedly over the last couple of decades. It is currently estimated that over 1% of the world population has autism spectrum disorder (ASD). Its causes are unknown and there are no known cures. Treatment is generally directed at symptoms and can include behavioral therapies and drug treatments. Clearly, there is a need for effective alternative treatment options.
Mindfulness training has been shown to be helpful in treating ASD.  In today's Research News article "Mindfulness-Based Program for Children with Autism Spectrum Disorder and Their Parents: Direct and Long-Term Improvements." (See summary below or view the full text of the study at: https://www.ncbi.nlm.nih.gov/pmc/articles/PMC5968048/ ), Ridderinkhof and colleagues examined the effectiveness of mindfulness training to improve the social and psychological health of children and their families.
They recruited children with autism spectrum disorder (ASD) and their parents and provided the child and one or both parents separately with a 9-week mindfulness training program. The sessions occurred once a week for 1.5 hours. For the children the sessions included breathing meditation, body scan, a 3-min breathing space, and yoga practices. For the parents the sessions also focused on mindful parenting. Home practice was encouraged. Before and after training and 2 months and one year later, the children were measured through self- and parental report for social communications, emotional and behavioral functioning, and mindfulness. Parents were assessed for their social communications, emotional and behavioral functioning, mindfulness, and parental stress.
They found that after treatment and 2 months and one year later the parents reported that the children showed significant improvement in social communications and attention and significant decreases in externalizing and internalizing symptoms, and rumination. The parents showed significant improvements in their social communications, attention mindfulness, and self-compassion and significant decreases in externalizing and internalizing symptoms, perceived stress, stress concerning parenting, and over-reactivity,. Hence, the mindfulness training appeared to produce significant improvements in both the children with autism spectrum disorder and their parents.
The results, however, have to be interpreted very cautiously. This study ran for over a year and there was no comparison condition. During that time the children mature, learn in school, and have additional experiences and the parents continue to learn how to cope with their child's ASD. So, the observed improvements may have occurred anyway, even without the mindfulness training. The results, though are encouraging and suggest that a randomized controlled trial is justified. ASD is such a difficult issue for the child and the parents that the investment in further study is needed.
So, improve the social, emotional, and behavioral functioning of autistic children and their parents with mindfulness.
"mindfulness practices may be a viable technique in not only improving behavioral and cognitive responses in those with ASD, but also the overall well-being of their caregivers." – Krupa Patel
CMCS – Center for Mindfulness and Contemplative Studies
This and other Contemplative Studies posts are also available on Google+ https://plus.google.com/106784388191201299496/posts and on Twitter @MindfulResearch
Study Summary
Ridderinkhof, A., de Bruin, E. I., Blom, R., & Bögels, S. M. (2018). Mindfulness-Based Program for Children with Autism Spectrum Disorder and Their Parents: Direct and Long-Term Improvements. Mindfulness, 9(3), 773–791. http://doi.org/10.1007/s12671-017-0815-x
A combined mindfulness-based program for children and their parents (MYmind) was beneficial for adolescents with autism spectrum disorder (ASD). In this study, we investigated whether this program is also beneficial for younger children with ASD, whether effects last on the long-term, and whether it reduces common comorbid problems. Forty-five children referred with ASD aged 8 until 19 years old, and their parents participated. Repeated measures of children's and parents' social communication problems, emotional and behavioral functioning, mindful awareness, and of parenting were conducted pre-intervention, post intervention, 2-month follow-up, and 1-year follow-up. While children did not report significant changes in mindful awareness, their social communication problems decreased, and their emotional and behavioral functioning improved. Results were not consistent at each occasion; improvements reported by children were most substantial at a 2-month follow-up and only partly remained at a 1-year follow-up, while all children's improvements as reported by parents were present on all occasions. Parents themselves reported improved emotional and behavioral functioning, improved parenting, and increased mindful awareness on all occasions. Parents' social communication problems reduced only directly after the intervention. Most improvements were supported by the qualitative investigation of children's and parents' experienced change as reported on open-ended questions. This study suggests that children, including adolescents, with ASD and their parents can benefit from a mindfulness-based program with parallel sessions for children and parents.
https://www.ncbi.nlm.nih.gov/pmc/articles/PMC5968048/