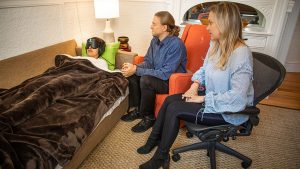 Improve Major Depressive Disorder for Over a Year with Psilocybin
By John M. de Castro, Ph.D.
"When we look within ourselves with psilocybin, we discover that we do not have to look outward toward the futile promise of life that circles distant stars in order to still our cosmic loneliness. We should look within; the paths of the heart lead to nearby universes full of life and affection for humanity."
― Terence McKenna
Psychedelic substances such as peyote, mescaline, LSD, Bufotoxin, ayahuasca and psilocybin 
have been used almost since the beginning of recorded history to alter consciousness and produce spiritually meaningful experiences. People find the experiences produced by these substances extremely pleasant. eye opening, and even transformative. They often report that the experiences changed them forever. Psychedelics and hallucinogens have also been found to be clinically useful as they markedly improve mood, increase energy and enthusiasm and greatly improve clinical depression.
Even though the effects of psychedelic substances have been experienced and reported on for centuries, only very recently have these effects come under rigorous scientific scrutiny. One important question is what is the duration of psilocybin treatment effects on major depressive disorder.
In today's Research News article "Efficacy and safety of psilocybin-assisted treatment for major depressive disorder: Prospective 12-month follow-up." (See summary below or view the full text of the study at:  https://www.ncbi.nlm.nih.gov/pmc/articles/PMC8864328/ ) Gukasyan and colleagues recruited patients with Major Depressive Disorder and randomly assigned them to either a waitlist or to receive 2 doses of psilocybin spaced 2 weeks apart under close supervision. They were measured before, after, 1 week later, and 1, 3, 6, and 12 months later for depression, ratings of psilocybin effects, well-being, suicide ideation, persisting hallucinations and any adverse events.
They found that after psilocybin treatment there was a large significant decrease in depression that persisted for a year with 58% of the participants in remission. No adverse events were recorded. The higher participants ratings of personal meaning, spiritual experience, and mystical experience after sessions the greater the levels of well- being 12 months later.
Hence, psilocybin treatment was safe and produced large and lasting decreases in depression in patients diagnosed with Major Depressive Disorder. These are remarkable treatment effects far in excess of the improvements produced by other treatments.
"Psychedelics prove to you that there's more than one way of seeing the world" – Jesse Lawler
CMCS – Center for Mindfulness and Contemplative Studies
This and other Contemplative Studies posts are also available on Twitter @MindfulResearch
Study Summary
Gukasyan N, Davis AK, Barrett FS, Cosimano MP, Sepeda ND, Johnson MW, Griffiths RR. Efficacy and safety of psilocybin-assisted treatment for major depressive disorder: Prospective 12-month follow-up. J Psychopharmacol. 2022 Feb;36(2):151-158. doi: 10.1177/02698811211073759. PMID: 35166158; PMCID: PMC8864328.
Abstract
Background:
Preliminary data suggest that psilocybin-assisted treatment produces substantial and rapid antidepressant effects in patients with major depressive disorder (MDD), but little is known about long-term outcomes.
Aims:
This study sought to examine the efficacy and safety of psilocybin through 12 months in participants with moderate to severe MDD who received psilocybin.
Methods:
This randomized, waiting-list controlled study enrolled 27 patients aged 21–75 with moderate to severe unipolar depression (GRID-Hamilton Depression Rating Scale (GRID-HAMD) ⩾ 17). Participants were randomized to an immediate or delayed (8 weeks) treatment condition in which they received two doses of psilocybin with supportive psychotherapy. Twenty-four participants completed both psilocybin sessions and were followed through 12 months following their second dose.
Results:
All 24 participants attended all follow-up visits through the 12-month timepoint. Large decreases from baseline in GRID-HAMD scores were observed at 1-, 3-, 6-, and 12-month follow-up (Cohen d = 2.3, 2.0, 2.6, and 2.4, respectively). Treatment response (⩾50% reduction in GRID-HAMD score from baseline) and remission were 75% and 58%, respectively, at 12 months. There were no serious adverse events judged to be related to psilocybin in the long-term follow-up period, and no participants reported psilocybin use outside of the context of the study. Participant ratings of personal meaning, spiritual experience, and mystical experience after sessions predicted increased well-being at 12 months, but did not predict improvement in depression.
Conclusions:
These findings demonstrate that the substantial antidepressant effects of psilocybin-assisted therapy may be durable at least through 12 months following acute intervention in some patients.
https://www.ncbi.nlm.nih.gov/pmc/articles/PMC8864328/