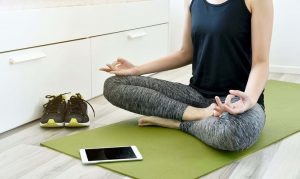 Improve the Psychological Well-Being of University Students with Mindfulness
By John M. de Castro, Ph.D.
"Mindfulness apps offer modest but clear benefits to users in terms of improved mental health. They present a promising supplement to traditional mental health services." – Oskari Lahtinen
There is a lot of pressure on university students to excel so that they can get the best jobs after graduation. This stress might in fact be counterproductive as the increased pressure can actually lead to stress and anxiety which can impede the student's physical and mental health, well-being, and school performance. Mindfulness training has been shown through extensive research to be effective in improving physical and psychological health. Indeed, these practices have been found to improve psychological health in college students.
In today's Research News article "The Mental Health and Wellbeing of University Students: Acceptability, Effectiveness, and Mechanisms of a Mindfulness-Based Course." (See summary below or view the full text of the study at: https://www.ncbi.nlm.nih.gov/pmc/articles/PMC8199969/ ) Medlicott and colleagues recruited university students who attended an 8-week mindfulness training. The program was based upon Mindfulness-Based Cognitive Therapy (MBCT) and was delivered in 8 weekly 90 minute sessions along with daily home practice. The participants were measured before and after the program and 6 weeks later for expected benefits from the program, wellbeing, mental health, mindfulness, self-compassion, resilience, and academic goals.
They found that following the course there were significant improvement in wellbeing. mental health, mindfulness, self-compassion, resilience, and orientation toward their academic goals that were maintained 6 weeks later. The effects were greater for participants who had mental health problems at the beginning of the program. In addition, the greater the amount of home practice, the greater the improvements observed. The amount of change in mindfulness and self-compassion produced by the course was related to the amount of improvement in wellbeing and mental health while the amount of change in resilience was related to the improvements in wellbeing.
It has to be recognized that the study did not contain a control, comparison, condition, so it is open to numerous alternative, confounding, explanations. But previous controlled research has demonstrated that mindfulness training produces improvements in wellbeing, mental health, mindfulness, self-compassion, and resilience. So, it is likely that the present findings are the result of the effects of the mindfulness training program rather than some alternative explanation.
These results suggest that participating in a mindfulness training program produces significant benefits for the psychological health and wellbeing of university students. The fact their orientation to academic goals was also improved suggests that the program may also improve their academic performance. Indeed, it would be expected that improvement in the students wellbeing and mental health would improve the likelihood of academic success.
So, improve the psychological well-being of university students with mindfulness.
"In college, it's easy to compile all of the problems we're facing and place it in to one big feeling of paranoia or stress. Headspace helps sort that out and filter what I should be worried about." – Ryan Coughlin
CMCS – Center for Mindfulness and Contemplative Studies
This and other Contemplative Studies posts are also available on Google+ https://plus.google.com/106784388191201299496/posts and on Twitter @MindfulResearch
Study Summary
Medlicott, E., Phillips, A., Crane, C., Hinze, V., Taylor, L., Tickell, A., Montero-Marin, J., & Kuyken, W. (2021). The Mental Health and Wellbeing of University Students: Acceptability, Effectiveness, and Mechanisms of a Mindfulness-Based Course. International journal of environmental research and public health, 18(11), 6023. https://doi.org/10.3390/ijerph18116023
Abstract
Mental health problems are relatively common during university and adversely affect academic outcomes. Evidence suggests that mindfulness can support the mental health and wellbeing of university students. We explored the acceptability and effectiveness of an 8-week instructor-led mindfulness-based course ("Mindfulness: Finding Peace in a Frantic World"; Williams and Penman, 2011) on improving wellbeing and mental health (self-reported distress), orientation and motivation towards academic goals, and the mechanisms driving these changes. Eighty-six undergraduate and post-graduate students (>18 years) participated. Students engaged well with the course, with 36 (48.0%) completing the whole programme, 52 (69.3%) attending 7 out of 8 sessions, and 71 (94.7%) completing at least half. Significant improvements in wellbeing and mental health were found post-intervention and at 6-week follow-up. Improvements in wellbeing were mediated by mindfulness, self-compassion, and resilience. Improvements in mental health were mediated by improvements in mindfulness and resilience but not self-compassion. Significant improvements in students' orientation to their academic goal, measured by "commitment" to, "likelihood" of achieving, and feeling more equipped with the "skills and resources" needed, were found at post-intervention and at 6-week follow-up. Whilst exploratory, the results suggest that this mindfulness intervention is acceptable and effective for university students and can support academic study.
https://www.ncbi.nlm.nih.gov/pmc/articles/PMC8199969/