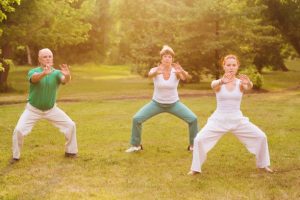 Movement-Based Therapies are Affective for Rehabilitation from Disease
By John M. de Castro, Ph.D.
"Tai chi is often described as "meditation in motion," but it might well be called "medication in motion." There is growing evidence that this mind-body practice, which originated in China as a martial art, has value in treating or preventing many health problems." – Havard Health
Mindful movement practices such as yoga and Tai Chi and Qigong have been used for centuries to improve the physical and mental health and well-being of practitioners. But only recently has the effects of these practices come under scientific scrutiny. This research has been accumulating. So, it makes sense to pause and examine what has been learned about the effectiveness of these practice for rehabilitation from disease.
In today's Research News article "Movement-Based Therapies in Rehabilitation." (See summary below or view the full text of the study at: https://www.ncbi.nlm.nih.gov/pmc/articles/PMC7476461/ ) Phuphanich and colleagues review and summarize the published research studies of the effects of mindful movement practices on rehabilitation from disease.
They report that published research has found that yoga practice reduces fatigue, sleep disturbances, depression, and anxiety and improves the immune system in cancer patients. Yoga has been found to be an effective treatment for mental health issues such as anxiety, depression, and post-traumatic stress disorder (PTSD). Yoga has been found to reduce pain levels, fear avoidance, stress, and sleep disturbance and increases self-efficacy and quality of life in chronic pain patients. Yoga has been found to improve the symptoms of traumatic brain injury, stroke, spinal cord injury, Parkinson disease, dementia, multiple sclerosis, epilepsy, and neuropathies. In addition, yoga has been found to improve systolic and diastolic blood pressures, heart rate, respiratory rate, waist circumference, waist/hip ratio, cholesterol, triglycerides, hemoglobin A1c, and insulin resistance in cardiopulmonary diseases.
They report that the published research has found that Tai Chi and Qigong practices reduce falls in the elderly. Tai Chi and Qigong has been found to reduce pain levels and increase quality of life in chronic pain patients. In addition, there is evidence that Tai Chi and Qigong practices improves depression, anxiety, posttraumatic stress disorder, sleep disturbance, schizophrenia, rheumatoid arthritis, spinal cord injury, traumatic brain injury, and immune disorders.
These are remarkable findings. The range of disorders that are positively affected by yoga, Tai Chi, and Qigong practices is breathtaking. These practices are also safe and can be widely implemented at relatively low cost and can be performed alone or in groups and at home or in a therapeutic setting. This suggests that these practices should be routinely implemented for rehabilitation from disease.
So,  movement-based therapies are affective for rehabilitation from disease.
"Being mindful through any physical activity can not only improve performance in the activity such as yoga, tennis, swimming, etc, but it can also increase flexibility, confidence in movement and generate a sense of body and mind connection that has the potential for improving your overall sense of well-being."- Anupama Kommu
CMCS – Center for Mindfulness and Contemplative Studies
This and other Contemplative Studies posts are also available on Google+ https://plus.google.com/106784388191201299496/posts and on Twitter @MindfulResearch
Study Summary
Phuphanich, M. E., Droessler, J., Altman, L., & Eapen, B. C. (2020). Movement-Based Therapies in Rehabilitation. Physical medicine and rehabilitation clinics of North America, 31(4), 577–591. https://doi.org/10.1016/j.pmr.2020.07.002
Abstract
Movement therapy refers to a broad range of Eastern and Western mindful movement-based practices used to treat the mind, body, and spirit concurrently. Forms of movement practice are universal across human culture and exist in ancient history. Research demonstrates forms of movement therapy, such as dance, existed in the common ancestor shared by humans and chimpanzees, approximately 6 million years ago. Movement-based therapies innately promote health and wellness by encouraging proactive participation in one's own health, creating community support and accountability, and so building a foundation for successful, permanent, positive change.
Key Points – Movement-based therapies
Decrease fear avoidance and empower individuals to take a proactive role in their own health and wellness.
Can benefit patients of any ability; practices are customizable to the individual's needs and health.
Are safe, cost-effective, and potent adjunct treatments used to supplement (not replace) standard care.
Deliver patient-centered, integrative care that accounts for the physical, psychological, social, and spiritual aspects of health and illness.
Have diverse, evidence-based benefits, including reduction in pain, stress, and debility, and improvements in range of motion, strength, balance, coordination, cardiovascular health, physical fitness, mood, and cognition.
https://www.ncbi.nlm.nih.gov/pmc/articles/PMC7476461/