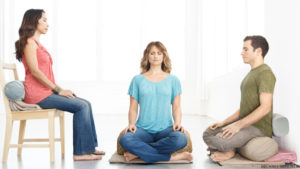 Improve Psychological Well-Being with Mindfulness Regardless of the Amount of Practice
By John M. de Castro, Ph.D.
"No matter what stage of life you are in, the goal of meditating is to find that silence within you, of letting go of external stressors, and accessing calm, tranquility, and feeling that all is well from within. You will reap the benefits of feeling better. And when you feel better, you can be your best self." – Carol Melnick
Over the last several decades, research and anecdotal experiences have accumulated an impressive evidential case that the development of mindfulness has positive benefits for the individual's mental, physical, and spiritual life. Mindfulness appears to be beneficial both for healthy people and for people suffering from a myriad of illnesses. It appears to be beneficial across ages, from children to the elderly. And it appears to be beneficial across genders, personalities, race, and ethnicity. The breadth and depth of benefits is unprecedented. There is no other treatment or practice that has been shown to come anyway near the range of mindfulness' positive benefits. With impacts so great it is important to know how to optimize the development of mindfulness. But it is unclear exactly what kind and how much of training is essential to producing maximum benefits.
In today's Research News article "Adherence to Practice of Mindfulness in Novice Meditators: Practices Chosen, Amount of Time Practiced, and Long-Term Effects Following a Mindfulness-Based Intervention." (See summary below or view the full text of the study at: https://www.ncbi.nlm.nih.gov/pmc/articles/PMC6419774/), Ribeiro and colleagues recruited healthy older adults, aged 50 to 80 years, who had not engaged in mindfulness practices and were moderately stressed. They were randomly assigned to either a wait-list control group or to receive a 6-week mindfulness training based upon the Mindfulness-Based Cognitive Therapy (MBCT) program. They met once a week for 60-90 minutes and were instructed to practice at home for 30-45 minutes daily. They were measured before and after training and 8 weeks later for neuroticism, perceived stress, expectancy, mindfulness, quality of life, depression, and adherence to mindfulness practice.
They found that the participants continued meditation after the training averaging 23 minutes per day for 76% of days and 8 weeks later significantly less averaging 16 minutes per day for 55% of days. Their preferred practice was body scan meditation, followed by sitting meditation and the most popular sitting meditation was breath following. In comparison to the baseline and the wait-list control group, mindfulness practice produced significant improvements in well-being including reductions in perceived stress, depression, and neuroticism and increases in mindfulness and the quality of life. These effects persisted from the end of training to the 8-week follow-up. There were no significant effects of expectancy, amount of practice, or type of practice on the results.
These results are similar to previous reports that mindfulness practice reduces perceived stress, depression, and neuroticism and increases in mindfulness and quality of life that continue beyond the end of training. Unlike previous research, however, they did not find any influence of the types, amounts, or patterns of practice on well-being. This may be due to a ceiling effects as the adherence and amount of practice was relatively high. It could also be due to the age of participants. Future studies may clarify these possibilities. Nevertheless, it is clear that mindfulness practice improves well-being in older adults.
So, improve psychological well-being with mindfulness regardless of the amount of practice.
"Ultimately, engaging in mindfulness meditation cultivates our ability to both focus and broaden our attention, which is a practical way to elicit psychological well-being." – Jennifer Wolkin
CMCS – Center for Mindfulness and Contemplative Studies
This and other Contemplative Studies posts are also available on Google+ https://plus.google.com/106784388191201299496/posts and on Twitter @MindfulResearch
Study Summary
Ribeiro, L., Atchley, R. M., & Oken, B. S. (2017). Adherence to Practice of Mindfulness in Novice Meditators: Practices Chosen, Amount of Time Practiced, and Long-Term Effects Following a Mindfulness-Based Intervention. Mindfulness, 9(2), 401–411.
Abstract
In this study, we objectively tracked the duration, frequency, and the preferred practices chosen by novice mindfulness practitioners following a mindfulness meditation (MM) intervention. A sample of 55 mildly stressed participants, aged 50 to 80 years old, underwent an individual 6-week MM intervention and had their guided meditation home practice electronically recorded during the intervention and the 8-week post-intervention period. Participants' psychological well-being was assessed through self-report measures of mindfulness, quality of life, and symptoms of depression and stress. Results evidenced a high adherence to practice, with an average of ~23 minutes per day during the intervention and ~16 minutes per day in the follow-up period. Body scan, sitting meditation, and breathing space were the most popular meditation practices among participants. Our results showed significant alterations in self-reported measures over time, suggesting improvements in stress and overall quality of life. Changes in the self-report measures did not correlate with MM practice time, which suggests that other psychological phenomena, including quality of meditation practice, influence these outcomes.
https://www.ncbi.nlm.nih.gov/pmc/articles/PMC6419774/