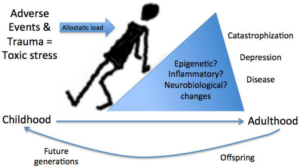 Improve Stress and Trauma Effects on Children with Mindfulness
By John M. de Castro, Ph.D.
"mindfulness practice helps children connect with positive emotional and social experiences, often things that a traumatized brain struggles to do." – Mindful
Trauma comes in many forms, from abuse to warfare, from children to the elderly, from natural and man-made causes, and from the rich to the poor. But, regardless of the cause or the characteristics of the individuals, it leaves in its wake a syndrome of posttraumatic symptoms which can haunt the victims for the rest of their lives. These include persistent recurrent re-experiencing of the traumatic event, including flashbacks and nightmares, loss of interest in life, detachment from other people, increased anxiety and emotional arousal, including outbursts of anger, difficulty concentration, and jumpiness, startling easily.
Experiencing trauma is quite common. It has been estimated that 60% of men and 50% of women will experience a significant traumatic event during their lifetime. Over a third of children interviewed in school had experienced at least one trauma and 9% had experienced at least 5 traumatic events. It's been estimated that of adolescents, 8% have been exposed to sexual assault, 17% physical assault, and 39% had witnessed violence. It is estimated that 15% of children show symptoms of Posttraumatic Stress Disorder (PTSD). This is tragic unto itself, but childhood trauma can continue to affect mental and physical health throughout the individual's life. So, it is important to develop methods to help individuals cope with trauma.
There have been many treatments employed each with varying but limited success. Most treatments have been used with adults. There is very little research investigating the effects of treatment on childhood trauma. Mindfulness training has been found to be effective for trauma in adults, particularly from the middle and upper classes. Yoga has been shown to be effective with trauma in children. In today's Research News article "The Role of Mindfulness in Reducing the Adverse Effects of Childhood Stress and Trauma." See summary below or view the full text of the study at: http://www.mdpi.com/2227-9067/4/3/16/htm
Ortiz and Sibinga review the published research literature on the effectiveness of mindfulness practices on the physical and psychological effects of childhood trauma.
They report that the results of published studies support the effectiveness of mindfulness training to mitigate the effects of childhood trauma in adults. It appears to buffer stress and improve resilience and as a result reduces the later psychological and physical effects of the trauma, including anxiety, depression, stress, burnout, post-traumatic stress disorder, sleep disorders, addictions, decreased quality of life, cardiovascular disease, obesity, metabolic syndrome, inflammation, and obesity. They also report that published studies of the effects of mindfulness practices on children who have experienced trauma find that, like with adults, school children who have experienced trauma show significant improvements in mental and physical symptoms, including, resilience, anxiety, depression, self-hostility, negative emotions, rumination, sleep, self-esteem, post-traumatic stress disorder symptoms, suicidal thoughts, quality of life, social behavior, and coping ability.
These are outstanding findings that strongly suggest that mindfulness training is an effective therapeutic strategy to help both children and adults cope with the psychological and physical sequalae of trauma. With the high prevalence rates of trauma in childhood, mindfulness training may be a needed solution to the short- and lont-term effects of this rampant problem.
So, improve the stress and trauma effects on children with mindfulness.
"mindfulness may provide some resilience against the poor adult health outcomes that often result from childhood trauma. Mindfulness training may help adults, including those with a history of childhood trauma, to improve their own well-being and be more effective with children." – Robert Whitaker
CMCS – Center for Mindfulness and Contemplative Studies
This and other Contemplative Studies posts are also available on Google+ https://plus.google.com/106784388191201299496/posts and on Twitter @MindfulResearch
Study Summary
Ortiz, R.; Sibinga, E.M. The Role of Mindfulness in Reducing the Adverse Effects of Childhood Stress and Trauma. Children 2017, 4, 16.
Abstract
Research suggests that many children are exposed to adverse experiences in childhood. Such adverse childhood exposures may result in stress and trauma, which are associated with increased morbidity and mortality into adulthood. In general populations and trauma-exposed adults, mindfulness interventions have demonstrated reduced depression and anxiety, reduced trauma-related symptoms, enhanced coping and mood, and improved quality of life. Studies in children and youth also demonstrate that mindfulness interventions improve mental, behavioral, and physical outcomes. Taken together, this research suggests that high-quality, structured mindfulness instruction may mitigate the negative effects of stress and trauma related to adverse childhood exposures, improving short- and long-term outcomes, and potentially reducing poor health outcomes in adulthood. Future work is needed to optimize implementation of youth-based mindfulness programs and to study long-term outcomes into adulthood.
http://www.mdpi.com/2227-9067/4/3/16/htm