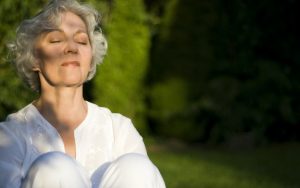 Reduce Inflammation in Psychiatric Patients with Mindfulness
By John M. de Castro, Ph.D.
"mindfulness practice was not directly linked to lower inflammation levels, but that it may have bolstered stress resilience among at-risk adults by preventing an increase in inflammatory biomarker levels." – Grace Bullock
The immune system is designed to protect the body from threats like stress, infection, injury, and toxic chemicals. One of its tools is the Inflammatory response. This response works quite well for short-term infections and injuries. But when inflammation is protracted and becomes chronic, it can itself become a threat to health. It can produce autoimmune diseases such as colitis, Chron's disease, arthritis, heart disease, increased cancer risk, lung disease, sleep disruption, gum disease, decreased bone health, psoriasis, and depression. In the elderly it is associated with the onset of dementia.
Needless to say, chronic inflammation can create major health problems. Indeed, the presence of chronic inflammation is associated with reduced longevity. So, it is important for health to control the inflammatory response, allowing it to do its job in fighting off infection but reducing its activity when no external threat is apparent. Of course, it is far better to prevent chronic inflammation in the first place than to treat it later. Mind-body techniques such as yoga, Tai Chi and meditation have been shown to adaptively reduce the inflammatory response. In addition, mindfulness training, has been shown to be effective in treating psychiatric disorders. It is possible that mindfulness acts, in part, to improve psychiatric disorders by decreasing inflammation in these patients.
In today's Research News article "Effects of Mindfulness-Based Interventions on Biomarkers and Low-Grade Inflammation in Patients with Psychiatric Disorders: A Meta-Analytic Review." (See summary below or view the full text of the study at: https://www.ncbi.nlm.nih.gov/pmc/articles/PMC7177919/), Sanada and colleagues review, summarize, and perform a meta-analysis of the effectiveness of mindfulness-based interventions in reducing biomarkers of the inflammatory response in psychiatric patients. They discovered 10 published research studies with a total of 998 participants. They included patients diagnosed with anxiety disorders, depression, alcohol abuse, sleep disorders, PTSD, and ADHD.
They report that the published research studies found that mindfulness-based interventions improved the levels of a variety of biomarkers of inflammation with a variety of psychiatric problems. These included event-related potentials, methylation of serotonin transporter genes, IL-6, TNF-α, and adrenocorticotropic hormone. These biomarkers suggest that psychiatric disorders are associated with mild levels of inflammation and that mindfulness-based interventions reduce the levels of these biomarkers.
Hence the published research literature suggests that mindfulness-based interventions are effective in reducing the levels of inflammation in psychiatric patients and improving their health status. These results provide an explanation for the effectiveness of mindfulness for the improvement of anxiety disorders, depression, alcohol abuse, sleep disorders, PTSD, and ADHD. They did not report on the mechanisms by which mindfulness reduces inflammation. But high on the list of possibilities has to be the ability of mindfulness training to reduce the physiological and psychological responses to stress as stress can increase inflammatory responses.
So, reduce inflammation in psychiatric patients with mindfulness.
"mindfulness techniques may be more effective in relieving inflammatory symptoms than other activities that promote well-being." – ScienceDaily
CMCS – Center for Mindfulness and Contemplative Studies
This and other Contemplative Studies posts are also available on Google+ https://plus.google.com/106784388191201299496/posts and on Twitter @MindfulResearch
Study Summary
Sanada, K., Montero-Marin, J., Barceló-Soler, A., Ikuse, D., Ota, M., Hirata, A., Yoshizawa, A., Hatanaka, R., Valero, M. S., Demarzo, M., Campayo, J. G., & Iwanami, A. (2020). Effects of Mindfulness-Based Interventions on Biomarkers and Low-Grade Inflammation in Patients with Psychiatric Disorders: A Meta-Analytic Review. International journal of molecular sciences, 21(7), 2484. https://doi.org/10.3390/ijms21072484
Abstract
Mindfulness-Based Interventions (MBIs) present positive effects on mental health in diverse populations. However, the detailed associations between MBIs and biomarkers in patients with psychiatric disorders remain poorly understood. The aim of this study was to examine the effects of MBIs on biomarkers in psychiatric illness used to summarise the effects of low-grade inflammation. A systematic review of PubMed, EMBASE, PsycINFO, and the Cochrane Library was conducted. Effect sizes (ESs) were determined by Hedges' g and the number needed to treat (NNT). Heterogeneity was evaluated. A total of 10 trials with 998 participants were included. MBIs showed significant improvements in the event-related potential amplitudes in attention-deficit hyperactivity disorder, the methylation of serotonin transporter genes in post-traumatic stress disorder, the salivary levels of interleukin 6 (IL-6) and tumour necrosis factor alpha (TNF-α) in depression, and the blood levels of adrenocorticotropic hormone (ACTH), IL-6, and TNF-α in generalised anxiety disorder. MBIs showed low but significant effects on health status related to biomarkers of low-grade inflammation (g = −0.21; 95% confidence interval (CI) –0.41 to −0.01; NNT = 8.47), with no heterogeneity (I2 = 0; 95% CI 0 to 79). More trials are needed to establish the impact of MBIs on biomarkers in psychiatric illness.
https://www.ncbi.nlm.nih.gov/pmc/articles/PMC7177919/