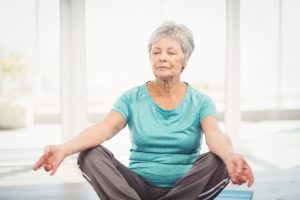 Improve Inflammation and Depression with Mild Cognitive Impairment with Mindfulness
By John M. de Castro, Ph.D.
"adults with mild cognitive impairment who practice mindfulness meditation could experience a boost in cognitive reserve." – Monica Beyer
The aging process involves a systematic progressive decline in every system in the body, the brain included. The elderly frequently have problems with attention, thinking, and memory, known as mild cognitive impairment. An encouraging new development is that mindfulness practices such as meditation training and mindful movement practices can significantly reduce these declines in cognitive ability. In addition, it has been found that mindfulness practices reduce the deterioration of the brain that occurs with aging restraining the loss of neural tissue.
Intervening early in patients with mild cognitive impairment may be able to delay or even prevent full blown dementia. So, it is important to study the effectiveness of mindfulness training on older adults with mild cognitive impairment to improve their psychological and physical well-being and cognitive performance.
In today's Research News article "The Effect of Mindfulness-Based Stress Reduction (MBSR) on Depression, Cognition, and Immunity in Mild Cognitive Impairment: A Pilot Feasibility Study." (See summary below or view the full text of the study at: https://www.ncbi.nlm.nih.gov/pmc/articles/PMC7429186/ ) Marciniak and colleagues recruited older adults, over 55 years of age, who were diagnosed with mild cognitive impairment and randomly assigned them to receive 8 weekly 2.5-hour sessions of either Mindfulness-Based Stress Reduction (MBSR) or to cognitive training. Weekly training was accompanied by daily home practice. MBSR consisted in training of body scan, sitting meditation, mindful movement, working with difficulties, meditation with imagination, and discussion. Cognitive training focused on specific cognitive domains including memory, attention, and logical thinking. They were measured before and after training and 6 months later for cognitive functions, anxiety, depression and spiritual well-being. Blood was drawn before and after training and assayed for immune system cells.
They found that in comparison to baseline and the cognitive training group, the participants who received Mindfulness-Based Stress Reduction (MBSR) training had significantly lower depression levels both after training and 6 months later. The MBSR group also had improvements in psychomotor speed and significant decreases in resting monocyte activation immediately after training.
These are somewhat disappointing results as neither Mindfulness-Based Stress Reduction (MBSR) or cognitive training produced significant improvements in cognitive function. The study was rather small, however, with only 12 and 9 participants in the groups respectively. statistical power was lacking to detect differences. These results suggest that large changes in cognitive abilities are not produced in these patients by either MBSR or cognitive training.
Nevertheless, MBSR training did significantly improve depression in these elderly with mild cognitive impairment. MBSR has been shown to improve depression in a variety of different types of healthy and sick individuals. So, this result is not surprising but important as depression is a serious problem in the elderly, especially those with diminished cognitive capacity and that depression can produce further physical and psychological deterioration in the patients.
Importantly, Mindfulness-Based Stress Reduction (MBSR) appears to reduce immune monocyte activation. This suggests that MBSR may reduce inflammation. It has been previously shown to reduce inflammation in other groups. This is potentially important in that levels of inflammation are generally high in patients with mild cognitive impairment and chronic inflammation is a threat to the health and well-being of these patients. Reducing it with MBSR training may have long-term consequences for improved health in elderly patients with mild cognitive impairment.
So, improve inflammation and depression with mild cognitive impairment with mindfulness.
"A mindfulness intervention reduces inflammatory biomarkers that are associated with cognitive decline and dementia in older adults." – Eric Dolan
CMCS – Center for Mindfulness and Contemplative Studies
This and other Contemplative Studies posts are also available on Google+ https://plus.google.com/106784388191201299496/posts and on Twitter @MindfulResearch
Study Summary
Marciniak, R., Šumec, R., Vyhnálek, M., Bendíčková, K., Lázničková, P., Forte, G., Jeleník, A., Římalová, V., Frič, J., Hort, J., & Sheardová, K. (2020). The Effect of Mindfulness-Based Stress Reduction (MBSR) on Depression, Cognition, and Immunity in Mild Cognitive Impairment: A Pilot Feasibility Study. Clinical interventions in aging, 15, 1365–1381. https://doi.org/10.2147/CIA.S249196
Abstract
Background
Mindfulness-based programs have shown a promising effect on several health factors associated with increased risk of dementia and the conversion from mild cognitive impairment (MCI) to dementia such as depression, stress, cognitive decline, immune system and brain structural and functional changes. Studies on mindfulness in MCI subjects are sparse and frequently lack control intervention groups.
Objective
To determine the feasibility and the effect of mindfulness-based stress reduction (MBSR) practice on depression, cognition and immunity in MCI compared to cognitive training.
Methods
Twenty-eight MCI subjects were randomly assigned to two groups. MBSR group underwent 8-week MBSR program. Control group underwent 8-week cognitive training. Their cognitive and immunological profiles and level of depressive symptoms were examined at baseline, after each 8-week intervention (visit 2, V2) and six months after each intervention (visit 3, V3). MBSR participants completed feasibility questionnaire at V2.
Results
Twenty MCI patients completed the study (MBSR group n=12, control group n=8). MBSR group showed significant reduction in depressive symptoms at both V2 (p=0.03) and V3 (p=0.0461) compared to the baseline. There was a minimal effect on cognition – a group comparison analysis showed better psychomotor speed in the MBSR group compared to the control group at V2 (p=0.0493) but not at V3. There was a detectable change in immunological profiles in both groups, more pronounced in the MBSR group. Participants checked only positive/neutral answers concerning the attractivity/length of MBSR intervention. More severe cognitive decline (PVLT≤36) was associated with the lower adherence to home practice.
Conclusion
MBSR is well-accepted potentially promising intervention with positive effect on cognition, depressive symptoms and immunological profile.
https://www.ncbi.nlm.nih.gov/pmc/articles/PMC7429186/