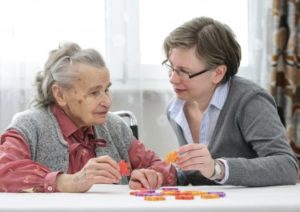 Improve the Well-Being of Dementia Patients and Their Caregivers with Mindfulness
By John M. de Castro, Ph.D.
"people who care for family members with Alzheimer's disease and other dementias in the home experienced a decrease in perceived stress and mood disturbance when practicing Mindfulness-based Stress Reduction (MBSR). Another trial indicates that MBSR was "more effective at improving overall mental health, reducing stress, and decreasing depression" than those who only participated in a caregiver education and support intervention." – Heather Stang
Dementia is a progressive loss of mental function produced by degenerative diseases of the brain. Dementia patients require caregiving particularly in the later stages of the disease. Caregiving for dementia patients is a daunting intense experience that can go on for four to eight years with increasing responsibilities as the loved one deteriorates. This places tremendous psychological and financial stress on the caregiver. Hence, there is a need to both care for the dementia patients and also for the caregivers. Mindfulness practice for caregivers has been shown to help them cope with the physical and psychological demands of caregiving. In addition, mindfulness training has been found to help protect aging individuals from physical and cognitive declines.
In today's Research News article "Mindfulness Training for People With Dementia and Their Caregivers: Rationale, Current Research, and Future Directions." (See summary below or view the full text of the study at: https://www.ncbi.nlm.nih.gov/pmc/articles/PMC6008507/ ), Berk and colleagues review and summarize the published research literature on the effectiveness of mindfulness training for both the patients with dementia and their caregivers.
They found that the literature reports that mindfulness training can help patients with mild cognitive decline by improving memory. They also report that mindfulness training improves the quality of life and depression in dementia patients and their caregivers when they are trained in mindfulness together. They further found that the research reports that mindfulness training helps the caregivers for the dementia patient by lowering perceived stress levels and depression and improving their quality of life. Hence, it appears that mindfulness training improves the well-being of both dementia patients and their caregivers.
These results fit with previous findings that mindfulness training in general improves the psychological and physiological responses to stress, depression, cognitive function, and quality of life in a wide variety of patients and healthy individuals of all ages. The results further suggests that training the dementia patient and their caregiver together is feasible and may have additional benefits for both.
So, improve the well-being of dementia patients and their caregivers with mindfulness.
"The disease is challenging for the affected person, family members, and caregivers. Although they know things will likely get worse, they can learn to focus on the present, deriving enjoyment in the moment with acceptance and without excessive worry about the future. This is what was taught in the mindfulness program." – Ken Paller
CMCS – Center for Mindfulness and Contemplative Studies
This and other Contemplative Studies posts are also available on Google+ https://plus.google.com/106784388191201299496/posts and on Twitter @MindfulResearch
Study Summary
Berk, L., Warmenhoven, F., van Os, J., & van Boxtel, M. (2018). Mindfulness Training for People With Dementia and Their Caregivers: Rationale, Current Research, and Future Directions. Frontiers in Psychology, 9, 982. http://doi.org/10.3389/fpsyg.2018.00982
Abstract
The world population is aging and the prevalence of dementia is increasing. By 2050, those aged 60 years and older are expected to make up a quarter of the population. With that, the number of people with dementia is increasing. Unfortunately, there is no cure for dementia. The progression of symptoms with no hope of improvement is difficult to cope with, both for patients and their caregivers. New and evidence-based strategies are needed to support the well-being of both caregiver and patient. Mindfulness training is a body-mind intervention that has shown to improve psychological well-being in a variety of mental health conditions. Mindfulness, a non-judgmental attention to one's experience in the present moment, is a skill that can be developed with a standard 8-week training. Research has shown preliminary but promising results for mindfulness-based interventions to benefit people with dementia and caregivers. The aim of this review is (a) to provide a rationale for the application of mindfulness in the context of dementia care by giving an overview of studies on mindfulness for people with dementia and/or their caregivers and (b) to provide suggestions for future projects on mindfulness in the context of dementia and to give recommendations for future research.
https://www.ncbi.nlm.nih.gov/pmc/articles/PMC6008507/