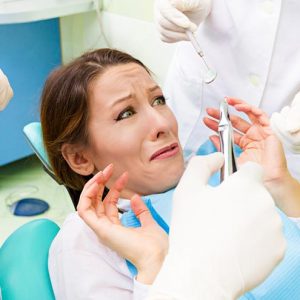 Reduce the Psychological and Physical Responses Before a Major Dental Procedure with Yogic Relaxation
By John M. de Castro, Ph.D.
"Practicing yoga has been effectively proven to reduce stress levels and induce the sense of calmness in individuals, which could help in the management of several stress-induced oral conditions." – Roquaiya Nishat
If you asked most people what's one of the most common health problems that people have, probably the last thing that they would come up with is oral health. But more than 26% of adults in the United States have untreated tooth decay and 65% of adults had a dental visit every year. A common dental procedure is a root canal that is performed around 15 million times annually. But this procedure is accompanied by great anxiety and stress in the patients. This often results in patients avoiding or delaying needed procedures. There is considerable evidence that yoga practice reduces anxiety and stress. But it is not known if a brief yogic relaxation practice can reduce anxiety and stress prior to a dental root canal procedure.
In today's Research News article "Effect of Pranayama Techniques with Marmanasthanam Kriya as Yogic Relaxation on Biopsychosocial Parameters Prior to Endodontic Therapy: A Cross Sectional Study Design." (See summary below or view the full text of the study at: https://www.ncbi.nlm.nih.gov/pmc/articles/PMC8191219/ ) Thiruvalluvan and colleagues recruited adults between the ages of 25-50 years who were scheduled to undergo a dental root canal procedure and randomly assigned them to receive either guided Yogic relaxation for 15 minutes before the root canal treatment or to simply relax for 15 minutes. Yoga relaxation included breathing practices, mudras, and body scan exercises. The participants were measured before and after the intervention for anxiety, heart rate, and blood pressure.
They found that in comparison to baseline and the relaxation control group, the patients who practiced yogic relaxation had a significant decrease in anxiety, heart rate, and diastolic and systolic blood pressure. Hence, yogic relaxation prior to a dental root canal procedure reduced anxiety and physiological arousal in the patients. It is important to note that yogic relaxation produced superior results to simply asking the patient to relax. This suggests that yogic relaxation produces does more than simply relax the patients.
Yoga has been repeatedly shown to reduce anxiety, blood pressure, and heart rate in a variety of conditions. The present results demonstrate that a brief yogic relaxation can produce similar effects in patients before a major dental procedure. Anxiety and fear have been found to be major barriers to dental treatment. This leads to patients avoiding or delaying treatment allowing the damage to progress, So, a treatment that can reduce the anxiety before the treatment may be helpful in promoting dental health.
So, reduce the psychological and physical responses before a major dental procedure with yogic relaxation.
"Yoga is versatile, enjoyable and highly beneficial and a great way for dentists and their patients to battle stress and anxiety. '– Saurabh Bhargava
CMCS – Center for Mindfulness and Contemplative Studies
This and other Contemplative Studies posts are also available on Google+ https://plus.google.com/106784388191201299496/posts and on Twitter @MindfulResearch
Study Summary
Thiruvalluvan, A., Sekizhar, V., Ramanathan, M., Bhavanani, A. B., Chakravathy, D., & Reddy, J. (2021). Effect of Pranayama Techniques with Marmanasthanam Kriya as Yogic Relaxation on Biopsychosocial Parameters Prior to Endodontic Therapy: A Cross Sectional Study Design. International journal of yoga, 14(2), 146–151. https://doi.org/10.4103/ijoy.IJOY_133_20
Abstract
Background:
The root canal treatment is one of the common dental or endodontic therapies associated with high levels of patient anxiety. Yoga therapy (YT) is reported in medical literature as an effective modality in bringing down anxiety in clinical scenarios; however, the reports of the same for dental settings are fewer. The current study aimed to evaluate the effect of YT on biopsychosocial parameters in patients undergoing root canal therapy.
Materials and Methods:
A cross sectional study was conducted on 50 participants who underwent dental root canal therapy. The sample was divided into two groups: Yoga group (Group A; n = 25) who received YT and control group (Group B; n = 25) who were subjected to self-relaxation during dental procedure. The state of anxiety was measured by a 5-point single-item Likert scale and the cardiovascular (CV) parameters (systolic blood pressure [SBP], diastolic blood pressure [DBP], heart rate [HR]) and CV indices (pulse pressure [PP], mean arterial pressure [MAP], rate-pressure product [RPP], and double product [DoP]) were derived and compared between both the groups.
Results:
The intergroup comparison showed statistically significant differences in anxiety score (P < 0.001), SBP (P < 0.001), MAP (P < 0.001), RPP (P < 0.001), DoP (P < 0.001), HR (P < 0.029), DBP (P < 0.003), and PP (P < 0.116).
Conclusion:
A significant reduction was recorded in terms of anxiety and primary and derived CV parameters in the yoga group. The YT can be adopted as an interventional tool for anxiety management in patients indicated for dental root canal therapy.
https://www.ncbi.nlm.nih.gov/pmc/articles/PMC8191219/