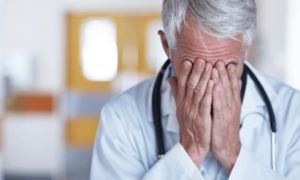 Relieve Stress and Burnout in Primary Care Physicians with Mindfulness
By John M. de Castro, Ph.D.
"Dealing with sick, scared, suffering and dying patients is draining all by itself. Throw in distraction by negative emotions like worry, anger, frustration, righteous indignation … and you can easily double the energy drain. . . With an effective mindfulness practice you can notice when you are distracted by thoughts and feelings and release them quickly and effectively — without judging yourself in the process." – Dike Drummond
Stress is epidemic in the western workplace with almost two thirds of workers reporting high levels of stress at work. In high stress occupations, like healthcare, burnout is all too prevalent. Burnout is the fatigue, cynicism, emotional exhaustion, sleep disruption, and professional inefficacy that comes with work-related stress. It is estimated that over 45% of healthcare workers experience burnout. Currently, over a third of healthcare workers report that they are looking for a new job. It not only affects the healthcare providers personally, but also the patients, as it produces a loss of empathy and compassion. Burnout, in fact, it is a threat to the entire healthcare system as it contributes to the shortage of doctors and nurses.
Preventing burnout has to be a priority. Unfortunately, it is beyond the ability of the individual to change the environment to reduce stress and prevent burnout, so it is important that methods be found to reduce the individual's responses to stress; to make the individual more resilient when high levels of stress occur. Contemplative practices have been shown to reduce the psychological and physiological responses to stress. Indeed, mindfulness has been shown to be helpful in treating and preventing burnout, increasing resilience, and improving sleep. On the front lines of medical practice are the primary care physicians. It is thus important to assess the effectiveness of mindfulness in reducing stress and burnout in these physicians.
In today's Research News article "Effects of mindfulness training on perceived stress, self-compassion, and self-reflection of primary care physicians: a mixed-methods study." (See summary below or view the full text of the study at: https://www.ncbi.nlm.nih.gov/pmc/articles/PMC6348323/ ), Wietmarschen and colleagues recruited primary care physicians and provided them with an 8-week Mindfulness-Based Stress Reduction (MBSR) program that includes body scan and focused meditations, yoga practice, and discussion that was modified for physicians' needs. Training occurred once a week for 2.5 hours and included daily home practice. The physicians were measured before and after the training and 6 months later for perceived stress, self-compassion, and self-reflection ability. A subset of these physicians was also interviewed 3 months after training.
They found that immediately after training the physicians has significantly lower perceived stress and significantly improved self-compassion and self-reflection. Six months later the improvements in perceived stress and self-compassion were still large and highly significant. The interviews revealed that "participation in the mindfulness training made the participants more aware of their own feelings and thoughts, and better able to accept situations, experience more peacefulness, and have more openness to the self and others."
It needs to be recognized that the study did not contain a control group for comparison leaving open a number of potentially confounding factors. But, prior published randomized controlled trials have demonstrated that mindfulness training markedly reduces stress and burnout. So, the present results are most likely due to the effects of MBSR training.
These are important findings as burnout is a threat to medical careers and the quality of health care. The fact, that a relatively brief training can have lasting effects on the well-being of primary care physicians suggests that mindfulness training should be routinely included in physician training and continuing education.
So, relieve stress and burnout in primary care physicians with mindfulness.
"mindfulness can be thought of as 'preventive medicine' for future doctors, helping them cultivate a way of being that may foster healing and growth in their own lives as well as skills to effectively help others heal and grow in the future." – Shauna Shapiro
CMCS – Center for Mindfulness and Contemplative Studies
This and other Contemplative Studies posts are also available on Google+ https://plus.google.com/106784388191201299496/posts and on Twitter @MindfulResearch
Study Summary
van Wietmarschen, H., Tjaden, B., van Vliet, M., Battjes-Fries, M., & Jong, M. (2018). Effects of mindfulness training on perceived stress, self-compassion, and self-reflection of primary care physicians: a mixed-methods study. BJGP open, 2(4), bjgpopen18X101621. doi:10.3399/bjgpopen18X101621
Abstract
Background
Primary care physicians are subjected to a high workload, which can lead to stress and a high incidence of burnout. A mindfulness training course was developed and implemented for primary care physicians to better cope with stress and improve job functioning.
Aim
To gain insight into the effects of the mindfulness training on perceived stress, self-compassion, and self-reflection of primary care physicians.
Design & setting
A pragmatic mixed-methods pre–post design in which physicians received 8 weeks of mindfulness training.
Method
Participants completed validated questionnaires on perceived stress (Perceived Stress Scale [PSS]), self-compassion (Self-Compassion Scale [SCS]), and self-reflection (Groningen Reflection Ability Scale [GRAS]) before the training, directly after, and 6 months later. Semi-structured interviews were conducted with six participants after the training and a content analysis was performed to gain in depth understanding of experiences.
Results
A total of 54 physicians participated in the study. PSS was reduced (mean difference [MD] -4.5, P<0.001), SCS improved (MD = 0.5, P<0.001), and GRAS improved (MD = 3.3, P<0.001), directly after the 8-week training compared with before training. Six months later, PSS was still reduced (MD = -2.9, P = 0.025) and SCS improved (MD = 0.7, P<0.001). GRAS did not remain significant (MD = 2.5, P = 0.120). Qualitative analysis revealed four themes: being more aware of their own feelings and thoughts; being better able to accept situations; experiencing more peacefulness; and having more openness to the self and others.
Conclusion
Mindfulness training might be an effective approach for improving stress resilience, self-compassion, and self-reflection in primary care physicians.
https://www.ncbi.nlm.nih.gov/pmc/articles/PMC6348323/