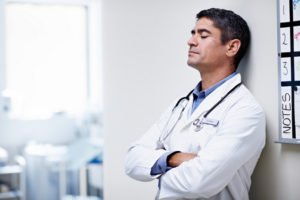 Reduce Health Care Professional's Burnout with Mindfulness
By John M. de Castro, Ph.D.
"mindfulness programs in the workplace may help employees better deal with stress, and develop the ability to observe negative emotions and automatic thought patterns and behaviors, and remain calm, present, self-aware and alert, rather than succumbing to the slippery slope of negative emotions." – Grace Bullock
Stress is epidemic in the western workplace with almost two thirds of workers reporting high levels of stress at work. In high stress occupations, like healthcare, burnout is all too prevalent. Burnout is the fatigue, cynicism, emotional exhaustion, sleep disruption, and professional inefficacy that comes with work-related stress. It is estimated that over 45% of healthcare workers experience burnout. It not only affects the healthcare providers personally, but also the patients, as it produces a loss of empathy and compassion. Burnout, in fact, it is a threat to the entire healthcare system. Currently, over a third of healthcare workers report that they are looking for a new job. Hence, burnout contributes to the shortage of doctors and nurses.
Preventing burnout has to be a priority. Unfortunately, it is beyond the ability of the individual to change the environment to reduce stress and prevent burnout. So it is important that methods be found to reduce the individual's responses to stress; to make the individual more resilient when high levels of stress occur. Contemplative practices have been shown to reduce the psychological and physiological responses to stress. Indeed, mindfulness has been shown to be helpful in treating and preventing burnout, increasing resilience, and improving sleep. Hence, mindfulness may be a means to reduce burnout.
In today's Research News article "Being Mindful: A Long-term Investigation of an Interdisciplinary Course in Mindfulness." (See summary below or view the full text of the study at: https://www.ncbi.nlm.nih.gov/pmc/articles/PMC6328954/ ), Braun and colleagues recruited health care professionals and students and treated them with an 8-week, once a week for 2 hours, program of mindfulness training including meditation, yoga, and discussion, relevant to health care work. They were measured before and after treatment and follow-up occurring 6 months to 1.5 years later for burnout, including depersonalization, emotional exhaustion, and personal accomplishment subscales, perceived stress, anxiety, depression, mindfulness, and the nature of any continued practice.
They found that after training and at follow-up there were significant reductions in burnout including reduced depersonalization and emotional exhaustion. There were also significant improvements in mindfulness including the acting with awareness, non-judging, and non-reacting facets. In interviews with the participants afterwards they reported the "importance of integrating mindfulness into their lives using informal practices and noted the positive effects of mindfulness on their relationships with themselves, others, and patients."
The fact that mindfulness training can effectively reduce burnout has been previously demonstrated by other researchers with a number of different types of professionals including health care workers. The importance of the present study is that it demonstrated that the effectiveness of the training endures for many months. The participants indicated that continued formal and informal practice was important. This suggests that training should include instruction on integrating mindfulness practice into daily life, and, if it is successful, the positive effects of mindfulness training can be maintained over the long term.
So, reduce health care professional's burnout with mindfulness.
"We all have stresses and difficulties, both personally and professionally. While there are many ways of coping, mindfulness has been found to be a potential way for many to reduce anxiety, relieve depression and focus on the important tasks at hand." – Jen Robertson
CMCS – Center for Mindfulness and Contemplative Studies
This and other Contemplative Studies posts are also available on Google+ https://plus.google.com/106784388191201299496/posts and on Twitter @MindfulResearch
Study Summary
Ellen Braun, S., Kinser, P., Carrico, C. K., & Dow, A. (2019). Being Mindful: A Long-term Investigation of an Interdisciplinary Course in Mindfulness. Global advances in health and medicine, 8, 2164956118820064. doi:10.1177/2164956118820064
Short abstract
Background
Burnout and work-related stress in health-care professionals (HCPs) is a growing concern to the optimal functioning of the health-care system. Mindfulness-based interventions may be well-suited to address burnout in HCPs.
Objective
The purpose of this study was (1) to quantitatively evaluate the effect of a mindfulness-based intervention for interdisciplinary HCPs over time and at a long-term follow-up and (2) to explore perceived benefits, facilitators, and barriers to the practice of mindfulness at the long-term follow-up.
Design
A mixed-method, repeated measures, within-subjects design was used to investigate Mindfulness for Interdisciplinary HCPs (MIHP) at baseline, post-MIHP, and a follow-up (6 months to 1.5 years after MIHP). MIHP is an 8-week, group-based course for interdisciplinary HCPs and students, with weekly meditation training, gentle yoga, and discussions on the application of mindfulness to common stressors faced by HCPs. Main outcome measures were the Maslach Burnout Inventory—Health Services Survey and the Five Facet Mindfulness Questionnaire. A semistructured interview was used to explore participants' perceptions of sustained effects and practice in the context of HCP work at the long-term follow-up. The study protocol was registered with ClinicalTrials.gov (NCT02736292).
Results
Eighteen HCPs (88% female) participated in the study. Significant reductions were found after the intervention for 2 subscales of burnout: depersonalization, F(2, 17) = 5.98, P = .01, and emotional exhaustion, F(2, 17) = 2.64, P = .10. Three facets of dispositional mindfulness showed significant increases at long-term follow-up, act aware: F(2, 15) = 4.47, P = .03, nonjudge: F(2, 15) = 4.7, P = .03, and nonreactivity: F(2, 15) = 3.58, P = .05. Continued practice of skills long term was facilitated by the use of informal practice and perceived improvement in work and personal life.
Conclusion
In sum, MIHP improved subscales of burnout and mindfulness. These findings should be further explored with a larger, controlled study. Interventions should focus on developing mindfulness practice that can be integrated into the work of HCPs.
https://www.ncbi.nlm.nih.gov/pmc/articles/PMC6328954/