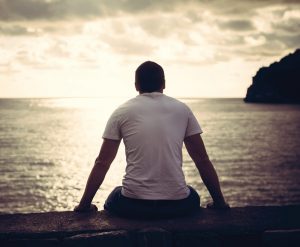 Virtual Mindfulness Training Improves Well-Being
By John M. de Castro, Ph.D.
"Spending too much time planning, problem solving, daydreaming, or thinking negative or random thoughts can be draining. It also can make you more likely to experience stress, anxiety and symptoms of depression. Practicing mindfulness exercises, on the other hand, can help you direct your attention away from this kind of thinking and engage with the world around you." – Mayo Clinic
Mindfulness training has been shown to improve health and well-being. It has also been found to be effective for a large array of medical and psychiatric conditions, either stand-alone or in combination with more traditional therapies. As a result, mindfulness training has been called the third wave of therapies. But the vast majority of the mindfulness training techniques require a trained teacher. The participants must be available to attend multiple sessions at scheduled times that may or may not be compatible with their schedules and at locations that may not be convenient.
As an alternative, training over the internet has been developed. This has tremendous advantages in decreasing costs, making training schedules much more flexible, and eliminating the need to go repeatedly to specific locations. But the question arises as to the effectiveness of internet training in improving psychological well-being. The evidence is accumulating. So, it makes sense to review what has been learned.
In today's Research News article "Virtual mindfulness interventions to promote well-being in adults: A mixed-methods systematic review." (See summary below or view the full text of the study at: https://www.ncbi.nlm.nih.gov/pmc/articles/PMC8765070/ ) Xu and colleagues review and summarize the published research studies on the effectiveness of mindfulness training over the internet to improve psychological well-being. They identified 32 published studies.
They report that the published studies found that internet-based mindfulness training produced significant improvements in well-being and mental health including reductions in anxiety and depression, perceived stress, sleep disruptions, and negative emotions and significant increases in academic performance and cognition, including reduced mind-wandering.
The published research indicates that on-line mindfulness training improves the well-being, mental health, and cognitive performance of students.
"Even though the app we evaluate is vastly less expensive than in-person psychotherapy, it leads to comparable short-run improvements in mental health." – Advik Shreekumar
CMCS – Center for Mindfulness and Contemplative Studies
This and other Contemplative Studies posts are also available on Twitter @MindfulResearch
Study Summary
Xu, J., Jo, H., Noorbhai, L., Patel, A., & Li, A. (2022). Virtual mindfulness interventions to promote well-being in adults: A mixed-methods systematic review. Journal of affective disorders, 300, 571–585. https://doi.org/10.1016/j.jad.2022.01.027
Abstract
Background
With the onset of the COVID-19 pandemic, many have experienced drastic changes in their academic and social lives with ensuing consequences towards their physical and mental well-being. The purpose of this systematic review is to identify virtual mindfulness-based interventions for the well-being of adults aged 19 to 40 years in developed countries and examine the efficacy of these techniques/exercises.
Methods
This mixed-methods systematic review follows the Preferred Reporting Items for Systematic Review and Meta-Analyses (PRISMA) guidelines with a registered PROSPERO protocol. With a convergent integrated synthesis approach, IEEE Xplore, PsychInfo, Web of Science and OVID were searched with a predetermined criteria and search strategy employing booleans and filters for peer-reviewed and gray literature. Data screening and extraction were independently performed by two authors, with a third author settling disagreements after reconciliation. Study quality of selected articles was assessed with two independent authors using the Mixed Methods Appraisal Tool (MMAT). Studies were analyzed qualitatively (precluding meta and statistical analysis) due to the heterogeneous study results from diverse study designs in present literature.
Results
Common mindfulness-based interventions used in the appraised studies included practicing basic mindfulness, Mindfulness-Based Stress Reduction (MBSR) programs, Mindfulness-Based Cognitive Therapy programs (MBCT) and the Learning 2 BREATHE (L2B) program.
Conclusion
Studies implementing mindfulness interventions demonstrated an overall improvement in well-being. Modified versions of these interventions can be implemented in a virtual context, so adults can improve their well-being through an accessible format.
https://www.ncbi.nlm.nih.gov/pmc/articles/PMC8765070/