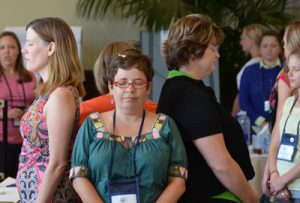 Improve Teacher Well-Being and Immune Function with Mindfulness
By John M. de Castro, Ph.D.
"learning and cultivating skills of mindfulness . . .can help us to promote the calm, relaxed, but enlivened classroom environment that children need to learn. Mindfulness can also help us to be more effective at reducing conflict and developing more positive ways of relating in the classroom, which can help us feel more job satisfaction." – Patricia Jennings
Stress is epidemic in the workplace with almost two thirds of workers reporting high levels of stress at work. This often produces burnout; fatigue, cynicism, emotional exhaustion, and professional inefficacy. In a school setting, this burnout and exhaustion not only affects teachers personally, but also the students and schools, as it produces a loss of enthusiasm, empathy, and compassion. Hence, there is a need to identify methods of reducing stress and improving teachers' psychological health. Mindfulness has been demonstrated to be helpful in reducing the psychological and physiological responses to stress and for treating and preventing burnout. This suggests that mindfulness would improve the psychological and physiological well-being of teachers,
In today's Research News article "Fostering emotional self-regulation in female teachers at the public teaching network: A mindfulness-based intervention improving psychological measures and inflammatory biomarkers." (See summary below or view the full text of the study at: https://www.ncbi.nlm.nih.gov/pmc/articles/PMC8881415/ ) Wilson and colleagues recruited public school teachers and provided them with either 8 weeks of mindfulness training or neuroscience education. Measurements were taken before and after training of reactivity, emotions, stress, resilience, and psychological well-being as well as blood inflammatory markers.
Compared to controls, the teachers who received mindfulness training had significant decreases in stress levels and negative emotions and significant increases in resilience, positive emotions and psychological well-being. Blood inflammatory markers also showed significant improvements. These results suggest that mindfulness training improves immune function, reduces stress, and increases psychological well-being in teachers.
This suggests that teachers should receive mindfulness training to make them better able to withstand the stresses of the job.
"In the last decade, many professional development programs have sprung up that use mindfulness as a key tool to alleviate teacher stress." – Catherine Gewertz
CMCS – Center for Mindfulness and Contemplative Studies
This and other Contemplative Studies posts are also available on Twitter @MindfulResearch
Study Summary
Wilson, D., Rodrigues de Oliveira, D., Palace-Berl, F., de Mello Ponteciano, B., Fungaro Rissatti, L., Piassa Pollizi, V., Sardela de Miranda, F., D'Almeida, V., & Demarzo, M. (2022). Fostering emotional self-regulation in female teachers at the public teaching network: A mindfulness-based intervention improving psychological measures and inflammatory biomarkers. Brain, behavior, & immunity – health, 21, 100427. https://doi.org/10.1016/j.bbih.2022.100427
Abstract
Objective
To examine the effect of a mindfulness-based program specifically designed for teachers in reducing perceived stress and improving the quality of experienced emotion in female active working teachers. A second outcome evaluated is the associated change in cellular inflammatory activity, measured by peripheral blood levels of cytokines.
Method
Eighty-eight female active teachers from public schools from São Paulo Municipality were recruited, and randomly allocated to an eight-week Mindfulness-Based Health Program for Educators (MBHP-Educa) or to Neuroscience for Education Program (Neuro-Educa: active control group). The venue of both programs were several public school facilities, where many of the teachers actually worked. Both groups received activities during eight weeks in a 2 ​h/week regimen, totalizing 16 ​h. Sixty-five participants completed the program and pre- and post-interventions measures were taken from the following scales: Interpersonal Multidimensional Reactivity Scale (IRI), Positive-and-Negative Affects Scale (PANAS), Perceived Stress Scale (PSS), Connor-Davidson Resilience Scale (CD-RISC), and a primary outcome in Ryff's Psychological Well-Being Scale (PBWS). At pre-and post-intervention, blood samples were collected for the measurement of several important inflammatory biomarkers, Tumor Necrosis Factor – α (TNF-α), Interleukin 1β (IL-1β), Interleukin 6 (IL-6), Interleukin 8 (IL-8), Interleukin 10 (IL-10) and Interleukin 12p70 (IL-12P70) through flow cytometry assay. Intervention effects were analyzed via Generalized mixed models (GLMM).
Results
According to the GLMM, MBHP-Educa significantly reduced the scores of perceived stress (p ​< ​0.0001), and negative affect (p ​< ​0.0001) compared to active control group (Neuro-Educa). Conversely, an increase was observed on Psychological Well Being Scale in dimensions of Self-acceptance (p ​< ​0.0001), and Autonomy (p ​= ​0.001), as well as improvements in Resilience (p ​< ​0.0001), and Positive Affect (p ​< ​0.0001). MBHP-Educa also promoted a reduction in the levels of IL-6 (p ​= ​0.003), IL-8 (p ​= ​0.036), and increase in the levels of IL-10 (p ​< ​0.0001) and IL-12p70 (p ​< ​0.044). TNF-α, IL-1β, and IL-10p70 showed results below theoretical limit of detection accepted for CBA kit.
Conclusions
Our data suggest that mindfulness-based interventions introduced as a strategy for reducing stress, promoting well-being and improve immune function can be a useful asset in promoting psychological health among teachers in Basic Education.
https://www.ncbi.nlm.nih.gov/pmc/articles/PMC8881415/