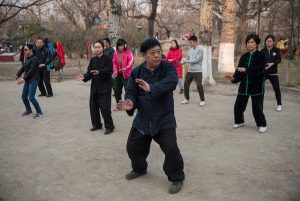 Improve Glucose and Lipid Metabolism with Tai Chi
By John M. de Castro, Ph.D.
"Tai Chi exercises can improve blood glucose levels and improve the control of type 2 diabetes and immune system response." – Anna McKenney
Diet and exercise are the typical recommendation to improve glucose and lipid metabolism for the treatment and prevention of a number of metabolic disorders. Alternatives to classical exercise programs are Tai and Qigong practices. They have been practiced for thousands of years with benefits for health and longevity. Tai Chi training is designed to enhance function and regulate the activities of the body through regulated breathing, mindful concentration, and gentle movements.
Recently the effects of Tai Chi practice been scrutinized with empirical research. It has been found to be effective for an array of physical and psychological issues. It appears to strengthen the immune system, reduce inflammation, increase the number of cancer killing cells in the bloodstream and improve cardiovascular function. In addition, they appear to be effective in improving blood glucose and lipid metabolism. Because Tai Chi is not strenuous, involving slow gentle movements, and is safe, having no appreciable side effects, it is appropriate for all ages including the elderly and for individuals with illnesses that limit their activities or range of motion. But most studies of Tai Chi benefits have employed lengthy practices. The acute, immediate, effects of a session of Tai Chi have not been well investigated.
In today's Research News article "Effect of a Single Session of Tai Chi Chuan Practice on Glucose and Lipid Metabolism and Related Hormones." (See summary below or view the full text of the study at: https://www.ncbi.nlm.nih.gov/pmc/articles/PMC7460509/ ) Lu and colleagues recruited healthy adults over 50 years of age who were Tai Chi practitioners and a group of non-practitioners who were equivalent in age, gender, and body size. The Tai Chi group performed one 40-minute Tai Chi practice while the control group rested for 40 minutes. They obtained blood samples from both groups before and after their sessions and measured them for total cholesterol, blood glucose, insulin, insulin resistance, insulin sensitivity, and endothelin-1 (ET-1, a vasoconstrictor).
They found that at baseline, before practice, the Tai Chi group in comparison to the control group at rest had significantly lower levels of total cholesterol, insulin, insulin resistance, while insulin sensitivity was significantly higher. In comparison to the control group the Tai Chi group had a significantly greater percentage increases from baseline in blood glucose, insulin, and insulin resistance and a significantly larger percentage decreases in total cholesterol, HDL cholesterol, insulin sensitivity, and endothelin-1 (ET-1).
These are interesting results that must be tempered with the understanding that the control condition was not active. So, the changes seen after Tai Chi practice may have been due to exercise effects rather than performing Tai Chi itself. Indeed, the results on the immediate acute effects of Tai Chi practice on glucose and lipid metabolism are complicated and difficult to interpret. This may be due to the lack of an active control, comparison, condition, revealing the effects of activity vs. rest rather than effects specific to Tai Chi.
But the baseline results are not contaminated and they suggest that the practice of Tai Chi produces a general improvement in glucose and fat metabolism that is present even without immediate practice. This suggests that Tai Chi practice improves the overall physiological health of the practitioners. This would lead to lower likelihood of diabetes or cardiovascular disease and improvements in the diseases if present. Indeed Tai Chi practice has been found to be beneficial, improving symptoms, for people with diabetes and also cardiovascular disease.
So, improve glucose and lipid metabolism with Tai Chi.
"Diet and exercise are the cornerstone of diabetes management. People with diabetes who exercise regularly have better control over their blood glucose levels and fewer complications such as heart disease and stroke. Many people, however, are unable to keep up with their regular exercise because they either don't enjoy it, or have a problem finding time to exercise. Tai chi offers a major advantage: It's enjoyable, and to many, it's almost addictive." – Paul Lam
CMCS – Center for Mindfulness and Contemplative Studies
This and other Contemplative Studies posts are also available on Google+ https://plus.google.com/106784388191201299496/posts and on Twitter @MindfulResearch
Study Summary
Lu, W. A., Chen, Y. S., Wang, C. H., & Kuo, C. D. (2020). Effect of a Single Session of Tai Chi Chuan Practice on Glucose and Lipid Metabolism and Related Hormones. Life (Basel, Switzerland), 10(8), 145. https://doi.org/10.3390/life10080145
Abstract
Background: To examine the effect of Tai Chi Chuan (TCC) practice on glucose and lipid metabolism and related hormones in TCC practitioners. Methods: Twenty-one TCC practitioners and nineteen healthy controls were included in this study. Classical Yang's TCC was practiced by the TCC practitioners. The percentage changes in serum total cholesterol (TC), high-density lipoprotein-cholesterol (HDL-C), serum glucose (SG), serum insulin, serum insulin level, homeostatic model assessment of insulin resistance (HOMA-IR), log(HOMA-IR), quantitative insulin sensitivity check index (QUICKI), and serum endothelin-1 (ET-1) before and 30 min after resting or TCC practice were compared between healthy controls and TCC practitioners. Results: Before TCC or resting, the serum insulin level, HOMA-IR, and log(HOMA-IR) of the TCC practitioners were significantly lower than those of healthy subjects, whereas the QUICKI of the TCC practitioners was significantly higher than that of healthy subjects. Thirty min after TCC practice, the %TC, %HDL-C, %QUICKI, and %ET-1 were all significantly decreased, whereas the %SG, %serum insulin, and %HOMA-IR were significantly increased in the TCC group as compared to the control group 30 min after resting. Conclusions: The serum glucose, insulin level and insulin resistance were enhanced, whereas the cholesterol, HDL-C and ET-1 levels were reduced 30 min after TCC practice. The mechanism underlying these effects of TCC 30 min after TCC is not clear yet.
https://www.ncbi.nlm.nih.gov/pmc/articles/PMC7460509/