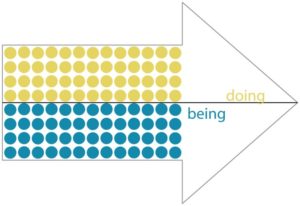 Work Better with Mindfulness
By John M. de Castro, Ph.D.
"mindfulness—the objective observation of whatever is occurring—is a core capability at the foundation of a successful, fulfilling career, and of optimal performance in anything that we do. When you apply mindfulness to work, you give those efforts meaning and become more engaged, more attuned." –  George Pitagorsky
Work is very important for our health and well-being. We spend approximately 25% of our adult lives at work. How we spend that time is immensely important for our psychological and physical health. Indeed, the work environment has even become an important part of our social lives, with friendships and leisure time activities often attached to the work environment. But, more than half of employees in the U.S. and nearly 2/3 worldwide are unhappy at work. This is partially due to work-related stress which is epidemic in the western workplace. Almost two thirds of workers reporting high levels of stress at work. This stress can result in impaired health and can result in burnout; producing fatigue, cynicism, and professional inefficacy.
To help overcome unhappiness, stress, and burnout, mindfulness practices have been implemented in the workplace. Indeed, mindfulness practices have been shown to markedly reduce the physiological and psychological responses to stress. As a result, it has become very trendy for business to incorporate meditation into the workday to help improve employee well-being, health, and productivity. For example, Google offers "Search Inside Yourself" classes to teach mindfulness at work. But, although there is a lot of anecdotal evidence of meditation improving well-being and work performance, there is actually very little systematic research on its effectiveness.
In today's Research News article "Being While Doing: An Inductive Model of Mindfulness at Work." See summary below or view the full text of the study at: https://www.ncbi.nlm.nih.gov/pmc/articles/PMC5318448/, Lyddy and Good hypothesize that much of work behavior is simply "Doing," often mindlessly, while mindfulness training produces a state they label "Being while Doing." Further they hypothesized that "Being while Doing" Would produce better performance and more positive feelings about work than just "Doing." They conducted structured interviews of working professionals who also engaged in mindfulness practice. The interviews explored "how individuals experienced their own workplace functioning while mindful and not mindful."
They analyzed the transcripts of the interviews and described that individuals can be mindful at work, yet remaining mindful in the work environment can be very difficult. They describe two major patterns that the workers' reports indicated, entanglement and disentanglement. Entanglement involves mindless "Doing" without "Being" while disentanglement involves "Being" while "Doing."
The participants reported that entanglement resulted in poorer work performance which they felt poorly and regretful about. E.g.
"Usually my non-mindfulness is … taking the action that I shouldn't have taken, rather than not having taken an action that I should have taken. … The boss said something about something he wanted differently. And he said 'I'm not trying to get on your case or anything.' And I said 'yes you were!' I should not have said that! … He was right … It was not real cool. … These words just flew out of my mouth that I shouldn't have spoken."
On the other hand, they reported that entanglement resulted in better work performance and a state of good feeling satisfaction. E.g.
"Meeting with [a client], … I'm criticizing myself, … 'you're not being helpful with this client.' … I was aware, … I recognized that. … It helped me then to be confident. … I proposed a concrete intervention that I think she felt was helpful, whereas before I had been … timid and passive. … Being aware that I was feeling this insecurity … helped me to take the risk. … [Mindfulness supported this by] … being aware of [my insecurity] in the moment."
These results suggest that, although difficult, "Being while Doing" at work is possible and enhances job performance by making the individual more aware of their own state and reactions, allowing for course corrections. It is difficult to remain in this state as the work environment presents a myriad of distractions promoting mindless "Doing." The participants reported that more meditation practice was one way to promote being able to stay in or transition to "Being while Doing."
So, work better with mindfulness.
"Mindfulness is, above all, about being aware and awake rather than operating unconsciously. When you're consciously present at work, you're aware of two aspects of your moment-to-moment experience—what's going on around you and what's going on within you. To be mindful at work means to be consciously present in what you're doing, while you're doing it, as well as managing your mental and emotional state." – Shamash Alidina
CMCS – Center for Mindfulness and Contemplative Studies
This and other Contemplative Studies posts are also available on Google+ https://plus.google.com/106784388191201299496/posts and on Twitter @MindfulResearch
Study Summary
Lyddy, C. J., & Good, D. J. (2016). Being While Doing: An Inductive Model of Mindfulness at Work. Frontiers in Psychology, 7, 2060. http://doi.org/10.3389/fpsyg.2016.02060
Abstract
Mindfulness at work has drawn growing interest as empirical evidence increasingly supports its positive workplace impacts. Yet theory also suggests that mindfulness is a cognitive mode of "Being" that may be incompatible with the cognitive mode of "Doing" that undergirds workplace functioning. Therefore, mindfulness at work has been theorized as "being while doing," but little is known regarding how people experience these two modes in combination, nor the influences or outcomes of this interaction. Drawing on a sample of 39 semi-structured interviews, this study explores how professionals experience being mindful at work. The relationship between Being and Doing modes demonstrated changing compatibility across individuals and experience, with two basic types of experiences and three types of transitions. We labeled experiences when informants were unable to activate Being mode while engaging Doing mode as Entanglement, and those when informants reported simultaneous co-activation of Being and Doing modes as Disentanglement. This combination was a valuable resource for offsetting important limitations of the typical reliance on the Doing cognitive mode. Overall our results have yielded an inductive model of mindfulness at work, with the core experience, outcomes, and antecedent factors unified into one system that may inform future research and practice.