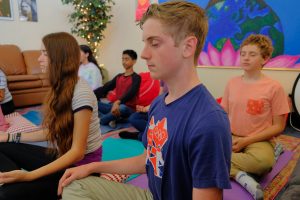 Improve Adolescent Psychological Well-Being with Meditation
By John M. de Castro, Ph.D.
"with all the uncertainty in the world right now, teens can definitely benefit from taking time to quiet the noise and meditate. It's a handy practice that can help them through all kinds of confusing and stressful situations in life." – Cleveland Clinic
Adolescence is a time of mental, physical, social, and emotional growth. But it can be a difficult time, fraught with challenges. During this time the child transitions to young adulthood; including the development of intellectual, psychological, physical, and social abilities and characteristics. There are so many changes occurring during this time that the child can feel overwhelmed and unable to cope with all that is required. This can lead to emotional and behavioral problems. Indeed, up to a quarter of adolescents suffer from depression or anxiety disorders, and an even larger proportion struggle with subclinical symptoms. Mindfulness training has been shown to improve emotion regulation and to benefit the psychological and emotional health of adolescents
In today's Research News article "Using Heartfulness Meditation and Brainwave Entrainment to Improve Teenage Mental Wellbeing." (See summary below or view the full text of the study at: https://www.frontiersin.org/articles/10.3389/fpsyg.2021.742892/full?utm_source=F-AAE&utm_medium=EMLF&utm_campaign=MRK_1757290_a0P58000000G0YfEAK_Psycho_20211021_arts_A ) Yadav and colleagues recruited high school students and randomly assigned them to one of 4 groups; audio brainwave entrainment group, heartfulness meditation group, meditation and audio entrainment group, and a no-treatment control group. The interventions lasted for 4 weeks. The heartfulness meditation group had 3 weekly training sessions and meditated at home for 30 minutes per day three times per week. The audio brainwave entrainment group listened to an audio tape 3 times per week for 15 minutes of audio beats 13–30 HZ in the first 2 min; 8–12 HZ from minute 3–12; and 13–30 Hz from minute 12–15. All participants were measured before and after training for depression, perceived stress, sleep quality, mood, anger, confusion, fatigue, tension, vigor, episodic memory, visuospatial processing, verbal short-term memory, and attention.
They found that following the intervention the meditation group had a significant increase in mood, including decreases in anger and depression, and a decrease in perceived stress, while the combination group had a significant increase in sleep quality and a decrease in perceived stress. The combination group in comparison to the meditation group had greater improvements in mood and perceived stress.
The results suggest that meditation practice improves the psychological well-being of adolescents while audio brainwave entrainment alone does not. But when they were combined there was some degree of greater improvement. Like adults, adolescents benefit from meditation in improved mood, including decreased anger and depression, and decreased perceived stress. This suggests that meditation may be particularly useful during the turbulent times of adolescence.
So, improve adolescent psychological well-being with meditation.
"[Mindfulness Meditation] appears to have positive effects on adolescent psychological health including reduced depression, anxiety, and stress, increased overall well-being, self and emotion regulation, positive affect, and resilience." – Ryan Erbe
CMCS – Center for Mindfulness and Contemplative Studies
This and other Contemplative Studies posts are also available on Google+ https://plus.google.com/106784388191201299496/posts and on Twitter @MindfulResearch
Study Summary
Yadav GS, Cidral-Filho FJ and Iyer RB (2021) Using Heartfulness Meditation and Brainwave Entrainment to Improve Teenage Mental Wellbeing. Front. Psychol. 12:742892. doi: 10.3389/fpsyg.2021.742892
Teenagers are highly susceptible to mental health issues and this problem has been exacerbated by the quarantine restrictions of COVID-19. This study evaluated the use of Heartfulness Meditation and Audio Brainwave Entrainment to help teenagers cope with mental health issues. It used 30-min Heartfulness meditation and 15-min brainwave entrainment sessions with binaural beats and isochronic tones three times a week for 4 weeks. Using a pretest-posttest methodology, participants were asked to complete a survey battery including the Pittsburgh Quality of Sleep Index, Perceived Stress Scale, Patient Health Question-9, Profile of Mood States, and Cambridge Brain Health assessment. Participants (n = 40) were divided into four experimental groups: the control group (n = 9), Audio Brainwave Entrainment group (n = 9), Heartfulness Meditation group (n = 10), and a combined group (n = 12), for a 4-week intervention. Data were analyzed with paired t-tests. The singular Audio Brainwave Entrainment group did not see statistically significant improvements, nor did any of the intervention groups for brain health (p > 0.05). This study, however, proved the efficacy of a 4-week Heartfulness Meditation program to regulate overall mood (p = 0.00132), stress levels (p = 0.0089), state depression (POMS; p = 0.0037), and anger (p = 0.002). Results also suggest adding Audio Brainwave Entrainment to Heartfulness Meditation may improve sleep quality (p = 0.0377) and stress levels (p = 0.00016).
https://www.frontiersin.org/articles/10.3389/fpsyg.2021.742892/full?utm_source=F-AAE&utm_medium=EMLF&utm_campaign=MRK_1757290_a0P58000000G0YfEAK_Psycho_20211021_arts_A