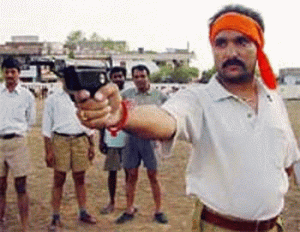 Reduce Aggressiveness in Militant Extremists with Yoga
By John M. de Castro, Ph.D.
"yoga helps to improve symptoms of anxiety and depression in prisoners, and crucially, decreases impulsivity—a known factor in much prison violence." – Georgia Pike
As Mahatma Gandhi has recognized "Victory attained by violence is tantamount to a defeat, for it is momentary." It attempts to rectify the problem quickly, but the roots of the problem are deep and violence does not address the roots. It only deals with the surface manifestations. This is on display with militant extremists where violence has begot violence for centuries. Rather than solving the root problems, it has instead led to more and more hatred, violence, and deeper and deeper problems.
Militant extremism has been increasing recently. Obviously, there is a need in modern society to find methods to reduce violent and aggressive tendencies in extremists who have been captured. Mindfulness training has been shown to reduce aggression and hostility. Yoga is a mindfulness practice whose effects on violent and aggressive behaviors have not been well studied. So, it makes sense to study the effectiveness of yoga practice in reducing aggressive tendencies in captured extremists.
In today's Research News article "Effectiveness of a Comprehensive Yoga Program on Convicted Extremist Offenders." (See summary below or view the full text of the study at: https://www.ncbi.nlm.nih.gov/pmc/articles/PMC6937884/), Kanchibhotla and colleagues examine the ability of yoga practice to reduce aggressiveness in militant extremists. They recruited ULFA militant extremists in Northern India who had surrendered their arms. They completed a 40-day intensive yoga workshop including postures, breathing exercises, meditation, singing, and discussions. They were measured before and after training for aggression, satisfaction with life, and quality of life including 4 dimensions, physical health, social relationships, environment, and psychological health.
They found that after treatment there were significant decreases in aggression including physical aggression, verbal aggression, anger, and hostile behavior. They also found significant improvements in satisfaction with life, and quality of life including physical health, environment, and psychological health.
It should be noted that there wasn't a comparison, control, group. So, the study is open to many potential confounding influences and the results must be interpreted with great caution. But the study group is so unique that the findings should be considered. Yoga practice has been shown in a number of well controlled studies to reduce aggression, and improve quality of life, and satisfaction with life and reduce aggression and violence in prisoners. So, it is reasonable to suggest that the intensive yoga workshop was effective in improving the psychological health of the militant extremists.
This suggests that yoga practice and perhaps other mind-body practices may be effective in reducing hostility and aggression in even the most extreme offenders. This also suggests that yoga practice may be useful in treating violent and aggressive individuals generally. This may intervene and disrupt the circle of escalating violence better addressing the roots of the problem.
So, reduce aggressiveness in militant extremists with yoga.
"subjects in the yoga group showed a significant improvement from the baseline performance in aggression and results . . . are consistent with earlier researches on yoga to reduce aggression." – Umesh Dwivedi
CMCS – Center for Mindfulness and Contemplative Studies
This and other Contemplative Studies posts are also available on Google+ https://plus.google.com/106784388191201299496/posts and on Twitter @MindfulResearch
Study Summary
Kanchibhotla, D., Kulkarni, S., & Singh, S. (2020). Effectiveness of a Comprehensive Yoga Program on Convicted Extremist Offenders. International journal of yoga, 13(1), 50–54. https://doi.org/10.4103/ijoy.IJOY_79_18
Abstract
Objective:
The present study aimed to explore the effect of yoga techniques on well-being and behavior among those who have propagated and participated in extreme violence and aggression. The sample comprised 219 United Liberation Front of Assam militants selected immediately after surrender of arms in the year 2012 from all over northeast region of India.
Methodology:
The study design was a single group with pre- and posttest assessment. All participants attended a 40-day intensive Yoga workshop (Sudarshan Kriya Yoga, Pranayama, Physical postures or Hatha Yoga, Meditation) conducted at Art of Living International Centre, Bengaluru. The impact of spiritual practices was observed on peace, aggression, life satisfaction, and quality of life in individuals using the aggression Buss Perry questionnaire, WHOQOL-BREF, and Satisfaction with Life Scale. The questionnaires were administered at the beginning and at the end of the 40-day workshop.
Results:
Significant results using paired t-test clearly demonstrate that by following yoga techniques (Sudarshan Kriya, Yoga, and Meditation), a reduction in aggression, quality of life, and life satisfaction can be obtained. These practices can be useful for people who want to rehabilitate themselves after incarceration or experience of militancy. The purpose of these measures is to reduce the risk of future criminality by those already convicted of violent extremist offenses, thereby protecting public safety while also benefiting individuals and communities.
https://www.ncbi.nlm.nih.gov/pmc/articles/PMC6937884/