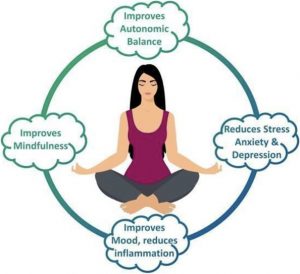 Improve the Physical and Psychological Symptoms of Covid-19 with Yoga
By John M. de Castro, Ph.D.
"If there are threats to humanity, yoga often gives us a way of holistic health. Yoga also gives us a happier way of life. I am sure, Yoga will continue playing its preventive, as well as promotive role in healthcare of masses," – Narendra Modi
Mindfulness training and yoga practices have been shown to improve health and well-being in healthy individuals. They have also been found to be effective for a large array of medical and psychiatric conditions, either stand-alone or in combination with more traditional therapies. The COVID-19 pandemic has challenged the mental and physical health of the population. It has created intense stress both for frontline workers but also for people simply isolating at home. Mindfulness is known to decrease the psychological and physical responses to stress and yoga practice also produces similar improvements. So, yoga practice may be helpful in coping with the mental and physical challenges resulting from the lockdown during the COVID-19 pandemic. The evidence has been accumulating. So, it makes sense to summarize what has been learned.
In today's Research News article "A narrative review on yoga: a potential intervention for augmenting immunomodulation and mental health in COVID-19." (See summary below or view the full text of the study at:  https://www.ncbi.nlm.nih.gov/pmc/articles/PMC9289356/ ) Basu-Ray and colleagues review and summarize the published research on the effectiveness of yoga practice for the treatment of the psychological and physical symptoms of Covid-19.
They note that the published research suggests that yoga practice improves the immune response and decreases inflammation. The research also found that yoga decreases responses physical and psychological responses to stress and decreases anxiety and depression. They found that yoga practice improves the cardiovascular and respiratory systems. It has been shown to improve cardiac arrhythmia, congestive cardiac failure, ischemic heart disease, and hypertension, reducing blood pressure.
All these benefits of yoga practice should improve the individual's ability to combat Covid-19.
"Meditation can turn fools into sages but unfortunately, fools never meditate." – Ramakrishna Paramhansa, Vivekananda
CMCS – Center for Mindfulness and Contemplative Studies
This and other Contemplative Studies posts are also available on Twitter @MindfulResearch
Study Summary
Indranill Basu-Ray, Kashinath Metri, Dibbendhu Khanra, Rishab Revankar, Kavitha M. Chinnaiyan, Nagaratna Raghuram, Mahesh Chandra Mishra, Bhushan Patwardhan, Manjunath Sharma, Ishwar V. Basavaraddi, Akshay Anand, Shrinath Reddy, K. K. Deepak, Marian Levy, Sue Theus, Glenn N. Levine, Holger Cramer, Gregory L. Fricchione, Nagendra R. Hongasandra. A narrative review on yoga: a potential intervention for augmenting immunomodulation and mental health in COVID-19, BMC Complement Med Ther. 2022; 22: 191. Published online 2022 Jul 18. doi: 10.1186/s12906-022-03666-2
Abstract
Background
The ongoing novel coronavirus disease 2019 (COVID-19) pandemic has a significant mortality rate of 3–5%. The principal causes of multiorgan failure and death are cytokine release syndrome and immune dysfunction. Stress, anxiety, and depression has been aggravated by the pandemic and its resultant restrictions in day-to-day life which may contribute to immune dysregulation. Thus, immunity strengthening and the prevention of cytokine release syndrome are important for preventing and minimizing mortality in COVID-19 patients. However, despite a few specific remedies that now exist for the SARS-CoV-2virus, the principal modes of prevention include vaccination, masking, and holistic healing methods, such as yoga. Currently, extensive research is being conducted to better understand the neuroendocrinoimmunological mechanisms by which yoga alleviates stress and inflammation. This review article explores the anti-inflammatory and immune-modulating potentials of yoga, along with its role in reducing risk for immune dysfunction and impaired mental health.
Methods
We conducted this narrative review from published literature in MEDLINE, EMBASE, COCHRANE databases. Screening was performed for titles and abstracts by two independent review authors; potentially eligible citations were retrieved for full-text review. References of included articles and articles of major non-indexed peer reviewed journals were searched for relevance by two independent review authors. A third review author checked the excluded records. All disagreements were resolved through discussion amongst review authors or through adjudication by a fourth review author. Abstracts, editorials, conference proceedings and clinical trial registrations were excluded.
Observations
Yoga is a nonpharmacological, cost-effective, and safe intervention associated with several health benefits. Originating in ancient India, this vast discipline consists of postures (asanas), breathing techniques (pranayama), meditation (dhyana/dharana), and relaxation. Studies have demonstrated yoga's ability to bolster innate immunity and to inhibit cytokine release syndrome. As an intervention, yoga has been shown to improve mental health, as it alleviates anxiety, depression, and stress and enhances mindfulness, self-control, and self-regulation. Yoga has been correlated with numerous cardioprotective effects, which also may play a role in COVID-19 by preventing lung and cardiac injury.
Conclusion and relevance
This review paves the path for further research on yoga as a potential intervention for enhancing innate immunity and mental health and thus its role in prevention and adjunctive treatment in COVID-19.
Conclusions
The aggregation of pathophysiological aberrations, both psychological and somatic, secondary to COVID-19 pandemic and its resultant restrictions, may increase the severity of the infection. Accumulated evidence leads us to hypothesize that, for many, yoga practice may attenuate the ill effects of COVID-19–induced immune dysfunction at different stages.
From a public health perspective, yoga represents a low-cost, noninvasive strategy for alleviating the physical and emotional toll of the COVID-19 pandemic. The aforementioned yoga practices can be performed at home, in adherence to social distancing guidelines. Outcomes from an 8-week yoga intervention (asanas, pranayama, and meditation) indicated that medical treatment plus yoga is more effective than medical treatment alone in reducing anxiety [90]. Relaxation techniques like yoga and meditation helps in managing chronic or long term stress by regulating the cytokines, thus assisting people to overcome co-morbidities associated with diseases and improving the quality of life; which is important in COVID-19 and post-COVID illness [2, 21]. Notwithstanding, appropriate clinical trials are required to document the efficacy of this strategy.