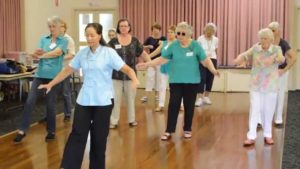 By John M. de Castro, Ph.D.
"With its integrative approach that strengthens the body while focusing the mind, tai chi addresses a range of physical and mental health issues—including bone strength, joint stability, cardiovascular health, immunity, and emotional well-being." – Stephanie Watson
Arthritis is a chronic disease that most commonly affects the joints. Depending on the type of arthritis symptoms may include pain, stiffness, swelling, redness, and decreased range of motion. It affects an estimated 52.5 million adults in the United States. It is associated with aging as arthritis occurs in only 7% of adults ages 18–44, while 30% adults ages 45–64 are affected, and 50% of adults ages 65 or older. The pain, stiffness, and lack of mobility associate with arthritis produce fatigue and markedly reduce the quality of life of the sufferers. Arthritis can have very negative psychological effects diminishing the individual's self-image and may lead to depression, isolation, and withdrawal from friends and social activities Arthritis reduces the individual's ability to function at work and may require modifications of work activities which can lead to financial difficulties. It even affects the individual's physical appearance. In addition, due to complications associated with rheumatoid arthritis, particularly cardiovascular disease, the lifespan for people with rheumatoid arthritis may be shortened by 10 years.
It is obvious that there is a need for a safe and effective treatment to help rheumatoid arthritis sufferers cope with the disease and its consequences. Increasing exercise has been shown to increase flexibility and mobility but many form of exercise are difficult for the arthritis sufferer to engage in and many drop out. But all that may be needed is gentle movements of the joints. Tai Chi training is designed to enhance and regulate the functional activities of the body through regulated breathing, mindful concentration, and gentle movements. It has been shown to have many physical and psychological benefits, especially for the elderly. Because it is not strenuous, involving slow gentle movements, and is safe, having no appreciable side effects, it is appropriate for an elderly population. So, it would seem that tai chi practice would be well suited to treat arthritis in seniors.
In today's Research News article "The beneficial effects of Tai Chi exercise on endothelial function and arterial stiffness in elderly women with rheumatoid arthritis." See
summary below or view the full text of the study at:
http://www.ncbi.nlm.nih.gov/pmc/articles/PMC4718020/
Shin and colleagues examine the effectiveness of tai chi practice to help alleviate some of the cardiovascular symptoms of rheumatoid arthritis. They recruited elderly (over 50 years of age) women with rheumatoid arthritis and assigned them to two groups, a tai chi and an exercise information group. The tai chi participants engaged in a group tai chi exercise once a week for 60 min for 3 months at the hospital gymnasium. Measurements were taken before and after the 3-month practice period of rheumatoid arthritis symptoms and cardiovascular function. They found that the tai chi group had a significant decrease in plasma cholesterol and measures of atherosclerosis including significant decreases in arterial stiffness and flow mediated dilatation. Both of these measures are associated with the beginnings of cardiovascular disease.
These findings suggest that tai chi practice is beneficial in reducing cardiovascular risk factors associated with rheumatoid arthritis. These risk factors are likely due to the sedentary lifestyle of most rheumatoid arthritis sufferers and the gentle exercise of tai chi appears to be sufficient to begin to reverse some of these risk factors. This is very significant as cardiovascular disease associated with rheumatoid arthritis is serious and can lead to premature death. Since tai chi is safe and appropriate for seniors, it would appear to be an excellent treatment to reduce the cardiovascular disease risks associated with rheumatoid arthritis in the elderly.
So, improve arthritis with tai chi.
"Tai chi is often described as "meditation in motion," but it might well be called "medication in motion." There is growing evidence that this mind-body practice, which originated in China as a martial art, has value in treating or preventing many health problems." – Harvard Women's Health Watch
CMCS – Center for Mindfulness and Contemplative Studies
This and other Contemplative Studies posts are also available on Google+ https://plus.google.com/106784388191201299496/posts
Study Summary
Shin, J.-H., Lee, Y., Kim, S. G., Choi, B. Y., Lee, H.-S., & Bang, S.-Y. (2015). The beneficial effects of Tai Chi exercise on endothelial function and arterial stiffness in elderly women with rheumatoid arthritis. Arthritis Research & Therapy, 17, 380. http://doi.org/10.1186/s13075-015-0893-x
Background: Rheumatoid arthritis (RA) has been known to be associated with increased risk of cardiovascular disease (CVD). The aim of this study was to investigate the effects of Tai Chi exercise on CVD risk in elderly women with RA.
Method: In total, 56 female patients with RA were assigned to either a Tai Chi exercise group (29 patients) receiving a 3-month exercise intervention once a week or a control group (27 patients) receiving general information about the benefits of exercise. All participants were assessed at baseline and at 3 months for RA disease activity (Disease Activity Score 28 and Routine Assessment of Patient Index Data 3), functional disability (Health Assessment Questionnaire), CVD risk factors (blood pressure, lipids profile, body composition, and smoking), and three atherosclerotic measurements: carotid intima-media thickness, flow-mediated dilatation (FMD), and brachial-ankle pulse wave velocity (baPWV).
Results: FMD, representative of endothelial function, significantly increased in the Tai Chi exercise group (initial 5.85 ± 2.05 versus 3 months 7.75 ± 2.53 %) compared with the control group (initial 6.31 ± 2.12 versus 3 months 5.78 ± 2.13 %) (P = 1.76 × 10−3). Moreover, baPWV, representative of arterial stiffness, significantly decreased in the Tai Chi exercise group (initial 1693.7 ± 348.3 versus 3 months 1600.1 ± 291.0 cm/s) compared with the control group (initial 1740.3 ± 185.3 versus 3 months 1792.8 ± 326.1 cm/s) (P = 1.57 × 10−2). In addition, total cholesterol decreased significantly in the Tai Chi exercise group compared with the control group (−7.8 ± 15.5 versus 2.9 ± 12.2 mg/dl, P = 2.72 × 10−2); other changes in RA-related characteristics were not significantly different between the two groups. Tai Chi exercise remained significantly associated with improved endothelial function (FMD; P = 4.32 × 10−3) and arterial stiffness (baPWV; P = 2.22 × 10−2) after adjustment for improvement in total cholesterol level.
Conclusion: Tai Chi exercise improved endothelial dysfunction and arterial stiffness in elderly women with RA, suggesting that it can be a useful behavioral strategy for CVD prevention in patients with RA.