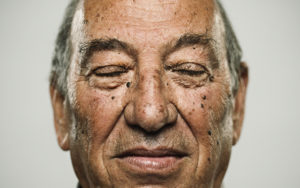 Reduce Mild Aging Cognitive Decline with Yogic Meditation
By John M. de Castro, Ph.D.
"The healthier and more active one's lifestyle, the more likely he or she will maintain cognitive performance over time. And meditation may be a key ingredient for ensuring brain health and maintaining good mental performance." – Grace Bullock
The aging process involves a systematic progressive decline in every system in the body, the brain included. This includes our mental abilities which decline with age including impairments in memory, attention, and problem solving ability. It is inevitable and cannot be avoided. But, there is some hope for age related cognitive decline, as there is evidence that it can be slowed. There are some indications that physical and mental exercise can reduce the rate of cognitive decline and lower the chances of dementia. For example, contemplative practices such as meditation, yoga, and Tai Chi and Qigong have all been shown to be beneficial in slowing or delaying physical and mental decline with aging. Mindfulness practices have been shown to improve cognitive processes.
Yoga is a mindfulness practice that is safe and applicable to the elderly. So, it could potentially be an ideal practice for the slowing of age related cognitive decline. In today's Research News article "A randomized controlled trial of Kundalini yoga in mild cognitive impairment." See summary below or view the full text of the study at: https://www.ncbi.nlm.nih.gov/pmc/articles/PMC5540331/, Eyre and colleagues recruited elderly (older than 55 years of age, average 68) with a mild degree of cognitive impairment and randomly assigned them to a 12 week, 60 minutes once a week, standard memory enhancement treatment or to yogic meditation practice, Kundalini Yoga. Daily homework was assigned. Kundalini Yoga includes meditation, breathing exercises, and mantra practice. The participants were measured before and after training and 12 weeks later for memory ability, executive function, resilience, physical and cognitive symptoms, neuropsychiatric symptoms, illness, apathy, and mood including depression.
They found that following training both the yoga and memory enhancement groups had significant improvements in memory and apathy and these improvements were still present 12 weeks after the end of training. In contrast, only the Kundalini Yoga group had significant improvements in depression, resilience, and executive function, including cognitive flexibility, response inhibition, and semantic fluency. Hence, both groups improved in memory and apathy, but only the Kundalini Yoga group also improved in mood, resilience, and higher-level thinking (cognitive function).
These are exciting findings suggesting the Kundalini Yoga is a safe and effective treatment that for age related declines in cognitive function, depression, apathy, and memory and improves stress resilience. It has been demonstrated that mindfulness training produces a wide variety of benefits for the elderly including mood, memory and cognitive improvements. So, Kundalini Yoga can be added to the list of effective mindfulness trainings for the elderly.
This was an excellent study as the comparison condition was the current "gold standard" of treatment for mild cognitive impairment in the elderly, memory enhancement training. Yet, Kundalini Yoga was significantly more beneficial. The improvement in stress resilience is important and may underlie some of the other benefits of the Kundalini Yoga training. Aging can produce considerable economic, physical, psychological, and social stresses. Improvement in the ability to withstand the effects of these stresses should be highly beneficial by decreasing the impact of these stresses on other aspects of physical and psychological functioning in the elderly.
So, reduce mild aging cognitive decline with yoga.
"Meditation could be a promising intervention in contrasting the negative effects of aging. Indeed, it has been shown to enhance cognitive efficiency in several domains, such as attention and executive functions." Marco Sperduti
CMCS – Center for Mindfulness and Contemplative Studies
This and other Contemplative Studies posts are also available on Google+ https://plus.google.com/106784388191201299496/posts and on Twitter @MindfulResearch
Study Summary
Eyre, H. A., Siddarth, P., Acevedo, B., Van Dyk, K., Paholpak, P., Ercoli, L., … Lavretsky, H. (2017). A randomized controlled trial of Kundalini yoga in mild cognitive impairment. International Psychogeriatrics, 29(4), 557–567. http://doi.org/10.1017/S1041610216002155
Abstract
Background
Global population aging will result in increasing rates of cognitive decline and dementia. Thus, effective, low-cost, and low side-effect interventions for the treatment and prevention of cognitive decline are urgently needed. Our study is the first to investigate the effects of Kundalini yoga (KY) training on mild cognitive impairment (MCI).
Methods
Older participants (≥55 years of age) with MCI were randomized to either a 12-week KY intervention or memory enhancement training (MET; gold-standard, active control). Cognitive (i.e. memory and executive functioning) and mood (i.e. depression, apathy, and resilience) assessments were administered at baseline, 12 weeks and 24 weeks.
Results
At baseline, 81 participants had no significant baseline group differences in clinical or demographic characteristics. At 12 weeks and 24 weeks, both KY and MET groups showed significant improvement in memory; however, only KY showed significant improvement in executive functioning. Only the KY group showed significant improvement in depressive symptoms and resilience at week 12.
Conclusion
KY group showed short- and long-term improvements in executive functioning as compared to MET, and broader effects on depressed mood and resilience. This observation should be confirmed in future clinical trials of yoga intervention for treatment and prevention of cognitive decline