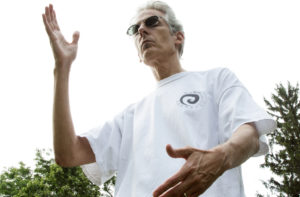 Sleep and Fatigue is not Improved in Prostate Cancer Patients Undergoing Radiotherapy with Qigong/Tai Chi Exercise
By John M. de Castro, Ph.D.
"While most studies to date fail to show that qigong has a direct effect on cancer, several studies have found this practice to have a positive impact on the well-being and quality of life for people living with cancer." – Lynne Eldridge
Receiving a diagnosis of cancer has a huge impact on most people. Feelings of depression, anxiety, and fear are very common and are normal responses to this life-changing and potentially life-ending experience. These feeling can result from changes in body image, changes to family and work roles, feelings of grief at these losses, and physical symptoms such as pain, nausea, or fatigue. People might also fear death, suffering, pain, or all the unknown things that lie ahead. So, coping with the emotions and stress of a cancer diagnosis is a challenge and there are no simple treatments for these psychological sequelae of cancer diagnosis.
But cancer diagnosis is not necessarily a death sentence. Over half of the people diagnosed with cancer are still alive 10 years later and this number is rapidly increasing. It is estimated that 15 million adults and children with a history of cancer are alive in the United States today. But, surviving cancer carries with it a number of problems. "Physical, emotional, and financial hardships often persist for years after diagnosis and treatment. Cancer survivors are also at greater risk for developing second cancers and other health conditions." National Cancer Survivors Day.
Mindfulness training has been shown to help with cancer recovery and help to alleviate many of the residual physical and psychological symptoms, including stress,  sleep disturbance, and anxiety and depression.. Tai Chi or Qigong practice has been shown to improve quality of life, reduce fatigue, and lower blood pressure and cortisol levels. Qigong is a very gentle and safe practice. So, it makes sense to further study its utility for cancer patients.
In today's Research News article "Qigong/tai chi for sleep and fatigue in prostate cancer patients undergoing radiotherapy: a randomized controlled trial." (See summary below or view the full text of the study at: https://www.ncbi.nlm.nih.gov/pmc/articles/PMC5378667/ ), McQuade and colleagues recruited prostate cancer patients undergoing radiotherapy and randomly assigned them to one of three conditions; Qigong/Tai Chi; light exercise; or wait-list control. The Qigong/Tai Chi and light exercise training occurred three times per week for 40 minutes during radiotherapy treatment. Light exercise consisted of stretching and light resistance exercise matched to the exertion level of the Qigong/Tai Chi exercise. They were measured before, during, and after treatment and 1 and 3 months later for sleep disturbance, fatigue, and health-related quality of life.
They found that midway through treatment the Qigong/Tai Chi group slept better than the other groups but these differences were not maintained at the end of treatment or on follow-up. There were no significant effects or treatment on fatigue or quality of life. In some ways these results are disappointing and suggest that Qigong/Tai Chi is not effective in helping prostate cancer patients during radiotherapy.
Radiotherapy, however, produces considerable side effects including hot flashes and urinary symptoms that are highly predictive of sleep disturbance, fatigue, and quality of life. In addition, Qigong/Tai Chi exercise has been shown to improve quality of life, reduce fatigue in other cancer patients after treatment. It will require future research to determine if Qigong/Tai Chi exercise conducted after radiotherapy is completed may be beneficial for these patients.
"Tai Chi and Qigong are ancient forms of exercise that fit the bill for helping patients with cancer get moving and improve their overall sense of well-being. Tai Chi practice can help with pain conditions, especially pain involving muscles and joints; it can also reduce stress and anxiety and improve the quality of sleep." – Susan Yaguda
CMCS – Center for Mindfulness and Contemplative Studies
This and other Contemplative Studies posts are also available on Google+ https://plus.google.com/106784388191201299496/posts and on Twitter @MindfulResearch
Study Summary
McQuade, J. L., Prinsloo, S., Chang, D. Z., Spelman, A., Wei, Q., Basen-Engquist, K., Harrison, C., Zhang, Z., Kuban, D., Lee, A., … Cohen, L. (2016). Qigong/tai chi for sleep and fatigue in prostate cancer patients undergoing radiotherapy: a randomized controlled trial. Psycho-oncology, 26(11), 1936-1943.
Abstract
Objectives
Sleep disturbances and fatigue are common in prostate cancer patients undergoing radiotherapy. Prior research suggests mind-body techniques may improve these outcomes. We conducted a randomized-controlled trial of qigong/tai chi (QGTC) in men with prostate cancer undergoing radiotherapy.
Methods
Men with prostate cancer starting definitive radiation were randomized to one of three groups: (1) QGTC; (2) light exercise (LE); or (3) wait list control (WLC). Sleep disturbances (PSQI) and fatigue (BFI) were assessed at baseline, mid-radiotherapy (T2), during the last week of radiotherapy (T3) and at 1 (T4) and 3 months (T5) after the end of radiotherapy. Patients in the QGTC and LE groups attended three 40-minute classes per week throughout radiotherapy.
Results
Ninety patients were randomized to the three groups (QGTC=26; LE=26; WLC=24). QGTC group reported longer sleep duration at mid-XRT (QGTC=7.01 hours; LE=6.42; WL=6.50; p=0.05) but this difference did not persist over time. There were no group differences in other domains of sleep or fatigue. Exploratory analyses conducted to examine the effect of health-related QOL (EPIC and AUA score) on sleep and fatigue showed significant correlations across multiple domains.
Conclusions
QGTC during radiation for prostate cancer resulted in superior sleep duration midway through radiation, but this effect was not durable and there were no differences in other domains of sleep or fatigue. Exploratory analysis demonstrated that both sleep and fatigue were highly correlated with prostate cancer related physical symptoms. Future mind-body intervention studies should incorporate multi-modal therapy focused on improving physical symptoms in this population.
https://www.ncbi.nlm.nih.gov/pmc/articles/PMC5378667/