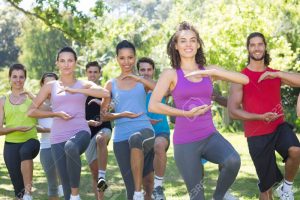 Improve Healthcare Workers Wellness with Tai Chi
By John M. de Castro, Ph.D.
"Tai chi is often described as "meditation in motion," but it might well be called "medication in motion." There is growing evidence that this mind-body practice . . . has value in treating or preventing many health problems." – Harvard Womens Health
Stress is epidemic in the western workplace with almost two thirds of workers reporting high levels of stress at work. In high stress occupations, like healthcare, burnout is all too prevalent. Burnout is the fatigue, cynicism, emotional exhaustion, sleep disruption, and professional inefficacy that comes with work-related stress. Improving the psychological health of health care professionals has to be a priority.
Contemplative practices have been shown to reduce the psychological and physiological responses to stress. Indeed, mindfulness has been shown to be helpful in treating and preventing burnout, increasing resilience, and improving sleep. Tai Chi and Qigong are mindfulness practices that have been shown to improve physical and psychological health. Hence, it is reasonable to examine the ability of Tai Chi practice as a means to improve the well-being of medical professionals.
In today's Research News article "Tai Chi and Workplace Wellness for Health Care Workers: A Systematic Review." (See summary below or view the full text of the study at: https://www.ncbi.nlm.nih.gov/pmc/articles/PMC6982315/), Cocchiara and colleagues reviewed and summarized the published research studies on the effectiveness of Tai Chi practice on the psychological health of medical professionals. They report on the findings from 6 published research studies.
They report that the published studies found were not of high methodological quality and as such caution must be exercised in interpreting the findings. But the published reports suggest that Tai Chi practice improves the physical and psychological well-being of healthcare workers. It appears to work by reducing the physiological and psychological responses to stress in the workplace and this in turn results in improved well-being. Hence, although higher quality research is needed the published research suggests that Tai Chi practice is a safe and effective method of improving the well-being of healthcare workers.
So, improve healthcare workers wellness with Tai Chi.
"you lose flexibility and balance as you get older, and tai chi is a way to get moving again without pounding on your joints." – Christina Heiser
CMCS – Center for Mindfulness and Contemplative Studies
This and other Contemplative Studies posts are also available on Google+ https://plus.google.com/106784388191201299496/posts and on Twitter @MindfulResearch
Study Summary
Cocchiara, R. A., Dorelli, B., Gholamalishahi, S., Longo, W., Musumeci, E., Mannocci, A., & La Torre, G. (2020). Tai Chi and Workplace Wellness for Health Care Workers: A Systematic Review. International journal of environmental research and public health, 17(1), 343. https://doi.org/10.3390/ijerph17010343
Abstract
Several studies show the positive effects of new non-medical therapies known as complementary and alternative medicines (CAMs). In this context, the discipline of tai chi is obtaining a wider consensus because of its many beneficial effects both on the human body and mind. The aim of this study was to perform a systematic review of the scientific literature concerning the relationship between tai chi practice and wellness of health care workers (HCW) in their professional setting. The research was performed in September 2019, investigating the databases Cinahl, Scopus, Web of Science, and PubMed. Full-text articles, written in English language and published after 1995, were taken into account. No restrictions regarding the study design were applied. A quality assessment was developed using AMSTAR, Jadad, Newcastle–Ottawa Scale, INSA, and CASE REPORT scale. Six papers were finally included: Three clinical trials, one observational study, one systematic review, and one case report. The methodological quality of the included studies was judged as medium level. In conclusion, this systematic review suggests the potential impact of interventions such as tai chi as tools for reducing work-related stress among healthcare professionals. Further research will be needed in order to gain robust evidence of its efficacy.
https://www.ncbi.nlm.nih.gov/pmc/articles/PMC6982315/