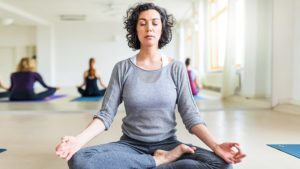 Decrease Hypertension with Yoga Practice
By John M. de Castro, Ph.D.
"Yoga, when performed mindfully, can reduce this type of stress-induced hypertension, while addressing its underlying causes. It pacifies the sympathetic nervous system and slows down the heart, while teaching the muscles and mind to relax deeply." – Marla Apt
High Blood Pressure (Hypertension) is an insidious disease because there are no overt symptoms. The individual feels fine. But it can be deadly as more than 360,000 American deaths, roughly 1,000 deaths each day, had high blood pressure as a primary or contributing cause. In addition, hypertension markedly increases the risk heart attack, stroke, heart failure, and kidney disease.  It is also a very common disorder with about 70 million American adults (29%) having high blood pressure and only about half (52%) of people with high blood pressure have their condition under control.
High blood pressure, because it doesn't have any primary symptoms, is usually only diagnosed by direct measurement of blood pressure usually by a health care professional. When hypertension is chronically present over three quarters of patients are treated with antihypertensive drugs. But these medications often have adverse side effects. So, patients feel lousy when taking the drugs, but fine when they're not. So, compliance is a major issue with many patients not taking the drugs regularly or stopping entirely.
Obviously, there is a need for alternative to drug treatments for hypertension. Mindfulness practices have been shown to aid in controlling hypertension. Exercise is also known to help. So, yoga practice, which combines mindfulness practice with exercise would seem to be a good candidate practice for the treatment of hypertension. Indeed, yoga practice appears to lower blood pressure in hypertension. But yoga practices can contain a number of components including meditation, breathing exercises, postures, chanting, and mantras. It is not known, whether the postures included in the practice are necessary for the beneficial effects of yoga practice on hypertension.
In today's Research News article "Yoga in Arterial Hypertension." (See summary below or view the full text of the study at: https://www.ncbi.nlm.nih.gov/pmc/articles/PMC6375068/ ), Cramer and colleagues recruited adult patients with primary arterial hypertension receiving antihypertensive medication. They were randomly assigned to receive either yoga training that either included postures or without postures, or a wait-list control condition. The yoga practice consisted of 90 minutes, once a week, for 12 weeks of meditation, relaxation techniques, and postures for the yoga with postures group. The participants were encouraged and provided materials to practice daily at home. They were measured before and after training and 26 weeks later for systolic and diastolic blood pressure.
They found that at the end of training the yoga group without postures had a greater reduction in systolic blood pressure than either the control group or the group with yoga postures. But, at follow-up, 26 weeks later, the yoga group that included postures had a greater reduction in systolic blood pressure than either the control group or the group without yoga postures. Diastolic blood pressure was not affected. It should be noted that these benefits were obtained in patients taking antihypertensive medications. So, the yoga practice benefits supplemented those of the drugs.
These are interesting results that suggest that on the short-term yoga practice without postures is best for blood pressure reduction in patients with hypertension while for the long-term yoga with postures is best. The relaxation produced by practicing meditation and relaxation may have the immediate consequence of decreasing blood pressure but doesn't appear to be sustained while the exercise involved in postures, like occurs with other aerobic exercises, may have more long-term benefits for the cardiovascular system.
These benefits are important as reducing blood pressure in patients with hypertension is important for their health, longevity, and well-being. Yoga appears to be a safe, effective, and relatively inexpensive treatment. In addition, yoga practice has psychological and social benefits that can help to maintain practice over the long-term.
So, decrease hypertension with yoga practice.
"Yoga, along with deep breathing exercises, meditation and inner reflection, is a good adjunctive and integrative cardiovascular approach to better health, including lowering blood pressure, as this data suggests," – David Friedman
CMCS – Center for Mindfulness and Contemplative Studies
This and other Contemplative Studies posts are also available on Google+ https://plus.google.com/106784388191201299496/posts and on Twitter @MindfulResearch
Study Summary
Cramer, H., Sellin, C., Schumann, D., & Dobos, G. (2018). Yoga in Arterial Hypertension. Deutsches Arzteblatt international, 115(50), 833-839. DOI: 10.3238/arztebl.2018.0833
Abstract
Background
Yoga seems to exert its effect against arterial hypertension mainly through the associated breathing and meditation techniques, and less so through yoga postures. The goal of this trial was to compare the blood pressure–lowering effect of yoga interventions with and without yoga postures in patients with arterial hypertension.
Methods
75 patients taking medications for arterial hypertension (72% women, mean age 58.7 ± 9.5 years) were randomized into three groups: a yoga intervention group with yoga postures (25 patients, of whom 5 dropped out of the trial before its end), a yoga intervention group without yoga postures (25 patients, 3 dropouts), and a wait list control group (25 patients, one dropout). The interventions consisted of 90 minutes of yoga practice per week for twelve weeks. The data collectors, who were blinded to the intervention received, assessed the primary outcome measures "systolic 24-hour blood pressure" and "diastolic 24-hour blood pressure" before and after the intervention. In this report, we also present the findings on secondary outcome measures, including follow-up data.
Results
After the intervention, the systolic 24-hour blood pressure in the yoga intervention group without yoga postures was significantly lower than in the control group (group difference [?]= -3.8 mmHg; [95% confidence interval (CI): (-0.3; -7.4) p = 0.035]); it was also significantly lower than in the yoga intervention group with yoga postures (? = -3.2 mmHg; 95% CI: [-6.3; -0.8]; p = 0.045). Diastolic blood pressures did not differ significantly across groups. No serious adverse events were encountered in the course of the trial.
Conclusion
In accordance with the findings of earlier studies, we found that only yoga without yoga postures induced a short-term lowering of ambulatory systolic blood pressure. Yoga is safe and effective in patients taking medications for arterial hypertension and thus can be recommended as an additional treatment option for persons in this category.
https://www.ncbi.nlm.nih.gov/pmc/articles/PMC6375068/