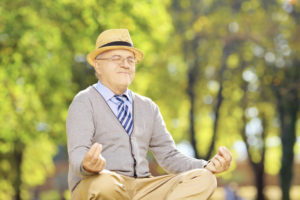 Reduce the Stress of Aging and Improve Quality of Life with Meditation
By John M. de Castro, Ph.D.
"if we can delay the onset of memory loss by five years, we can reduce an individual's chance of developing Alzheimer's by 50 percent. Moreover, if you can keep your memory strong and vital 10 years longer than expected, you can forget about ever getting Alzheimer's." – Dharma Singh Khalsa
Human life is one of constant change. We revel in our increases in physical and mental capacities during development, but regret their decline during aging. As we age, there are systematic progressive declines in every system in the body, the brain included. This includes our mental abilities and results in impairments in memory, attention, and problem solving ability. It is inevitable and cannot be avoided. Aging also results in changes in mental health. Depression is very common in the elderly. The elderly cope with increasing loss of friends and family, deteriorating health, as well as concerns regarding finances on fixed incomes. All of these are legitimate sources of worry. In addition, many elderly experience withdrawal and isolation from social interactions. But, no matter how reasonable, the increased loneliness, worry and anxiety add extra stress that can impact on the elderly's already deteriorating physical and psychological health.
Mindfulness appears to be effective for an array of physical and psychological issues that occur with aging. It appears to strengthen the immune system and reduce inflammation. It has also been shown to be beneficial in slowing or delaying physical and mental decline with aging. and improve cognitive processes. It has also been shown to reduce anxiety, worry, and depression and improve overall mental health. Since the global population of the elderly is increasing at unprecedented rates, it is imperative to investigate safe and effective methods to slow physical and mental aging and improve mental health in the elderly.
In today's Research News article "Effects of Meditation versus Music Listening on Perceived Stress, Mood, Sleep, and Quality of Life in Adults with Early Memory Loss: A Pilot Randomized Controlled Trial." See summary below or view the full text of the study at: https://www.ncbi.nlm.nih.gov/pmc/articles/PMC5649740/, Innes and colleagues recruited older adults (over 50 years of age) with mild cognitive impairments and randomly assigned them to either relax and listen to classical music or practice Kirtan Kriya meditation for 12-minutes, once a day for 12 weeks. They were measured before and after treatment and again 3 months later for perceived stress, sleep quality, positive and negative moods, psychological well-being, health-related quality of life, memory, and cognitive ability. Retention of participants was high as only 8% dropped out of the study.
They found that after 12 weeks of practice both the music listening and the Kirtan Kriya meditation groups showed significant improvements in psychological well-being, mood, including anxiety, depression, confusion, anger, and fatigue, sleep quality, and health-related quality of life, including mental health, energy, and emotional well-being. These improvements were sustained 3 months after the conclusion of formal practice. Importantly, the Kirtan Kriya meditation group had significantly greater improvement in perceived stress, mood, psychological well-being, mental health-related quality of life than the music listening group.
These results suggest that relaxation in general produces sustained improvements in the well-being of older adults with mild cognitive impairments. But, Kirtan Kriya meditation practice produces greater improvements. The fact that there was a music listening control group suggests that it was the meditation per se and not just the relaxation inherent in meditation practice that was responsible for the improvements. This suggests that meditation practice is very beneficial of older adults with mild cognitive impairments improving their mental health, perceived stress, and well-being and that these improvements are sustained at least for 3 months. Since, these factors are associated with further cognitive decline, the results suggest that meditation practice may slow age-related cognitive decline.
So, reduce the stress of aging and quality of life with meditation.
"One of the major difficulties that individuals with dementia and their family members encounter is that there is a need for new ways of communicating due to the memory loss and other changes in thinking and abilities. The practice of mindfulness places both participants in the present and focuses on positive features of the interaction, allowing for a type of connection that may substitute for the more complex ways of communicating in the past. It is a good way to address stress." – Sandra Weintraub
CMCS – Center for Mindfulness and Contemplative Studies
This and other Contemplative Studies posts are also available on Google+ https://plus.google.com/106784388191201299496/posts and on Twitter @MindfulResearch
Study Summary
Kim E. Innes, Terry Kit Selfe, Dharma Singh Khalsa, Sahiti Kandati. Effects of Meditation versus Music Listening on Perceived Stress, Mood, Sleep, and Quality of Life in Adults with Early Memory Loss: A Pilot Randomized Controlled Trial. J Alzheimers Dis.  2016 Apr 8; 52(4): 1277–1298. doi: 10.3233/JAD-151106
Abstract
Background
Older adults with subjective cognitive decline (SCD) are at increased risk not only for Alzheimer's disease, but for poor mental health, impaired sleep, and diminished quality of life (QOL), which in turn, contribute to further cognitive decline, highlighting the need for early intervention.
Objective
In this randomized controlled trial, we assessed the effects of two 12-week relaxation programs, Kirtan Kriya Meditation (KK) and music listening (ML), on perceived stress, sleep, mood, and health-related QOL in older adults with SCD.
Methods
Sixty community-dwelling older adults with SCD were randomized to a KK or ML program and asked to practice 12 minutes daily for 12 weeks, then at their discretion for the following 3 months. At baseline, 12 weeks, and 26 weeks, perceived stress, mood, psychological well-being, sleep quality, and health-related QOL were measured using well-validated instruments.
Results
Fifty-three participants (88%) completed the 6-month study. Participants in both groups showed significant improvement at 12 weeks in psychological well-being and in multiple domains of mood and sleep quality (p's ≤ 0.05). Relative to ML, those assigned to KK showed greater gains in perceived stress, mood, psychological well-being, and QOL-Mental Health (p's ≤ 0.09). Observed gains were sustained or improved at 6 months, with both groups showing marked and significant improvement in all outcomes. Changes were unrelated to treatment expectancies.
Conclusions
Findings suggest that practice of a simple meditation or ML program may improve stress, mood, well-being, sleep, and QOL in adults with SCD, with benefits sustained at 6 months and gains that were particularly pronounced in the KK group.