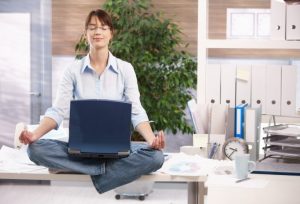 Improve Psychological Well-Being at Work with a Mindfulness App
By John M. de Castro, Ph.D.
"Mindfulness is not about living life in slow motion. It's about enhancing focus and awareness both in work and in life. It's about stripping away distractions and staying on track with individual, as well as organizational, goals." Jacqueline Carter
Work is very important for our health and well-being. We spend approximately 25% of our adult lives at work. Indeed, the work environment has even become an important part of our social lives, with friendships and leisure time activities often attached to the people we work with. But, more than half of employees in the U.S. and nearly 2/3 worldwide are unhappy at work. This is partially due to work-related stress which is epidemic in the western workplace. Almost two thirds of workers reporting high levels of stress at work. This stress can result in impaired health and can result in burnout; producing fatigue, cynicism, and professional inefficacy.
To help overcome unhappiness, stress, and burnout, mindfulness practices have been implemented in the workplace. These mindfulness practices have been shown to markedly reduce the physiological and psychological responses to stress. As a result, it has become very trendy for business to incorporate meditation into the workday to help improve employee well-being, health, and productivity.
The vast majority of the mindfulness training techniques, however, require a trained teacher. The participants must be available to attend multiple sessions at particular scheduled times that may or may not be compatible with busy employee schedules and at locations that may not be convenient. As an alternative, apps for smartphones have been developed. These have tremendous advantages in decreasing costs, making training schedules much more flexible, and eliminating the need to go repeatedly to specific locations. But the question arises as to the effectiveness of these apps in inducing mindfulness and reducing stress and improving psychological well-being in employees in real-world work settings.
In today's Research News article "Mindfulness on-the-go: Effects of a mindfulness meditation app on work stress and well-being." (See summary below or view the full text of the study at: https://www.ncbi.nlm.nih.gov/pmc/articles/PMC6215525/), Bostock and colleagues recruited healthy adults in the workplace and randomly assigned them to either a wait-list control condition or to 45 days of daily mindfulness training with the "Headspace" app for their smartphones. They were measured before and after the intervention and 8 weeks later for blood pressure and daily well-being at 5 different times during the day, psychological well-being, anxiety, depression, job strain, job status, workplace social support, and mindfulness.
They found that in comparison to baseline and the wait-list controls the participants who used the mindfulness training app had significantly higher levels of psychological well-being, daily positive emotions, and workplace social support and significantly lower levels of blood pressure, anxiety, depression, and job strain. They found that these benefits only occurred in participants who completed 10 or more practice sessions. Most of these improvements were maintained at the 8-week follow-up.
The research design contained a control condition but the condition was not active. This leaves open the possibility of placebo effects, demand characteristics, and experimenter bias. Employees that used the app less than 10 times, however, could be seen as an active control and they did not show improvements. Nevertheless, the results suggest that using a mindfulness training smartphone app can improve the psychological well-being of employees in the workplace. Since they can receive the training at their own convenience and schedule, it is especially applicable to busy real-world work environments. The low cost of this training suggests that it can be used over large numbers of employees, at diverse locations.
So, improve psychological well-being at work with a mindfulness app.
"mindfulness and mindfulness-based practices improve self-regulation of thoughts, emotions, and behaviors, linking them to both performance and employee well-being in the workplace." Theresa Glomb
CMCS – Center for Mindfulness and Contemplative Studies
This and other Contemplative Studies posts are also available on Google+ https://plus.google.com/106784388191201299496/posts and on Twitter @MindfulResearch
Study Summary
Bostock, S., Crosswell, A. D., Prather, A. A., & Steptoe, A. (2019). Mindfulness on-the-go: Effects of a mindfulness meditation app on work stress and well-being. Journal of occupational health psychology, 24(1), 127–138. https://doi.org/10.1037/ocp0000118
Abstract
We investigated whether a mindfulness meditation program delivered via a smartphone application (app) could improve psychological well-being, reduce job strain, and reduce ambulatory blood pressure during the workday. Participants were 238 healthy employees from two large UK companies that were randomized to a mindfulness meditation practice app or a wait-list control condition. The app offered 45 pre-recorded 10–20 minute guided audio meditations. Participants were asked to complete one meditation per day. Psychosocial measures, and blood pressure throughout one working day, were measured at baseline and 8 weeks later; a follow-up survey was also emailed to participants 16 weeks after the intervention start. Usage data showed that during the 8-week intervention period, participants randomized to the intervention completed an average of 17 meditation sessions (range 0 to 45 sessions). The intervention group reported significant improvement in well-being, distress, job strain, and perceptions of workplace social support compared to the control group. In addition, the intervention group had a marginally significant decrease in self-measured workday systolic blood pressure from pre to post intervention. Sustained positive effects in the intervention group were found for well-being and job strain at the 16-week follow-up assessment. This trial suggests that short guided mindfulness meditations delivered via smartphone and practiced multiple times per week can improve outcomes related to work stress and well-being, with potentially lasting effects.
https://www.ncbi.nlm.nih.gov/pmc/articles/PMC6215525/