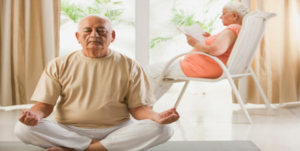 Improve Psychological Well-Being in the Elderly with Mild Memory Loss with Meditation
By John M. de Castro, Ph.D.
"Wouldn't it be wonderful if all the answers we're looking for when it comes to ending memory loss could be gained by simply doing KK for 12 minutes each morning? Perhaps that magic bullet is already here, waiting to be discovered in each and every one of us after all. Now, wouldn't that be grand?" – Dharma Singh Khalsa
The aging process involves a systematic progressive decline in every system in the body, the brain included. It cannot be avoided. Our mental abilities may also decline with age including impairments in memory, attention, and problem solving ability. These are called age related cognitive decline. This occurs to everyone as they age, but to varying degrees. Some deteriorate into a dementia, while others maintain high levels of cognitive capacity into very advanced ages. It is estimated that around 30% of the elderly show significant age related cognitive decline. These cognitive declines markedly increase the risk of dementia or Alzheimer's Disease. The declines occur along with sleep disruptions declines in mental health and quality of life, which in turn, appear to exacerbate the decline.
There is some hope, however, for those who are prone to deterioration as there is evidence that these cognitive declines can be slowed. For example, a healthy diet and a regular program of exercise can slow the physical decline of the body with aging. Also, contemplative practices such as meditation, yoga, and tai chi or qigong have all been shown to be beneficial in slowing or delaying physical and mental decline with aging. Indeed, mindfulness practices reduce the deterioration of the brain that occurs with aging restraining the loss of neural tissue.
In today's Research News article "Effects of Meditation versus Music Listening on Perceived Stress, Mood, Sleep, and Quality of Life in Adults with Early Memory Loss: A Pilot Randomized Controlled Trial." (See summary below or view the full text of the study at: https://www.ncbi.nlm.nih.gov/pmc/articles/PMC5649740/ ), Innes and colleagues recruited community living adults over 50 years of age and experiencing memory problems and slight cognitive decline. They were randomly assigned to 12-week, 12 minutes per day, programs of classical music listening or Kirtan Kriya meditation, performed while sitting comfortably with eyes closed. At the first session the participants received 35-minute instruction on relaxation and their specific program and then provided DVDs for daily home practice. Kirtan Kriya meditation included signing a mantra, successive finger touching and visualization exercises. After the 12 weeks of practice participants were free to continue practicing if they wished. They were measured before and after the 12-week programs and 14 weeks later for body size, sleep quality, perceived stress, health-related quality of life, psychological well-being, mood, memory, and cognitive performance.
Retention and participation were high, with 92% of the music listening participants and 88% of the meditation participants completing the program. Participants completed 93% of the required session and 73% of the optional sessions during the second 14-week period. This indicates that the participants found the programs enjoyable and worth their time and effort.
Over the 12-week program, both groups showed significant improvements in sleep quality, perceived stress, health-related quality of life, psychological well-being, and mood. These improvements were either sustained or further improved over the subsequent 14 weeks. The meditation group had significantly greater improvements than the music listening group in perceived stress, mood, psychological well-being, and mental health quality of life. In addition, the greater the improvements in mood, stress, sleep, well-being, and quality of life, the greater the improvements in memory function. Hence, the two forms of relaxation produced improvements in the participants well-being which were related to improvements in memory. But, meditation had a greater impact then music listening.
These results are quite remarkable that such simple practices for only 12 minutes per day can have such profound effects on the well-being of aging individuals with slight cognitive decline. This could potentially delay of lower the likelihood that the decline will continue into dementia of Alzheimer's Disease. It is important that the effects were lasting and participation high, both of which suggest that the meditation program can be easily and inexpensively applied to large groups of community-based aging individuals.
So, improve psychological well-being in the elderly with mild memory loss with meditation
"Mild cognitive impairment (MCI) can affect up to 20% of the population at any one time—and half of them will progress to full-on dementia. Now, a recent study . . .  finds as little as 15 minutes of daily meditation can significantly slow that progression." – Nina Elias
CMCS – Center for Mindfulness and Contemplative Studies
This and other Contemplative Studies posts are also available on Google+ https://plus.google.com/106784388191201299496/posts and on Twitter @MindfulResearch
Study Summary
Innes, K. E., Selfe, T. K., Khalsa, D. S., & Kandati, S. (2016). Effects of Meditation versus Music Listening on Perceived Stress, Mood, Sleep, and Quality of Life in Adults with Early Memory Loss: A Pilot Randomized Controlled Trial. Journal of Alzheimer's Disease : JAD, 52(4), 1277–1298. http://doi.org/10.3233/JAD-151106
Abstract
Background
Older adults with subjective cognitive decline (SCD) are at increased risk not only for Alzheimer's disease, but for poor mental health, impaired sleep, and diminished quality of life (QOL), which in turn, contribute to further cognitive decline, highlighting the need for early intervention.
Objective
In this randomized controlled trial, we assessed the effects of two 12-week relaxation programs, Kirtan Kriya Meditation (KK) and music listening (ML), on perceived stress, sleep, mood, and health-related QOL in older adults with SCD.
Methods
Sixty community-dwelling older adults with SCD were randomized to a KK or ML program and asked to practice 12 minutes daily for 12 weeks, then at their discretion for the following 3 months. At baseline, 12 weeks, and 26 weeks, perceived stress, mood, psychological well-being, sleep quality, and health-related QOL were measured using well-validated instruments.
Results
Fifty-three participants (88%) completed the 6-month study. Participants in both groups showed significant improvement at 12 weeks in psychological well-being and in multiple domains of mood and sleep quality (p's ≤ 0.05). Relative to ML, those assigned to KK showed greater gains in perceived stress, mood, psychological well-being, and QOL-Mental Health (p's ≤ 0.09). Observed gains were sustained or improved at 6 months, with both groups showing marked and significant improvement in all outcomes. Changes were unrelated to treatment expectancies.
Conclusions
Findings suggest that practice of a simple meditation or ML program may improve stress, mood, well-being, sleep, and QOL in adults with SCD, with benefits sustained at 6 months and gains that were particularly pronounced in the KK group.