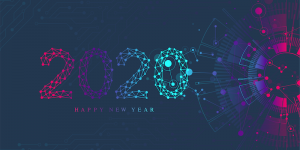 Happy New Year with Mindfulness
By John M. de Castro, Ph.D.
"The object of a new year is not that we should have a new year. It is that we should have a new soul."  ~G.K. Chesterton
At the stroke of midnight on December 31st all over the world revelers ring in the new calendar year with a hearty celebration. It's a celebration of a relatively arbitrary day that has been designated as the first day of a new calendar year. The celebration of the solstice, 10 days before, at least has astrological meaning as the shortest day of the year. But, January 1 has no such physical meaning. January 1 was designated as the start of the year by Julius Caesar in 45 BC. That date was chosen to honor the Roman God Janus, the god of beginnings, whose two faces allowed him to look back into the past and forward into the future. That symbolism has stuck as the new year's celebration involves a reflection about the year past and hope for the year to come.
Don't Look Back
To some extent this looking back into the past and forward into the future is the antithesis of mindfulness which emphasizes the present moment. Our recollection of the past is, in fact, an illusion. When we look at the past we view it with the distorted lens of memory and the delusions that we have about the self. The memories of what happened during the last year bare only a fleeting resemblance to what actually happened. Recollections tend to be dominated by hazy and distorted memories of emotionally charged events and neglects everyday times of calm and contentment. When we look back we primarily remember the highs and the lows and believe that if we could simply keep repeating the highs and eliminate the lows then we'd be truly happy. This is the trap sometimes known as the hedonic treadmill. We keep seeking the highs and are unhappy when we can't reproduce them or if we are successful are unhappy to find that we can't maintain them. Unfortunately, our New Year's celebration and our resolutions reinforce and amplify these ideas propelling us to even greater unhappiness in the new year.
Our view of the past is additionally distorted by the beliefs that we have about ourselves. These self-concepts are mainly incorrect and terribly distorted. Western culture, by its adoration of extraordinary and unrealistic models of perfection, produces and reinforces rampant self-dislike. We can never really attain the societal norm of perfection and this makes us feel horribly deficient. As a result, most westerners don't like what they are and want to be different. As a consequence, people look back on the events of the year and interpret them through the lens of self-dislike.
We remember primarily those events that conform to our beliefs about what we should be, but cannot achieve. This creates a vicious cycle where the low self-esteem and self-worth causes us to remember events that exemplify this self-concept, creating even greater self-dislike. Those rare events that reveal us to be adequate are quickly forgotten. The events of the past year, then, are perceived as evidence to support our harsh view of ourselves. Rather than accurately remembering what actually happened during the year, our recollections are dominated by this distorted reality. So, don't look back at the past year, rather look carefully and mindfully at yourself. You need to develop self-acceptance, before you can ever hope to have an honest idea of what the past contained.
Don't Look to the Future
These distortions also color our thoughts about the upcoming year. We resolve to change ourselves to better conform to our unrealistic beliefs about what we should be. The New year's resolutions that are such a common part of our new year's celebration are a direct outgrowth of our self-dislike. The problem with these new year's resolutions is that they are a declaration that we're not happy with ourselves or the way things are. We want to be different. That's not bad unto itself. Striving to better oneself is a good thing. The problem is that what we desire for ourselves is usually totally unrealistic as it's based on a distorted reality. But, we strongly believe that this is what we need to be happy. It's all a delusion that's doomed to failure. In fact, research has suggested that only 8% of these resolutions are ever achieved.
Better New Year's Resolutions
We need to craft a new set of resolutions, based upon self-acceptance, and a realistic view about what needs to be and can be achieved. The resolutions should be to better see things, including ourselves as they really are. To look at the world and ourselves mindfully without judgment, just as we are. These are the kinds of resolutions that can really work towards, not making us happy, but letting us be happy in the coming year; to simply experience the happiness that has been within us all along.
There are some rules of thumb about these resolutions. Don't be too grandiose. Don't set goals of perfection. Small steps with a recognition that you won't always be successful are recommended. Make a resolution to practice mindfulness. Pick a practice that you not only can do, but that you can comfortably sustain. The only one perfect right practice is the one that you'll do and keep doing. It may be meditation, yoga, body scan, tai chi or qigong, contemplative prayer, or another of the many available practices or some combination of practices. The only thing that matters is that you're drawn to it, comfortable doing it, and you'll stick with it. Once you start, don't try too hard. Remember the Buddha recommended the middle way, with right effort, not too much and not too little. Practice nonjudgmentally. Don't judge whether you're doing it right or wrong, whether the particular practice was good or bad, or whether you're making progress or not. Just practice. Just relax and let the practice do you. You don't need to do it.
Focus on Now
All of these various practices promote nonjudgmental attention to what is occurring in the present moment, the now. Slowly you come to realize that the now is the only time available where you can be satisfied and happy. The past are only nows that are gone and the future are only nows that have yet to happen. So, focus on the present moment. It's where life happens. If you can learn to be happy right now, then you'll be able to happy in the future when it becomes now. As you look calmly, nonjudgmentally, and deeply at what is happening right now you begin to see the beauty and wonder that is there all of the time. You just need to stop ruminating about the past and worrying about the future. Learn to enjoy the moment.
Focusing on the present moment the impermanence of all things becomes evident. In the present we can observe things rising up and then falling away. Change is constant. If things are bad at the moment, you can be sure that it'll change. So, be patient. On the other hand, if things are good, know also that this will change too. Don't try to hang onto what is present. Learn to enjoy the moment as it is. These observations reveal that every moment is new. It has never happened before and it will never happen again. Every moment is a new opportunity. Don't worry about it passing. The next moment will again provide a new opportunity. Make the most of it. If you can learn to do this, you'll enjoy life to its fullest, as the dynamically changing perpetual now.
Renewal
In the new year, we need to not think about a "happy new year." Rather think about a "happy new day." In fact, it's best to think about each "happy new moment." Focus on the present moment and wish yourself and everyone else a "happy new moment." Every moment is a unique opportunity to experience life as it is, appreciate its wonder, and enjoy it while it's here, in the present moment. Each moment is an opportunity for renewal. If we're not happy in the moment, we can be in the next. We have a new opportunity every new moment. If we pay attention to them, we can use the opportunity to create happiness.
So, have a "happy new moment" with mindfulness.
"Empty your glass and feel your way through this New Year. If it feeds your soul, do it. If it makes you want to get out of bed in the morning with a smile, carry on. Be present and let your energy synchronise with the earth and give you the clarity to move forward and be comfortable and contented with who you are. Let your intuition guide you through a wonderful year and attract an abundance of positive opportunity." – Alfred James
"Many of us are thinking about new year's resolutions and taking stock at this time, but how many of those typical resolutions are just 'self' improvement projects (which means we're trying to get more, be more or have more) rather than ways to actually embrace the life we already have right here and now?" – Mrs. Mindfulness
CMCS – Center for Mindfulness and Contemplative Studies
This and other Contemplative Studies posts are also available on Google+ https://plus.google.com/106784388191201299496/posts and on Twitter @MindfulResearch