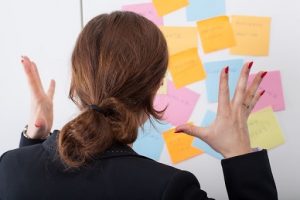 Improve Tolerance for Distress with Brief Mindfulness Training
By John M. de Castro, Ph.D.
"when you are being mindful of your emotions you don't fight the wave, but instead allow the wave to carry you over its crest and down the other side, or you might choose to surf the wave allowing it to carry you into shore." – Lisa Saulsman
Psychological distress is related to an increase in physiological stress responses. That is, when the individual is anxious, ruminating, or having negative emotions, the physiology including the hormonal system reacts. The increased activity can be measured in heightened stress hormones in the blood and increased heart rate, blood pressure etc. These physiological stress responses on the short-term are adaptive and help to fight off infection, toxins, injury, etc. Unfortunately, psychological distress is often persistent and chronic and resulting in chronic stress which in turn can produce disease.
Many of the symptoms of psychological distress have been shown to be related to a lack of mindfulness. Anxiety is often rooted in a persistent dread of future negative events while rumination is rooted in the past, with persistent replaying of negative past events. Since mindfulness is firmly rooted in the present it is antagonistic toward anything rooted in the past or future. Hence, high levels of mindfulness cannot coexist with anxiety and rumination. In addition, high mindfulness has been shown to be related to high levels of emotion regulation and positive emotions. So, mindfulness would appear to be an antidote to psychological distress.
In today's Research News article "The Effect of a Brief Mindfulness Training on Distress Tolerance and Stress Reactivity." (See summary below or view the full text of the study at: https://www.ncbi.nlm.nih.gov/pmc/articles/PMC6494113/), Carpenter and colleagues recruited undergraduate students who had no experience with mindfulness or meditation practices and measured them for mindfulness, anxiety, depression, perceived stress. mindfulness use, and respiration. They were then measured for distress tolerance with a cold pressor task in which they were asked to keep their arm in very cold water for as long as they could (up to a maximum of 180 seconds). They were also asked to hyperventilate for as long as they could (up to a maximum of 300 seconds). After having completed these tasks they were randomly assigned to receive either 15 minutes of relaxation with music or mindfulness training with meditation and non-judgmental awareness. They then repeated the distress tasks. Finally, only after training they were asked to write a sentence stating that a good friend will be in a bad car accident and think about and visualize the scene. Participants were asked to rate their level of distress prior to each task and after the task to rate their maximal level of distress during the task,
They found that in comparison to baseline and the relaxation condition, after mindfulness training there was a significant increase in persistence of hyperventilation, time continuing to hyperventilate. The mindfulness participants also were less likely to attempt to neutralize feelings produced by stating and visualizing a friend in a future car accident. There were no significant effects of training on the reported levels of distress. They also found that using mindfulness nonjudging and nonreacting mediated the effect of mindfulness training on persistence in the cold pressor and urge to neutralize feelings in the car accident tasks, such that mindfulness training not only directly affected these outcomes but also indirectly by increasing these uses of mindfulness which in turn affected performance.
These results suggest that a brief mindfulness training produces a greater ability to tolerate physical and psychological distress. They also suggest that mindfulness has these effects in part by inducing mindful nonjudgment and nonreaction. The ability to engage in a stressful task appears to be improved by observing it in the present moment nonjudgmentally and nonreactively.
Mindfulness training has been previously shown to reduce distress, pain, and responding to stress. What is new and interesting here is that such a brief mindfulness training can have significant effects like these. This suggests that brief mindfulness training may be beneficially employed whenever and individual is about to engage in a distressful task, such as working through traumatic experiences, engaging in athletic endeavors, etc., making the individual better able to focus on the present moment and better cope with the distress.
So, improve tolerance for distress with brief mindfulness training.
"mindfulness is believed to facilitate increased distress tolerance and nonjudgmental acceptance of unpleasant experiences." – Andrew Bliesner
CMCS – Center for Mindfulness and Contemplative Studies
This and other Contemplative Studies posts are also available on Google+ https://plus.google.com/106784388191201299496/posts and on Twitter @MindfulResearch
Study Summary
Carpenter, J. K., Sanford, J., & Hofmann, S. G. (2019). The Effect of a Brief Mindfulness Training on Distress Tolerance and Stress Reactivity. Behavior therapy, 50(3), 630–645. https://doi.org/10.1016/j.beth.2018.10.003
Highlights
Mindfulness training increased distress tolerance on the hyperventilation challenge
Mindfulness training led to reduced urges to neutralize an upsetting thought
No effect of the intervention was seen on subjective distress
Lower trait awareness predicted a greater effect of mindfulness on hyperventilation
Abstract
Distress tolerance (DT) is considered an underlying facet of anxiety, depression and a number of other psychological disorders. Mindfulness may help to increase DT by fostering an attitude of acceptance non-judgment toward distressing experiences. Accordingly, the present study examined the effects of a brief mindfulness training on tolerance of different types of distress, and tested whether trait mindfulness moderates the effect of such training. Undergraduates (n = 107) naïve to mindfulness completed a measure of trait mindfulness and underwent a series of stress tasks (cold pressor, hyperventilation challenge, neutralization task) before and after completing a 15-minute mindfulness training or a no-instruction control in which participants listened to relaxing music. Participants in the mindfulness condition demonstrated greater task persistence on the hyperventilation task compared to the control group, as well as a decreased urge to neutralize the effects of writing an upsetting sentence. No effect on distress ratings during the tasks were found. Overall trait mindfulness did not significantly moderate task persistence, but those with lower scores on the act with awareness facet of mindfulness demonstrated greater relative benefit of mindfulness training on the hyperventilation challenge. Mediation analyses revealed significant indirect effects of mindfulness training on cold pressor task persistence and urges to neutralize through the use of the non-judge and non-react facets of mindfulness. These results suggest that a brief mindfulness training can increase DT without affecting the subjective experience of distress.
https://www.ncbi.nlm.nih.gov/pmc/articles/PMC6494113/