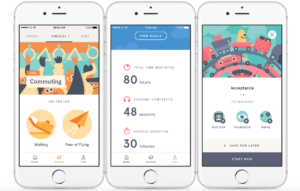 Improve Psychological Well-Being with a Smartphone Mindfulness App
By John M. de Castro, Ph.D.
"Mindfulness mediation apps can be useful for some people, but for others, when unwell, using these apps or even engaging in mediation its self can be quite difficult," – Kym Jenkins
Mindfulness training has been shown through extensive research to be effective in improving physical and psychological health and particularly with the physical and psychological reactions to stress and resilience in the face of stress. The vast majority of the mindfulness training techniques, however, require a certified trained therapist. This results in costs that many clients can't afford. In addition, the participants must be available to attend multiple sessions at particular scheduled times that may or may not be compatible with their busy schedules and at locations that may not be convenient. As an alternative, Apps for smartphones have been developed. These have tremendous advantages in decreasing costs, making training schedules much more flexible, and eliminating the need to go repeatedly to specific locations. But the question arises as to the effectiveness of these Apps in inducing mindfulness and improving psychological health.
In today's Research News article "The efficacy of a brief app-based mindfulness intervention on psychosocial outcomes in healthy adults: A pilot randomised controlled trial." (See summary below or view the full text of the study at: https://www.ncbi.nlm.nih.gov/pmc/articles/PMC6312207/ ), Champion and colleagues recruited over the internet healthy adults who were not mindfulness practitioners and randomly assigned them to either a wait-list control condition or to receive mindfulness training via a smartphone app (Headspace). They practiced once a day for 10 minutes for 30 days. "The program is intended to introduce the key principles behind mindfulness, and how one can apply mindfulness to their daily life, using technique such as breath awareness, body scanning, and noting. . . The audio content is supplemented with educational videos and animations." The participants completed questionnaires over the internet measuring general health, satisfaction with life, perceived stress, resilience, and engagement and experience with the app.
They found in comparison to baseline and to the wait-list controls that the participants who used the app had significant improvements in satisfaction with life, perceived stress, and resilience. The increases in psychological health were greatest between baseline and day 10 of practice but continued to increase over the next 20 days. This suggests that the benefits are available relatively rapidly but continued practice produces greater benefits. It remains to be determined whether these effects are enduring or are only present in the immediate aftermath of training.
These effects of mindfulness training are well established. This study adds to the accumulating evidence of the effectiveness of mindfulness training over the internet or with smartphone apps. The present study demonstrates that a widely available commercial smartphone app is also effective. This is important as it suggests that training in mindfulness can be made widely and inexpensively available without the presence of a trained therapist and at the convenience of the participant. This may allow for the benefits of mindfulness practice to spread far and wide to tremendous numbers of people. In this regard the Headspace app has already been downloaded 30 million times.
So, improve psychological well-being with a smartphone mindfulness app.
"A good number of new meditators begin sitting with the hope that the holistic benefits of meditation will make themselves felt in a matter of days. They expect meditation to act as a quick fix – like swallowing a pain relief tablet. It isn't a reasonable expectation. Most genuine meditation teachers say that while a fortunate few newbies experience benefits very quickly, for the rest of us, meditation has to be practiced regularly over time before its beneficial effects can be appreciated." – Mindworks
CMCS – Center for Mindfulness and Contemplative Studies
This and other Contemplative Studies posts are also available on Google+ https://plus.google.com/106784388191201299496/posts and on Twitter @MindfulResearch
Study Summary
Champion, L., Economides, M., & Chandler, C. (2018). The efficacy of a brief app-based mindfulness intervention on psychosocial outcomes in healthy adults: A pilot randomised controlled trial. PloS one, 13(12), e0209482. doi:10.1371/journal.pone.0209482
Abstract
Background
Previous evidence suggests that mindfulness training may improve aspects of psychosocial well-being. Whilst mindfulness is traditionally taught in person, consumers are increasingly turning to mindfulness-based smartphone apps as an alternative delivery medium for training. Despite this growing trend, few studies have explored whether mindfulness delivered via a smartphone app can enhance psychosocial well-being within the general public.
Methods
The present pilot randomised controlled trial compared the impact of engaging with the self-guided mindfulness meditation (MM) app 'Headspace' (n = 38) for a period of 10 or 30 days, to a wait-list (WL) control (n = 36), using a cohort of adults from the general population. The Satisfaction with Life Scale, Perceived Stress Scale, and Wagnild Resilience Scale were administered online at baseline and after 10 and 30 days of the intervention.
Results
Twelve participants (MM n = 9, WL n = 3) were lost to follow-up for unknown reasons. Relative to the WL control, the MM app positively impacted self-reported satisfaction with life, stress, and resilience at day 10, with further improvements emerging at day 30 (Cohen's d = 0.57, 1.42, 0.63 respectively). The rate of improvement was largest at the 10-day assessment point, dropping moderately by day 30. Participants that rated the MM app as easy to engage with experienced the largest self-reported benefits. Moreover, the MM app was able to protect against an unexpected increase in perceived stress that emerged in the control group.
Conclusions
This pilot randomised controlled trial shows that self-reported improvements in psychosocial outcomes can be achieved at low cost through short-term engagement with a mindfulness-based smartphone app, and should be followed up with more substantive studies.
https://www.ncbi.nlm.nih.gov/pmc/articles/PMC6312207/