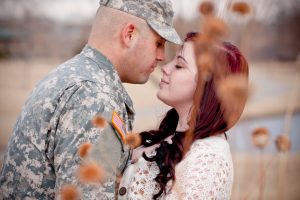 Mindfulness Is Associated with Better Marital Quality in Military Couples
By John M. de Castro, Ph.D.
"Mindfulness helps partners to regulate their own responses and more fully accept one another," the researchers suggest, "resulting in less negative fallout from conflict when it arises." – Linda Graham
Relationships can be difficult as two individuals can and do frequently disagree or misunderstand one another. This is amplified in marriage where the couple interacts daily and frequently have to resolve difficult issues. These conflicts can produce strong emotions and it is important to be able to regulate these emotions in order to keep them from interfering with rational solutions to the conflict. The success of marriage can often depend upon how well the couple handles these conflicts. In fact, it has been asserted that the inability to resolve conflicts underlies the majority of divorces. All this can be amplified with military marriages where one partner may be away on deployment for long periods.
Mindfulness may be helpful in navigating marital disputes, as it has been shown to improve the emotion regulation and decrease anger and anxiety. It may be a prerequisite for deep listening and consequently to resolving conflict. Indeed, mindfulness has been shown to improve relationships. So, mindfulness may be a key to successful relationships. But little is known about mindfulness and military couples who are under the added stress of deployment.
In today's Research News article "Actor-Partner Associations of Mindfulness and Marital Quality After Military Deployment." (See summary below or view the full text of the study at: https://www.ncbi.nlm.nih.gov/pmc/articles/PMC6820699/), Zamir and colleagues recruited heterosexual couples with the male in the military and having been deployed. Both members of the dyad were measured for mindfulness and marital quality.
They found that for both men and women the higher the levels of mindfulness the greater the marital quality. In addition, for both men and women the higher the level of mindfulness in one member of the dyad the higher the level of marital quality reported not only by themselves but also by their partner. Hence mindfulness is associated with higher marital quality for both members of a military marriage.
These results are correlational and conclusions about causation cannot be reached. But in previous manipulative research studies mindfulness has been shown to improve relationships. Hence, it is reasonable to speculate that mindfulness also produces better relationships in this particular group of military heterosexual couples confronting deployment. One implication of the work is that the military might consider mindfulness training to help couples cope with the stresses of deployment and maintain strong marriages.
So, mindfulness is associated with better marital quality in military couples.
"Research continues to reveal benefits mindfulness training provides for soldiers both before and after combat. These benefits in some cases have the potential to be life-saving, both from improved situational awareness and stress resilience during battle and from decreasing the intensity and occurrence of posttraumatic stress symptoms, which are often linked to a high rate of veteran suicides." – GoodTherapy
CMCS – Center for Mindfulness and Contemplative Studies
This and other Contemplative Studies posts are also available on Google+ https://plus.google.com/106784388191201299496/posts and on Twitter @MindfulResearch
Study Summary
Zamir, O., Gewirtz, A. H., & Zhang, N. (2017). Actor-Partner Associations of Mindfulness and Marital Quality After Military Deployment. Family relations, 66(3), 412–424. doi:10.1111/fare.12266
Abstract
Objective:
To explore dyadic associations between mindfulness and marital quality and gender differences in these associations—that is, the relation of each dyad member's mindfulness with his or her own marital quality and with his or her partner's marital quality.
Background:
Recent studies have demonstrated the benefits of mindfulness for marital quality. However, associations of mindfulness and marital quality within and between partners are still unclear. In addition, despite marital challenges associated with deployment to war, the benefits of mindfulness for marital quality in military couples is yet unknown.
Method:
A sample of 228 military couples following deployment of the male partner to recent conflicts in Iraq or Afghanistan completed an online survey measuring mindfulness and marital quality.
Results:
Actor–partner interdependence (APIM) analysis showed that, for both men and women, greater mindfulness was associated with one's own and one's partner's higher marital quality. There were no gender differences in this pattern.
Conclusion:
Mindfulness engenders intra- and interpersonal benefits for the marital system in men and in women following deployment to war.
Implications:
The results emphasize the importance of a dyadic approach when examining the role of mindfulness in marital or family relations, and suggest that interventions designed to facilitate change in marital relationships in the context of deployment may benefit from integrating mindfulness-based training.
https://www.ncbi.nlm.nih.gov/pmc/articles/PMC6820699/