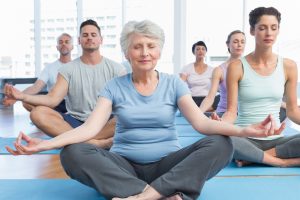 Reduce Inflammatory Responses and Reduce Rheumatoid Arthritis Symptoms with Yoga
By John M. de Castro, Ph.D.
"yoga practice significantly decreases the severity of physical and psychological symptoms in patients with active rheumatoid arthritis." – Science Daily
Arthritis is a chronic disease that most commonly affects the joints. Depending on the type of arthritis, symptoms may include pain, stiffness, swelling, redness, and decreased range of motion. It affects an estimated 52.5 million adults in the United States. It is associated with aging as arthritis occurs in only 7% of adults ages 18–44, while 30% adults ages 45–64 are affected, and 50% of adults ages 65 or older. Due to complications associated with rheumatoid arthritis (RA), the lifespan for people with RA may be shortened by 10 years. This is due to a higher incidence of cardiovascular disease in rheumatoid arthritis (RA) patients, with the risk more than double that of non-RA individuals.
Obviously, there is a need to explore alternative treatments for rheumatoid arthritis. One possibility is contemplative practice. A variety of which have been shown to have major mental and physical benefits including a reduction in the inflammatory response and have been shown to improve arthritis. Indeed, yoga practice has been shown to be effective in treating arthritis. So, it makes sense to investigate the effects of yoga practice on the inflammatory response in patients with rheumatoid arthritis.
In today's Research News article "Effect of an 8-Week Yoga-Based Lifestyle Intervention on Psycho-Neuro-Immune Axis, Disease Activity, and Perceived Quality of Life in Rheumatoid Arthritis Patients: A Randomized Controlled Trial." (See summary below or view the full text of the study at: https://www.ncbi.nlm.nih.gov/pmc/articles/PMC7492675/ ) Gautam and colleagues recruited adult patients with rheumatoid arthritis and continued with their usual care. They were randomly assigned to either no-treatment or ashtanga yoga practice modified for patients with rheumatoid arthritis. They practiced 5 times per week for 2 hours for 8 weeks. The practice included postures, breathing exercises, meditation, relaxation, and personal lifestyle management. They were measured before and after training for disease activity and quality of life. They also had blood drawn and assayed for biochemical markers of inflammation.
They found that in comparison to baseline and the no-treatment group, the yoga group had a significant decrease in rheumatoid arthritis disease activity and a significant increase in their psychological and social quality of life, with greater effects occurring in women than in men. In addition, they found that yoga practice decreased the gene expressions of and levels of pro-inflammatory biochemical markers IL-6, TNF-α, and CTLA4, and a significant increase in TGF-β, an anti-inflammatory marker, suggesting reduced inflammation in the yoga group.
This study did not have an active control condition or a long-term follow-up and as such the results must be interpreted with caution. Future studies should include long-term follow-up and an active control condition such as aerobic exercise to determine if the results were due to exercise in general or specifically to yoga practice and whether the benefits were lasting. Nevertheless, the results replicate the findings of other research that yoga practice improves arthritis symptoms and reduces inflammatory responses. The results suggest that yoga practice reduces the inflammatory responses that promote the disease and thereby reduce the disease symptoms which in turn improves the patient's quality of life. This is good news for these patients signaling that practicing yoga may help relieve their suffering and retard disease progression.
So, reduce inflammatory responses and reduce rheumatoid arthritis symptoms with yoga.
"People with various types of arthritis who practice yoga regularly can reduce joint pain, improve joint flexibility and function, and lower stress and tension to promote better sleep." – Susan Bernstein
CMCS – Center for Mindfulness and Contemplative Studies
This and other Contemplative Studies posts are also available on Google+ https://plus.google.com/106784388191201299496/posts and on Twitter @MindfulResearch
Study Summary
Gautam, S., Kumar, M., Kumar, U., & Dada, R. (2020). Effect of an 8-Week Yoga-Based Lifestyle Intervention on Psycho-Neuro-Immune Axis, Disease Activity, and Perceived Quality of Life in Rheumatoid Arthritis Patients: A Randomized Controlled Trial. Frontiers in Psychology, 11, 2259. https://doi.org/10.3389/fpsyg.2020.02259
Abstract
Various external stressors and environmental challenges lead to the provocation of the immune system in autoimmune diseases like Rheumatoid arthritis (RA). The inappropriate immune response further triggers the cascade of inflammatory changes resulting in precipitation of symptoms and hampers quality of life (QOL). The underlying psycho-somatic component of the disease requires a holistic approach to its treatment dimension rather than the use of pharmacotherapy. The applicability of mind-body interventions has become essential in today's fast-paced life. Yoga, a mind-body technique, alters the mind's capacity to facilitate systemic functioning at multiple organ system levels. Hence, we conducted this study to evaluate the impact of 8 weeks of a yoga-based lifestyle intervention (YBLI) on psycho-neuro-immune markers, gene expression patterns, and QOL in RA patients on routine medical therapy. A total of 66 patients were randomized into two groups: yoga group or non-yoga group and were assessed for a panel of inflammatory cytokines (IL-6, IL-17A, TNF-α, and TGF-β), mind-body communicative markers (BDNF, DHEAS, β-endorphin, and sirtuin) and transcript levels of various genes (IL-6, TNF-α, NFKB1, TGF-β, and CTLA4). We assessed disease activity and QOL using the DAS28-ESR and WHOQOL-BREF questionnaire, respectively. Yoga group observed significant improvements in the levels of markers, which influenced the psycho-neuro-immune axis (p < 0.001) with an estimated effect size from small to medium range. In the yoga group, there was a significant reduction in DAS28-ESR (p < 0.001) and improvement seen in the physical health, psychological, social relationships domains (p < 0.001) of QOL, except environmental (p > 0.05). The yoga group showed downregulation of IL-6, TNF-α, and CTLA4 and upregulation of TGF-β. These results suggest that a decrease in disease activity after yoga practice is associated with a significant reduction in inflammatory cytokines, the elevation of mind-body communicative markers, and normalization of various transcript levels, which improved QOL. Thus the adoption of YBLI improves clinical outcome in RA, and decreases systemic inflammation by its beneficial effects on psycho-neuro-immune axis and normalization of dysregulated transcripts. Thus YBLI may be used for RA patients as an adjunctive therapy.
https://www.ncbi.nlm.nih.gov/pmc/articles/PMC7492675/