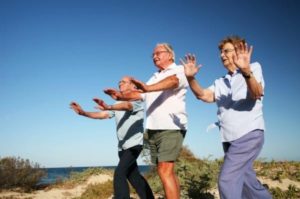 Tai Chi is Better than Physical Therapy for Knee Osteoarthritis
By John M. de Castro, Ph.D.
"Tai chi helps patients preserve and improve function by increasing strength, flexibility and coordination while avoiding aggravation of arthritic pain and inflammation. Tai chi is a particularly appealing form of exercise, as it is very low impact and emphasizes balance, coordination and strength. Tai chi is safe and has been shown to reduce falls in the elderly. Moreover, patients who practice tai chi often report an increased sense of wellness." – Matthew Hepinstall
Osteoarthritis is a chronic degenerative joint disease that is the most common form of arthritis. It produces pain, swelling, and stiffness of the joints. It is the leading cause of disability in the U.S., with about 43% of arthritis sufferers limited in mobility and about a third having limitations that affect their ability to perform their work. In the U.S., osteoarthritis affects 14% of adults over 25 years of age and 34% of those over 65. Knee osteoarthritis effects 5% of adults over 25 years of age and 12% of those over 65. It is painful and disabling. Its causes are varied including, hereditary, injury including sports injuries, repetitive stress injuries, infection, or from being overweight.
There are no cures for knee osteoarthritis. Treatments are primarily symptomatic, including weight loss, exercise, braces, pain relievers and anti-inflammatory drugs, corticosteroids, arthroscopic knee surgery, or even knee replacement. Gentle movements of the joints with exercise and physical therapy appear to be helpful in the treatment of knee osteoarthritis. This suggests that alternative and complementary practices that involve gentle knee movements may be useful in for treatment. Indeed, yoga practice has been shown to be effective in treating arthritis. Various forms of traditional Chinese exercises, such as Tai Chi, Qigong, and Baduanjin involve slow gentle movements of the limbs and mindfulness and have been shown to reduce the physical symptoms of knee osteoarthritis. So, it would seem reasonable to look further into the effectiveness of Tai Chi relative to physical therapy in treating knee osteoarthritis.
In today's Research News article "Comparative Effectiveness of Tai Chi Versus Physical Therapy for Knee Osteoarthritis: A Randomized Trial." See summary below or view the full text of the study at: https://www.ncbi.nlm.nih.gov/pmc/articles/PMC4960454/, Wang and colleagues recruited patients who were 40 years or older with knee osteoarthritis who had never practiced Tai Chi or received physical therapy before. They were randomly assigned to receive either 60 minutes, 2 times per week for 12 weeks of Tai Chi or 30 minutes, 2 times per week for 6 weeks of physical therapy. All patients continued to practice at home for an additional 12 weeks. They were measured before treatment and 12, 24, and 52 weeks later for osteoarthritis symptoms, physical function, stiffness, depression, arthritis self-efficacy, walk test, and expectations regarding intervention effectiveness.
They found that both groups had large significant improvements in osteoarthritis pain, and physical function that remained significant 1 year after training. Most of the other outcome measures were also significantly improved in both groups. The Tai Chi group demonstrated significantly greater improvements in depression and physical quality of life than the physical therapy group and also had greater but non-significant improvements in all measure than the physical therapy group. So, both Tai Chi and physical therapy were effective in improving the symptoms of knee osteoarthritis, but Tai Chi was superior particularly for depression and quality of life.
These are interesting and important results. While both Tai Chi and physical therapy were effective, Tai Chi appeared to have some better results. This is particularly important because this ancient gentle practice is completely safe, can be used with the elderly and sickly, is inexpensive to administer, can be performed in groups or alone, at home or in a facility or even public park, and can be quickly learned. In addition, it can also be practiced in social groups without professional supervision. This can make it fun, improving the likelihood of long-term engagement in the practice. Hence, Tai Chi would appear to be an excellent treatment for the symptoms of knee osteoarthritis.
So, improve knee osteoarthritis with Tai Chi.
"For the uninitiated, tai chi may be a little daunting. The ancient Chinese exercise is hardly as mainstream as aerobics or the treadmill, but with its gentle, fluid movements and proven health benefits, it's a natural arthritis workout." – Mary Jo DiLonardo
CMCS – Center for Mindfulness and Contemplative Studies
This and other Contemplative Studies posts are also available on Google+ https://plus.google.com/106784388191201299496/posts and on Twitter @MindfulResearch
Study Summary
Wang, C., Schmid, C. H., Iversen, M. D., Harvey, W. F., Fielding, R. A., Driban, J. B., … McAlindon, T. (2016). Comparative Effectiveness of Tai Chi Versus Physical Therapy for Knee Osteoarthritis: A Randomized Trial. Annals of Internal Medicine, 165(2), 77–86. http://doi.org/10.7326/M15-2143
Abstract
Background
Few remedies effectively treat long-term pain and disability from knee osteoarthritis. Studies suggest that Tai Chi alleviates symptoms, but no trials have directly compared Tai Chi with standard therapies for osteoarthritis.
Objective
To compare Tai Chi with standard physical therapy for patients with knee osteoarthritis.
Design
Randomized, 52-week, single-blind comparative effectiveness trial. (ClinicalTrials.gov: NCT01258985)
Setting
An urban tertiary care academic hospital.
Patients
204 participants with symptomatic knee osteoarthritis (mean age, 60 years; 70% women; 53% white).
Intervention
Tai Chi (2 times per week for 12 weeks) or standard physical therapy (2 times per week for 6 weeks, followed by 6 weeks of monitored home exercise).
Measurements
The primary outcome was Western Ontario and McMaster Universities Osteoarthritis Index (WOMAC) score at 12 weeks. Secondary outcomes included physical function, depression, medication use, and quality of life.
Results
At 12 weeks, the WOMAC score was substantially reduced in both groups (Tai Chi, 167 points [95% CI, 145 to 190 points]; physical therapy, 143 points [CI, 119 to 167 points]). The between-group difference was not significant (24 points [CI, −10 to 58 points]). Both groups also showed similar clinically significant improvement in most secondary outcomes, and the benefits were maintained up to 52 weeks. Of note, the Tai Chi group had significantly greater improvements in depression and the physical component of quality of life. The benefit of Tai Chi was consistent across instructors. No serious adverse events occurred.
Limitation
Patients were aware of their treatment group assignment, and the generalizability of the findings to other settings remains undetermined.
Conclusion
Tai Chi produced beneficial effects similar to those of a standard course of physical therapy in the treatment of knee osteoarthritis.