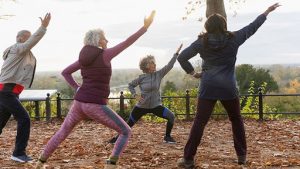 Improve Knee Osteoarthritis with Mind-Body Exercises
By John M. de Castro, Ph.D.
"Baduanjin exercise provided a safe and feasible treatment option for patients with knee OA, as well as offered reductions in pain, stiffness, and disability, which helped improve the patients' quadriceps strength and aerobic ability." – Bingchen An
Osteoarthritis is a chronic degenerative joint disease that is the most common form of arthritis. It produces pain, swelling, and stiffness of the joints. It is the leading cause of disability in the U.S., with about 43% of arthritis sufferers limited in mobility and about a third having limitations that affect their ability to perform their work. Knee osteoarthritis effects 5% of adults over 25 years of age and 12% of those over 65. It is painful and disabling. Its causes are varied including, hereditary, injury including sports injuries, repetitive stress injuries, infection, or from being overweight.
There are no cures for knee osteoarthritis. Treatments are primarily symptomatic, including weight loss, exercise, braces, pain relievers and anti-inflammatory drugs, corticosteroids, arthroscopic knee surgery, or even knee or hip replacement. Gentle movements of the joints with exercise and physical therapy appear to be helpful in the treatment of knee osteoarthritis. This suggests that alternative and mind-body practices that involve gentle knee movements may be useful in for treatment. Indeed, yoga practice has been shown to be effective in treating arthritis and Tai Chi and Qigong have also been shown to reduce the physical symptoms of knee osteoarthritis. Baduanjin is a mind-body training that is very similar to Tai Chi and consists of 8 movements for limbs, body-trunk, and eye movements.  So, it would seem reasonable to explore the effectiveness of Baduanjin practice in treating knee osteoarthritis.
In today's Research News article "Mindful Exercise (Baduanjin) as an Adjuvant Treatment for Older Adults (60 Years Old and Over) of Knee Osteoarthritis: A Randomized Controlled Trial." (See summary below or view the full text of the study at: https://www.ncbi.nlm.nih.gov/pmc/articles/PMC7312696/) Ye and colleagues recruited adults over the age of 60 years who were diagnosed with knee osteoarthritis and had no experience with mind-body practices. All participants were provided with standard therapy consisting of acupuncture, massage, and moxibustion. They were randomly assigned to either no further treatment or to practice Baduanjin for 40 minutes, 3 times per week for 12 weeks. They were measured before during and after treatment for knee function, and postural control, including the length and perimeter area of center of pressure.
They found that in comparison to baseline and the control group, the group that practiced Baduanjin had significantly improved physical knee function and postural control and lower knee stiffness and pain. No adverse events occurred with Baduanjin practice. So, Baduanjin is a safe and effective treatment for knee osteoarthritis in older adults.
Some advantages of Baduanjin practice include the facts that it is not strenuous, involves slow gentle movements, and is safe, having no appreciable side effects, it is appropriate for all ages including the elderly and for individuals with illnesses that limit their activities or range of motion. It can also be practiced without professional supervision and in groups making it inexpensive to deliver and fun to engage in. This makes Baduanjin practice an excellent means to improve the symptoms of knee osteoarthritis in elderly individuals.
"Baduanjin exercise, a common form of Chinese Qigong exercise that consists of eight movements of low intensity, may have favourable effects for people with knee arthritis." – Arthritis Digest
CMCS – Center for Mindfulness and Contemplative Studies
This and other Contemplative Studies posts are also available on Google+ https://plus.google.com/106784388191201299496/posts and on Twitter @MindfulResearch
Study Summary
Ye, J., Zheng, Q., Zou, L., Yu, Q., Veronese, N., Grabovac, I., Stefanac, S., Tzeng, H. M., & Yu, J. J. (2020). Mindful Exercise (Baduanjin) as an Adjuvant Treatment for Older Adults (60 Years Old and Over) of Knee Osteoarthritis: A Randomized Controlled Trial. Evidence-based complementary and alternative medicine : eCAM, 2020, 9869161. https://doi.org/10.1155/2020/9869161
Abstract
Background
The postural stability is a major factor that helps prevent developing knee osteoarthritis with aging. The aim of this study was to investigate the effects of Baduanjin qigong on postural control and physical function in older adults with knee osteoarthritis.
Methods
Fifty-six individuals over 60 years of age with knee osteoarthritis were randomly assigned to either an experimental group (n = 28) or a control group (n = 28). Participants in the experimental group received a 12-week Baduanjin training, while those in the control group did not receive any additional physical exercise during the study period. The postural control was quantified by perimeter and ellipse area of center of pressure movement trajectory. The assessments were conducted three times (baseline, week 8, and week 12).
Results
The perimeter and ellipse area with both open- and closed-eyes conditions and Western Ontario and McMaster Universities Osteoarthritis Index (WOMAC) function were significantly improved at week eight in the experimental group (p < 0.005). The ellipse area with open-eyes condition, WOMAC index, and stiffness and physical function domains were significantly decreased after the 12 weeks of Baduanjin training compared to the control group (p < 0.005). Only the perimeter area with both open- and closed-eyes conditions was not statistically significant at week 12 in the intervention group (p > 0.005).
Conclusions
Baduanjin is an effective and adjuvant therapy for older adults with knee osteoarthritis. Regular Baduanjin training can improve postural control and WOMAC function of old individuals with knee osteoarthritis. More advanced techniques and biopsychological measurements are required for further understanding of Baduanjin exercise in this population.
https://www.ncbi.nlm.nih.gov/pmc/articles/PMC7312696/