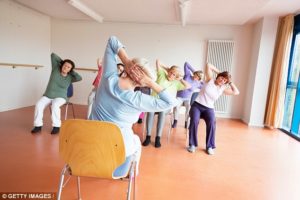 Improve Arthritis in Older Adults with Seated Yoga
By John M. de Castro, Ph.D.
"Chair yoga may help to reduce pain in older adults suffering from arthritis. Based around the ancient form of exercise, it allows people with reduced mobility to also take part. It helps to boost the strength and flexibility of older people and could become an effective treatment for those with the debilitating condition." Stephen Matthews
Osteoarthritis is a chronic degenerative joint disease that is the most common form of arthritis. It produces pain, swelling, and stiffness of the joints. It is the leading cause of disability in the U.S., with about 43% of arthritis sufferers limited in mobility and about a third having limitations that affect their ability to perform their work. Knee osteoarthritis effects 5% of adults over 25 years of age and 12% of those over 65. It is painful and disabling. Its causes are varied including, hereditary, injury including sports injuries, repetitive stress injuries, infection, or from being overweight.
There are no cures for knee osteoarthritis. Treatments are primarily symptomatic, including weight loss, exercise, braces, pain relievers and anti-inflammatory drugs, corticosteroids, arthroscopic knee surgery, or even knee replacement. Gentle movements of the joints with exercise and physical therapy appear to be helpful in the treatment of knee osteoarthritis. This suggests that alternative and complementary practices that involve gentle knee movements may be useful for treatment.
Mindfulness practices such as Tai Chi and Qigong  and yoga have been shown to reduce the physical symptoms of knee osteoarthritis. Yoga, has been shown to be a safe and effective treatment for a wide variety of physical and psychological conditions, including arthritis. But, people with lower extremity osteoarthritis have difficulty with balance making standing postures problematic. So, it would seem reasonable to look into the effectiveness of yoga practice performed while sitting in a chair in treating knee osteoarthritis.
In today's Research News article "A Pilot Randomized Controlled Trial of the Effects of Chair Yoga on Pain and Physical Function Among Community-Dwelling Older Adults With Lower Extremity Osteoarthritis." (See summary below or view the full text of the study at: https://www.ncbi.nlm.nih.gov/pmc/articles/PMC5357158/ ), Park and colleagues recruited older adults (>65 years of age) with osteoarthritis of the lower extremity joints; hip, knee; ankle, and foot. They were randomly assigned to either receive health education or seated Hatha yoga practice. Both Health Education and yoga was practiced for 45 minutes twice a week for 8 weeks and home practice was encouraged. The participants were measured before and after treatment and at a 1-month and 3-month follow-up for pain interference in everyday activities, fatigue, balance, walking speed, pain, and functional ability.
They found that after the 8-weeks of practice and at the 1- and 3-month follow-ups, the yoga group had significantly greater reductions in pain, pain interference in daily activities, fatigue, and walking speed. There were no significant adverse events observed. Hence, practicing yoga while seated was well tolerated and safe and produced significant improvements in the symptoms of lower extremity osteoarthritis in elderly adults. This suggests that seated yoga practice may be a welcome, safe and effective alternative to pharmacologic or surgical treatment for osteoarthritis in the elderly.
So, improve arthritis in older adults with seated Yoga.
"The potential impact of this study on public health is high, as this program provides an approach for keeping community-dwelling elders active even when they cannot participate in traditional exercise that challenges their balance," – Patricia Liehr
CMCS – Center for Mindfulness and Contemplative Studies
This and other Contemplative Studies posts are also available on Google+ https://plus.google.com/106784388191201299496/posts and on Twitter @MindfulResearch
Study Summary
Park, J., McCaffrey, R., Newman, D., Liehr, P., & Ouslander, J. G. (2017). A Pilot Randomized Controlled Trial of the Effects of Chair Yoga on Pain and Physical Function Among Community-Dwelling Older Adults With Lower Extremity Osteoarthritis. Journal of the American Geriatrics Society, 65(3), 592–597. http://doi.org/10.1111/jgs.14717
Abstract
Objectives
To determine effects of Sit 'N' Fit Chair Yoga, compared to a Health Education program (HEP), on pain and physical function in older adults with lower extremity osteoarthritis (OA) who could not participate in standing exercise
Design
Two-arm randomized controlled trial
Setting
One HUD senior housing facility and one day senior center in south Florida
Participants
Community-dwelling older adults (N = 131) were randomly assigned to chair yoga (n = 66) or HEP (n = 65). Thirteen dropped after assignment but prior to the intervention; 6 dropped during the intervention; 106 of 112 completed at least 12 of 16 sessions (95% retention rate).
Interventions
Participants attended either chair yoga or HEP. Both interventions consisted of twice-weekly 45-minute sessions for 8 weeks.
Measurements
Primary: pain, pain interference; secondary: balance, gait speed, fatigue, functional ability measured at baseline, after 4 weeks of intervention, at the end of the 8-week intervention, and post-intervention (1 and 3 months).
Results
The chair yoga group showed greater reduction in pain interference during the intervention (p = .01), sustained through 3 months (p = .022). WOMAC pain (p = .048), gait speed (p = .024), and fatigue (p = .037) were improved in the yoga group during the intervention (p = .048) but improvements were not sustained post intervention. Chair yoga had no effect on balance.
Conclusion
An 8-week chair yoga program was associated with reduction in pain, pain interference, and fatigue, and improvement in gait speed, but only the effects on pain interference were sustained 3 months post intervention. Chair yoga should be further explored as a nonpharmacologic intervention for older people with OA in the lower extremities.
https://www.ncbi.nlm.nih.gov/pmc/articles/PMC5357158/