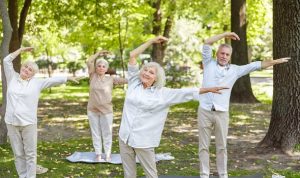 Reduce Blood Pressure with Tai Chi
By John M. de Castro, Ph.D.
"As is true for meditation and deep breathing exercises, tai chi may help lower blood pressure. . .  It's not as much as you'd see from taking medication, but it's similar in magnitude to other lifestyle interventions, such as doing modest amounts of exercise and consuming less sodium." – Harvard Health
High Blood Pressure (Hypertension) is an insidious disease because there are no overt symptoms. The individual feels fine. But it can be deadly as more than 360,000 American deaths, roughly 1,000 deaths each day, had high blood pressure as a primary or contributing cause. In addition, hypertension markedly increases the risk heart attack, stroke, heart failure, and kidney disease.  It is also a very common disorder with about 70 million American adults (29%) having high blood pressure and only about half (52%) of people with high blood pressure have their condition under control. Treatment frequently includes antihypertensive drugs. But these medications often have adverse side effects. So, patients feel lousy when taking the drugs, but fine when they're not. So, compliance is a major issue with many patients not taking the drugs regularly or stopping entirely.
Obviously, there is a need for alternatives to drugs for reducing blood pressure. Mindfulness practices have been shown to aid in controlling hypertension. Tai Chi is ancient mindfulness practice involving slow prescribed movements. Since Tai Chi is both a mindfulness practice and an exercise, it is particularly acceptable and effective methods to improve cardiovascular health. The research has been accumulating. So, it makes sense to step back and summarize what has been learned.
In today's Research News article "Meta-Analysis of Randomized Controlled Trials of the Effects of Tai Chi on Blood Pressure." (See summary below or view the full text of the study at: https://www.ncbi.nlm.nih.gov/pmc/articles/PMC7563036/ ) Dong and colleagues review, summarize, and perform a meta-analysis of the ability of Tai Chi practice to reduce blood pressure in both normal and hypertensive patients. They identified 24 published controlled trials.
They report that the published research studies found that Tai Chi practice significantly reduced both systolic and diastolic blood pressure in both hypertensive and normal blood pressure participants. But the improvements observed with Tai Chi practice were no greater than those found with other aerobic exercises. The published research studies then demonstrate that Tai Chi practice reduces blood pressure in both normal and hypertensive patients. But is no better than other aerobic exercises.
Thus, exercise in general including Tai Chi practice is good for cardiovascular health. Tai Chi practice, though, has a number of advantages. It is gentle and completely safe, can be used with the elderly and sickly, is inexpensive to administer, can be performed in groups or alone, at home or in a facility or even public park, and can be quickly learned. In addition, it can also be practiced in social groups without professional supervision. This can make it fun, improving the likelihood of long-term engagement in the practice. Hence, Tai Chi practice may be better for cardiovascular health than other exercises because it is more likely to be engaged in and maintained.
So, reduce blood pressure with Tai Chi.
"Tai chi may be just as effective as popular methods for lowering blood pressure, such as weight loss and lowered sodium intake." – Abbott
CMCS – Center for Mindfulness and Contemplative Studies
This and other Contemplative Studies posts are also available on Google+ https://plus.google.com/106784388191201299496/posts and on Twitter @MindfulResearch
Study Summary
Dong, X., Ding, M., & Yi, X. (2020). Meta-Analysis of Randomized Controlled Trials of the Effects of Tai Chi on Blood Pressure. Evidence-based Complementary and Alternative Medicine : eCAM, 2020, 8503047. https://doi.org/10.1155/2020/8503047
Abstract
Objectives
The purpose of this study was to investigate the influences of Tai Chi on blood pressure (BP) using the meta-analysis.
Methods
This paper used 6 e-resource databases, and randomized controlled trials on the role of Tai Chi on blood pressure were retrieved. Besides, the meta-analysis was conducted according to the guidelines of the Moose-recommendations and applied with Review Manager 5.3, and the risk of bias assessment was performed with the Cochrane Collaboration's tool. The inclusion, data extraction, and risk of bias assessment were independently finished by two researchers.
Results
There are 24 trials meeting the criteria of inclusion and the results were reviewed. The meta-analysis indicates that, compared with no exercise, Tai Chi had the influence of lowering systolic blood pressure (mean difference = −6.07, 95%CI (−8.75, −3.39), P < 0.00001) and diastolic blood pressure (mean difference MD = −3.83, 95%CI (−4.97, −2.69), P < 0.00001). No significant discrepancies in all outcomes between Tai Chi and other aerobic exercises were discovered.
Conclusion
Tai Chi can significantly reduce systolic and diastolic pressure than inactivity. However, Tai Chi does not show advantages in reducing blood pressure compared to other aerobic exercises.
https://www.ncbi.nlm.nih.gov/pmc/articles/PMC7563036/