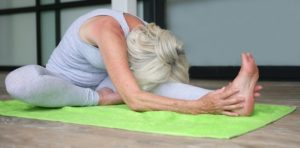 Improve Psychological and Physical State During Cancer Treatment with Yoga
By John M. de Castro, Ph.D.
"yoga therapy for cancer patients and cancer survivors is emerging as one of the more successful methods for combating the physical discomfort of cancer and cancer treatment." – Yoga U
About 12.5% of women in the U.S. develop invasive breast cancer over their lifetimes and every year about 40,000 women die. Indeed, more women in the U.S. die from breast cancer than from any other cancer, besides lung cancer. Breast cancer diagnosis, however, is not a death sentence. Death rates have been decreasing for decades from improved detection and treatment of breast cancer. Five-year survival rates are now at around 95%. The improved survival rates mean that more women are now living with cancer.
Cancer treatment involving surgery and radiation therapy and/or chemotherapy is extremely difficult physically and emotionally. Surviving cancer, however, carries with it a number of problems. "Physical, emotional, and financial hardships often persist for years after diagnosis and treatment. Cancer survivors are also at greater risk for developing second cancers and other health conditions." (National Cancer Survivors Day). Also, breast cancer survivors can have to deal with a heightened fear of reoccurrence, and an alteration of their body image. Additionally, cancer survivors frequently suffer from anxiety, depression, mood disturbance, Post-Traumatic Stress Disorder (PTSD), sleep disturbance, fatigue, sexual dysfunction, loss of personal control, impaired quality of life, and psychiatric symptoms which have been found to persist even ten years after remission. So, safe and effective treatments for the symptoms in breast cancer and the physical and psychological effects of the treatments are needed.
Mindfulness training has been shown to help with general cancer recovery and breast cancer recovery. Mindfulness helps to alleviate many of the residual physical and psychological symptoms, including stress,  sleep disturbance, and anxiety and depression. The mindfulness practice of Yoga has also been shown to be helpful with the residual symptoms. So, it's reasonable to further explore the potential benefits of yoga practice for women during and after treatment.
In today's Research News article "Effects of a Yoga Program on Mood States, Quality of Life, and Toxicity in Breast Cancer Patients Receiving Conventional Treatment: A Randomized Controlled Trial." See summary below or view the full text of the study at: https://www.ncbi.nlm.nih.gov/pmc/articles/PMC5545947/, Rao and colleagues recruited women diagnosed with stage II or III breast cancer who had undergone surgery and either radiotherapy and/or chemotherapy. They received treatment as usual and were randomly assigned to receive either education and supportive counseling or an integrated yoga program for 24 weeks consisting of 60-min daily sessions either in the clinic or at home of relaxation, breathing exercises, postures, and meditation. They were measured before and after treatment for anxiety, depression, functional levels, treatment related side effects and toxicity, sexuality, body image, and psychological and somatic symptoms.
They found that after treatment the yoga group, in comparison to baseline and the control group had significantly lower levels of anxiety, depression, number of treatment produced symptoms, toxicity, symptom severity, and distress, and increases in quality of life. In addition, they found that the greater the regularity of yoga practice, the lower the levels of depression and symptom severity, and the higher the levels of quality of life. In other words, yoga practice markedly relieved the physical and psychological effects of breast cancer treatment.
It would have been better if the control group had performed some other form of exercise to determine if it was yoga practice per se or simply exercise was responsible for the results. In addition, since the integrated yoga program contained multiple components it is impossible to differentiate which or which combination of components was effective. Nevertheless, these are remarkable and exciting results that integrated yoga practice can have such profound positive effects on women during and after treatment for breast cancer. Yoga practice appeared to improve both their psychological and physical states and the more the practice the better the results. The diagnosis and treatment of breast cancer are extremely difficult physically and emotionally and it is encouraging that integrated yoga can be used to relieve a degree of the suffering.
So, improve psychological and physical state during cancer treatment with yoga.
"people with breast cancer found yoga helped to reduce distress, anxiety, depression and tiredness (fatigue). It also helped to improve quality of life, emotional wellbeing and social wellbeing." – Cancer Research UK
CMCS – Center for Mindfulness and Contemplative Studies
This and other Contemplative Studies posts are also available on Google+ https://plus.google.com/106784388191201299496/posts and on Twitter @MindfulResearch
Study Summary
Rao, R. M., Raghuram, N., Nagendra, H. R., Kodaganur, G. S., Bilimagga, R. S., Shashidhara, H., … Rao, N. (2017). Effects of a Yoga Program on Mood States, Quality of Life, and Toxicity in Breast Cancer Patients Receiving Conventional Treatment: A Randomized Controlled Trial. Indian Journal of Palliative Care, 23(3), 237–246. http://doi.org/10.4103/IJPC.IJPC_92_17
Abstract
Aims:
The aim of this study is to compare the effects of yoga program with supportive therapy counseling on mood states, treatment-related symptoms, toxicity, and quality of life in Stage II and III breast cancer patients on conventional treatment.
Methods:
Ninety-eight Stage II and III breast cancer patients underwent surgery followed by adjuvant radiotherapy (RT) or chemotherapy (CT) or both at a cancer center were randomly assigned to receive yoga (n = 45) and supportive therapy counseling (n = 53) over a 24-week period. Intervention consisted of 60-min yoga sessions, daily while the control group was imparted supportive therapy during their hospital visits. Assessments included state-trait anxiety inventory, Beck's depression inventory, symptom checklist, common toxicity criteria, and functional living index-cancer. Assessments were done at baseline, after surgery, before, during, and after RT and six cycles of CT.
Results:
Both groups had similar baseline scores. There were 29 dropouts 12 (yoga) and 17 (controls) following surgery. Sixty-nine participants contributed data to the current analysis (33 in yoga, and 36 in controls). An ANCOVA, adjusting for baseline differences, showed a significant decrease for the yoga intervention as compared to the control group during RT (first result) and CT (second result), in (i) anxiety state by 4.72 and 7.7 points, (ii) depression by 5.74 and 7.25 points, (iii) treatment-related symptoms by 2.34 and 2.97 points, (iv) severity of symptoms by 6.43 and 8.83 points, (v) distress by 7.19 and 13.11 points, and (vi) and improved overall quality of life by 23.9 and 31.2 points as compared to controls. Toxicity was significantly less in the yoga group (P = 0.01) during CT.
Conclusion:
The results suggest a possible use for yoga as a psychotherapeutic intervention in breast cancer patients undergoing conventional treatment.