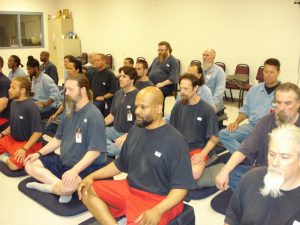 Improve Prisoner's Physical and Psychological Well-Being with Mindfulness
By John M. de Castro, Ph.D.
"inmates participating in a 20-24 week meditation program showed a reduction in trouble sleeping, improved anger management capabilities, and lower levels of stress and anxiety." – Mindfulness Strategies
Around 2 ¼ million people are incarcerated in the United States. Even though prisons are euphemistically labelled correctional facilities very little correction actually occurs. This is supported by the rates of recidivism. About three quarters of prisoners who are released commit crimes and are sent back to prison within 5-years. The lack of actual treatment for the prisoners leaves them ill equipped to engage positively in society either inside or outside of prison. Hence, there is a need for effective treatment programs that help the prisoners while in prison and prepares them for life outside the prison.
Contemplative practices are well suited to the prison environment. Mindfulness training teaches skills that may be very important for prisoners. In particular, it puts the practitioner in touch with their own bodies and feelings. It improves present moment awareness and helps to overcome rumination about the past and negative thinking about the future. It also relieves stress and improves overall health and well-being. Finally, mindfulness training has been shown to be effective in treating depression, anxiety, and anger and to help overcome trauma in male prisoners.
In today's Research News article "A Pragmatic Study of the Impact of a Brief Mindfulness Intervention on Prisoners and Staff in a Category B Prison and Men Subject to Community-Based Probation Supervision." (See summary below or view the full text of the study at: https://www.ncbi.nlm.nih.gov/pmc/articles/PMC7780272/ )  Davies and colleagues in the first of 2 studies recruited prisoners and staff and provided them with 8 2-hours sessions of mindfulness training. They were measured before and after training for mindfulness, perceived stress, provocation of anger, burnout, anxiety, depression, impulse control, and heart rate variability. They also measured prisoners and staff who refused participation in the mindfulness training.
They found that staff had significantly lower stress levels and heart rate variability than prisoners. In comparison to baseline both the prisoners and the staff had significant increases in mindfulness and heart rate variability and decreases in perceived stress. In the second study they recruited individuals on probation and allocated them to receive either mindfulness training or no intervention. They were measured before and after training for mindfulness. They did not find any significant changes in mindfulness after the intervention.
The studies were designed based upon pragmatic conditions in the prison and with probation and as a result were not randomized. In addition, there were high attrition rates; 48% of the prison participants and 57% of the community participants did not complete the study. This raises the possibility that the observed effects of mindfulness training were due to the experimental contaminant of experimental mortality, where participants who did not respond to the treatment dropped out leaving only those who thought they were improving in the study.
But prior better controlled research has demonstrated that mindfulness training improves the well-being of prisoners. So, the improvements in mindfulness and stress levels observed in the present study were probably due to the training. The increase in heart rate variability observed after training is an indicator of physiological relaxation. So, the mindfulness training in the prison reduced subjective stress and a physiological indicator of stress.
So, improve prisoner's physical and psychological well-being with mindfulness.
"I've known inmates who have, as a result of their meditation practice, move from being violent streetfighters to gentle protectors of weaker prisoners. I've seen inmates develop an extraordinary amount of patience with exceedingly trying circumstances. I've seen seemingly macho men show a tender concern for others. In short, I've seen people who have committed some of the most serious crimes possible — people that some might describe as "animals" or "beyond hope" — becoming better people." – Bodhipaksa
CMCS – Center for Mindfulness and Contemplative Studies
This and other Contemplative Studies posts are also available on Google+ https://plus.google.com/106784388191201299496/posts and on Twitter @MindfulResearch
Study Summary
Davies, J., Ugwudike, P., Young, H., Hurrell, C., & Raynor, P. (2021). A Pragmatic Study of the Impact of a Brief Mindfulness Intervention on Prisoners and Staff in a Category B Prison and Men Subject to Community-Based Probation Supervision. International journal of offender therapy and comparative criminology, 65(1), 136–156. https://doi.org/10.1177/0306624X20944664
Abstract
Objectives:
This article presents two studies assessing the impact of mindfulness in prison (prisoners and staff) and non-custodial settings.
Method:
Study 1—prisoners (n = 17) and staff (n = 15) in a UK prison completed a mindfulness program; 16 individuals acted as a single time point comparison. Data were collected using self-report, computer based and physiological measurement. Study 2—men under community probation supervision were allocated to mindfulness (completed, n = 28) or TAU (n = 27). Data were collected using self-report mindfulness measures.
Results:
Study 1—statistically significant (increases in mindfulness skills (η2p = .234 to η2p = .388), cognitive control (η2p = .28), and heart rate variability (SDNN; η2p = .41) along with significant decreases in stress (η2p = .398) were found. In study 2, the mindfulness group showed non-significant improvements in mindfulness skills.
Conclusion:
The findings suggest brief mindfulness interventions could make an important contribution to offender rehabilitation and custodial staff wellbeing.
https://www.ncbi.nlm.nih.gov/pmc/articles/PMC7780272/