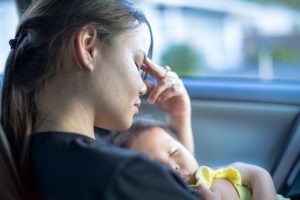 Improve Depression During the Perinatal Period with Mindfulness
By John M. de Castro, Ph.D.
"Pregnancy is a challenging terrain for everyone to navigate. And if you are entering that space with some history of depression, it can be particularly challenging." – Sona Dimidjian
The period of pregnancy is a time of intense physiological and psychological change. Anxiety, depression, and fear are quite common during pregnancy. More than 20 percent of pregnant women have an anxiety disorder, depressive symptoms, or both during pregnancy. A debilitating childbirth fear has been estimated to affect about 6% or pregnant women and 13% are sufficiently afraid to postpone pregnancy. It is difficult to deal with these emotions under the best of conditions but in combinations with the stresses of pregnancy can turn what could be a joyous experience of creating a human life into a horrible worrisome, torment.
The psychological health of pregnant women has consequences for fetal development, birthing, and consequently, child outcomes. Depression during pregnancy is associated with premature delivery and low birth weight. Hence, it is clear that there is a need for methods to treat depression, and anxiety during pregnancy. Since the fetus can be negatively impacted by drugs, it would be preferable to find a treatment that did not require drugs. Mindfulness training has been shown to improve anxiety and depression normally and to relieve maternal anxiety and depression during pregnancy.
Mindfulness practices have been found to help with coping with loss and its consequent grief.  Mindfulness-Based Cognitive Therapy (MBCT) was specifically developed to treat depression. MBCT involves mindfulness training, containing sitting, walking and body scan meditations, and cognitive therapy That is designed to alter how the patient relates to the thought processes that often underlie and exacerbate psychological symptoms.
In today's Research News article "Mindfulness-Based Cognitive Therapy for Perinatal Women with Depression or Bipolar Spectrum Disorder." (See summary below or view the full text of the study at: https://www.ncbi.nlm.nih.gov/pmc/articles/PMC7021274/), Miklowitz and colleagues recruited women with major depressive or bipolar disorders who were either pregnant, within 1 year postpartum, or trying to get pregnant. They were provided with weekly 2-hour sessions for 8 weeks of Mindfulness-Based Cognitive Therapy (MBCT). They were measured before and after treatment and at 1 and 6 months later for psychological symptom severity, reoccurrence of major depression, mindfulness, and acceptability of treatment.
They found that in comparison to baseline, after Mindfulness-Based Cognitive Therapy (MBCT) there were significant reduction in depression and increases in mindfulness. The women on average moved from mildly to minimally depressed categories. These improvements were maintained 1 and 6 months later. The women who had major depressive disorder had significantly greater improvements in depression than the women with bipolar disorder.
These results suggest that Mindfulness-Based Cognitive Therapy (MBCT) is an effective treatment for depression in perinatal women with lasting benefits. This should help relieve the women's suffering and help them to be better mothers to their children. MBCT has been shown to be effective for a wide variety of patients with depression. The present study increases the types of depression that are known to respond positively to MBCT.
So, improve depression during the perinatal period with mindfulness.
"mindfulness training could help improve mothers' experience of labor and reduce the likelihood of postpartum depression." – Jenn Knudsen
CMCS – Center for Mindfulness and Contemplative Studies
This and other Contemplative Studies posts are also available on Google+ https://plus.google.com/106784388191201299496/posts and on Twitter @MindfulResearch
Study Summary
Miklowitz, D. J., Semple, R. J., Hauser, M., Elkun, D., Weintraub, M. J., & Dimidjian, S. (2015). Mindfulness-Based Cognitive Therapy for Perinatal Women with Depression or Bipolar Spectrum Disorder. Cognitive therapy and research, 39(5), 590–600. https://doi.org/10.1007/s10608-015-9681-9
Abstract
The perinatal period is a high-risk time for mood deterioration among women vulnerable to depression. This study examined feasibility, acceptability, and improvement associated with mindfulness-based cognitive therapy (MBCT) in perinatal women with major depressive disorder (MDD) or bipolar spectrum disorder (BSD). Following a diagnostic evaluation, 39 perinatal women with a lifetime history of MDD (n = 27) or BSD (n = 12) enrolled in an 8-week program of MBCT classes (2 h each) that incorporated meditation, yoga, and mood regulation strategies. Participants were pregnant (n = 12), planning pregnancy (n = 11), or up to 1-year postpartum (n = 16). Participants were self-referred and most had subthreshold mood symptoms. Assessments of depression, (hypo)mania, and anxiety were obtained by interview and self-report at baseline, post-treatment and at 1- and 6-month post-treatment. Women with a history of MDD were more likely to complete the classes than women with BSD. Of 32 women who completed the classes, 7 (21.9 %) had a major depressive episode during the 6-month post-treatment follow-up. On average, participants with MDD reported improvements in depression from pre- to post-treatment. Mood improvement was not observed in the BSD group. In the full sample, improvements in depression symptoms across time points were associated with increasing mindful tendency scores. This study was limited by its uncontrolled design, heterogeneous sample, and questionnaire-based assessment of mindfulness skills. MBCT may be an important component of care for perinatal women with histories of major depression. Its applicability to perinatal women with BSD is unclear.
https://www.ncbi.nlm.nih.gov/pmc/articles/PMC7021274/