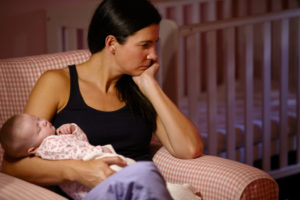 Reduce Depression During and After Pregnancy with Mindfulness
By John M. de Castro, Ph.D.
"mindfulness practice, when attention increases in one area of life, the awareness expands in many other areas, as well. A mother who is able to care for and attend to her own vulnerabilities will have much more access to those very same skills as a parent." – Sonya Dimidjian
The perinatal period, from the onset of pregnancy to the end of the infants first year, is a time of intense physiological and psychological change in both the mother and the infant. Anxiety, depression, and fear are quite common during pregnancy. More than 20 percent of pregnant women have an anxiety disorder, depressive symptoms, or both during pregnancy. It is difficult to deal with these emotions under the best of conditions but in combinations with the stresses of pregnancy can turn what could be a joyous experience of creating a human life into a horrible worrisome, torment. The psychological health of pregnant women has consequences for fetal development, birthing, and consequently, child outcomes. Depression during pregnancy is associated with premature delivery and low birth weight. Hence, it is clear that there is a need for methods to treat depression during and after pregnancy.
Since, many drugs can affect the fetus, non-pharmacological treatments for depression are preferable. Mindfulness training has been shown to improve anxiety and depression normally and to relieve maternal anxiety and depression during pregnancy. Mindfulness-Based Cognitive Therapy (MBCT) was specificly developed to treat depression and consists of mindfulness training and Cognitive Behavioral Therapy (CBT). During therapy the patient is trained to investigate and alter aberrant thought patterns underlying depression. So, it would make sense to further study the effectiveness of MBCT for depression during the perinatal period.
In today's Research News article "Staying Well during Pregnancy and the Postpartum: A Pilot Randomized Trial of Mindfulness Based Cognitive Therapy for the Prevention of Depressive Relapse/Recurrence." (See summary below or view the full text of the study at: https://www.ncbi.nlm.nih.gov/pmc/articles/PMC5718345/ ), Dimidjian and colleagues recruited pregnant women with Major Depressive Disorder and randomly assigned them to receive either treatment as usual or to Mindfulness-Based Cognitive Therapy (MBCT). MBCT was modified for pregnant women and administered for 2 hours, once a week, for 8 weeks and home practice was assigned. The women were measured for depression before and after treatment and at 1 and 6 months after birth.
In regards to depression, they found that relapse rates for depression over the 6-month follow-up period were significantly lower for the MBCT group; 18% vs. 50% for treatment as usual. In addition, the MBCT group had significantly lower levels of depression after treatment. Although the differences were not significant the MBCT group took fewer antidepressant medications and had fewer visits for therapy. A goal of this pilot research study was to assess the acceptability of the program and compliance with its requirements. They found that 89% completed the MBCT program and home practice occurred on over 70% of the available days. In addition, the women reported a high degree of satisfaction with the program.
These are impressive results for a pilot study and should provide the encouragement to perform a large randomized controlled clinical trial with an active control group. The results suggest that MBCT treatment is a safe and effective treatment for perinatal depression and has high acceptability and compliance among pregnant women. Hence it is a promising treatment for perinatal depression.
So, reduce depression during and after pregnancy with mindfulness.
"Not only does cultivating moment-to-moment awareness of thoughts and surroundings seem to help pregnant women keep their stress down and their spirits up—benefits that are well-documented among other groups of people—it may also lead to healthier newborns with fewer developmental problems down the line." – Kira Newman
CMCS – Center for Mindfulness and Contemplative Studies
This and other Contemplative Studies posts are also available on Google+ https://plus.google.com/106784388191201299496/posts and on Twitter @MindfulResearch
Study Summary
Dimidjian, S., Goodman, S. H., Felder, J., Gallop, R., Brown, A. P., & Beck, A. (2016). Staying Well during Pregnancy and the Postpartum: A Pilot Randomized Trial of Mindfulness Based Cognitive Therapy for the Prevention of Depressive Relapse/Recurrence. Journal of Consulting and Clinical Psychology, 84(2), 134–145. http://doi.org/10.1037/ccp0000068
Abstract
Objective
Clinical decision-making regarding the prevention of depression is complex for pregnant women with histories of depression and their healthcare providers. Pregnant women with histories of depression report preference for non-pharmacological care, but few evidence-based options exist. Mindfulness-based cognitive therapy has strong evidence in the prevention of depressive relapse/recurrence among general populations and indications of promise as adapted for perinatal depression (MBCT-PD). With a pilot randomized clinical trial, our aim was to evaluate treatment acceptability and efficacy of MBCT-PD relative to treatment as usual (TAU).
Methods
Pregnant adult women with depression histories were recruited from obstetrics clinics at two sites and randomized to MBCT-PD (N= 43) or TAU (N=43). Treatment acceptability was measured by assessing completion of sessions, at-home practice, and satisfaction. Clinical outcomes were interview-based depression relapse/recurrence status and self-reported depressive symptoms through 6-months postpartum.
Results
Consistent with predictions, MBCT-PD for at-risk pregnant women was acceptable based on rates of completion of sessions and at-home practice assignments, and satisfaction with services was significantly higher for MBCT-PD than TAU. Moreover, at-risk women randomly assigned to MBCT-PD reported significantly improved depressive outcomes compared to participants receiving TAU, including significantly lower rates of depressive relapse/recurrence and lower depressive symptom severity during the course of the study.
Conclusions
MBCT-PD is an acceptable and clinically beneficial program for pregnant women with histories of depression; teaching the skills and practices of mindfulness meditation and cognitive behavioral therapy during pregnancy may help to reduce the risk of depression during an important transition in women's lives.
Public Health Significance Statement
This study's findings support MBCT-PD as a viable non-pharmacological approach to preventing depressive relapse/recurrence among pregnant women with histories of depression.