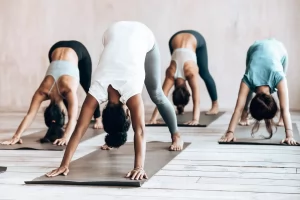 Yoga is an Effective Adjunct Practice for Mental Illness
By John M. de Castro, Ph.D.
"Yoga is about clearing away whatever is in us that prevents our living in the most full and whole way. With yoga, we become aware of how and where we are restricted — in body, mind, and heart — and how gradually to open and release these blockages. As these blockages are cleared, our energy is freed. We start to feel more harmonious, more at one with ourselves. Our lives begin to flow — or we begin to flow more in our lives." – Cybele Tomlinson
There are vast numbers of people who suffer with mental illnesses. In the United States it has been estimated that in any given year 1 in 5 people will experience a mental illness. Many are treated with drugs. But drug treatment can produce unwanted side effects, don't work for many patients, and often can lose effectiveness over time. Mindfulness practices provide a safe alternative treatment. They have been found to be helpful with coping with these illnesses and in many cases reducing the symptoms of the diseases. Yoga practice is a mindfulness practice that includes beneficial exercise. There is accumulating research that mindfulness and yoga practices may be beneficial for patients with major mental illnesses. Hence it makes sense to step back and summarize what has been learned regarding the effectiveness of yoga practice as an adjunct therapy for mental illnesses.
In today's Research News article "Integration of hatha yoga and evidence-based psychological treatments for common mental disorders: An evidence map." (See summary below or view the full text of the study at:  https://www.ncbi.nlm.nih.gov/pmc/articles/PMC9546402/ ) O'Shea and colleagues review and summarize the published research studies of the effectiveness of adding yoga practice to other evidence based therapies for mental illness. They identified 15 published research studies.
They report that the research used mainly cognitive behavioral therapy (CBT) or Mindfulness-Based Cognitive Therapy (MBCT) as the evidence-based therapy. They found that either incorporating yoga practice into the therapeutic technique or adding it as an adjunct therapy produced significant improvement in anxiety, depression, and post-traumatic stress disorder (PTSD). Although, there are only a small number of research studies, they suggest that yoga added to other evidence-based therapies improves the outcomes for patients with mental illnesses.
"The nature of yoga is to shine the light of awareness into the darkest corners of the body." – Jason Crandell
CMCS – Center for Mindfulness and Contemplative Studies
This and other Contemplative Studies posts are also available on Twitter @MindfulResearch
Study Summary
O'Shea M, Capon H, Evans S, Agrawal J, Melvin G, O'Brien J, McIver S. Integration of hatha yoga and evidence-based psychological treatments for common mental disorders: An evidence map. J Clin Psychol. 2022 Sep;78(9):1671-1711. doi: 10.1002/jclp.23338. Epub 2022 Mar 21. PMID: 35315071; PMCID: PMC9546402.
Abstract
Background
Interest in the use of yoga to enhance engagement with and augment the benefits of psychological treatment has grown. However, a systematic approach to reviewing existing research examining the use of yoga with psychological treatment is lacking.
Materials and Methods
This mapping review identified and synthesised research trialling yoga as an integrated or adjunct therapy with evidence‐based psychological interventions for the treatment of anxiety, depression, PTSD, and eating disorders.
Results
Overall, the review identified ten published and three unpublished studies, representing either single group or small quasi‐experimental research designs.
Discussion
Limited but promising findings were shown for yoga with CBT for anxiety and depression, and the integration of yoga within intensive treatment models for PTSD.
Conclusions
Future research is encouraged to focus on controlled trials that enable examination of the component effect of yoga when applied with evidence‐based psychological treatment and acceptability and feasibility data to further knowledge regarding a role for yoga in clinical practice.
https://www.ncbi.nlm.nih.gov/pmc/articles/PMC9546402/