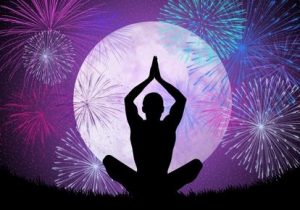 Mindful Independence Day
By John M. de Castro, Ph.D.
"If today is a celebration of freedom, I think we as a nation, as a people, have squandered an opportunity. We have sought outer freedoms and ignored inner freedoms. We have pursued these freedoms with scandal, exploitation, and domination. Today, instead, I urge you to consider inner freedom." – Arnie Kozak
Virtually every country in the world sets aside one day each year to celebrate its independence. In the U.S. that day is July 4th. On this day the country's citizens celebrate their freedom and independence and the fight that achieved it. It's normally a pleasant holiday filled with patriotism, flags, parades, picnics, and fireworks displays. But this year amid the Covid-19 pandemic the celebration will likely be subdued.
Although the founding of the great American democracy is something to celebrate, a mindful look at it produces a recognition that there are significant limitations on independence and freedom. We are nowhere near as free and independent as we think we are and with Covid-19 we're even less free.
Independence from what? It's certainly not from the imposition of government on the individual. July 4th only celebrates the changeover from government by the British monarchy to government by a more local political system. It's certainly not independence from the imposition of laws and restrictions on the individual's freedom. Perhaps there was a change of a few laws and regulations, but actually only a small number. It's certainly not even the production of self-determination. In fact, the U.S. democracy was crafted and established by a few elite individuals and not by each individual in the country. In addition, democracy is rule by the majority, with the will of a significant number of people ignored. What we appear to be celebrating is the replacement of one system of control with another, perhaps better, system of control, but nevertheless a system of control; hardly independence.
Mindful reflection quickly produces an understanding that we're never really independent. It's certainly not even complete independence from another country. To this day the U.S. and the U.K. are very much dependent upon one another for trade of goods, ideas, culture, and mutual security. They're locked together by treaties, cultural similarities, and close economic ties. The current political system that we're celebrating is itself a recognition of how dependent upon one another we are. The system functions to set down the rules by which our relationships with one another are conducted. It's there to insure orderly cooperation supposedly for the benefit of all participants.
Mindful reflection reveals that we're not only dependent upon each other but we're also dependent upon our environment, animate and inanimate. We're dependent upon the air we breathe that is in turn dependent upon all other living organisms. We're dependent upon the water we drink that is in turn dependent on global weather systems and solar evaporative power. We're dependent upon the food we eat that is in turn dependent upon air, water, soil, and sun, and the farmers who grow it. In fact, we are so dependent upon everything and everybody that it may be more appropriate to be celebrating Dependence Day.
Well maybe then on July 4th we're celebrating freedom and liberty. But, is any individual truly free. As the French philosopher Jean-Jacques Rousseau said "Man is born free: and everywhere else he is in chains. One thinks himself the master of others, and still remains a greater slave than they." Regardless of the political independence each individual's behavior is highly regulated by law and regulation. Our freedoms are actually very limited. They are bounded not only by law but also the practicalities of earning a living, maintaining a residence, having a family, and limitations on resources. Our freedom is also highly constrained by the laws of physics, chemistry, and biology. After all, we can't fly, become taller, change our eye color, stay underwater for protracted periods, stay awake continuously, or withstand cold or heat outside of a fairly small range, and we're not faster than a speeding bullet. How much freedom do we actually have in any particular day?
Independence Day, though, does celebrate acquiring many soft freedoms. The freedoms to think and express our opinions and ideas, to worship as we please, to vote for whoever we like, to associate with whomever we choose, to live wherever we like, etc. Although there are bounds to many of these freedoms by the requirements of public safety, economics, cultural norms, and the practicalities of existence, these are very important and significant freedoms. Perhaps that is what we're really celebrating, these soft freedoms that were provided by our Constitution as a result of the War for Independence.
Regardless, Independence Day should be celebrated mindfully. It is often spent with family and friends and the pleasure of these interactions can be amplified by doing it mindfully; by being truly present for them and deeply listening to them rather than thinking about our next response. By being mindful we can see them with compassion and understanding. Being in, and focusing on, the present moment we can enjoy these interactions, we can enjoy the picnics and parades, we can enjoy the fireworks, rather than thinking about where we would rather be or where we're going next. We can find happiness precisely where we are.
But are we truly free. A bit of mindful reflection reveals that we find existence very unsatisfactory. In fact, unsatisfactoriness is everywhere. We're not satisfied with things as they are and want them to be different. We're not satisfied with where we live and want to have a nicer home.  We're not satisfied with our appearance and want to lose weight. We're not satisfied with what people think of us and want to be universally liked. We're not satisfied with how we're treated by our spouses and want them to be more understanding. We're not satisfied with our children and want them to be obedient, respectful, straight "A" students and star athletes. We're not satisfied with our health and want to have fewer aches and pains. We're not satisfied with our jobs and want to make more money, have more time off and be appreciated by our bosses and coworkers. Even on the very short-term, things are not satisfactory. We want the car ahead of us to be moving faster, we want time to pass quickly so that we can be done with work for the day, we want to stop ruminating about past indiscretions, we want to finish a meal quickly so we can get back to the TV, etc. In other words, we're not free from our desires. In fact, we're slaves to them. We're not happy with the way things are. In fact, we seem to want everything to be different. So, we can't be truly free as long as we're slaves to our desires.
True freedom can only be produced when we are liberated from our incessant needs and wants. That is not to say that we shouldn't have desires, but rather that we will not be controlled by them. True freedom comes from equanimity. It comes when we're able to desire something, seek it out, but be OK whether we get it or not. It comes when we not only accept the way things are but enjoy each second for what it is, a precious moment in a limited lifetime. It comes when what other people do and say is seen as a reflection of them and not of us and comes when we look at them with compassion and understanding. In other words, we can want ourselves, things, people, and circumstances to be different but we accept them as they are and appreciate and enjoy life and each experience as a gift.
This sounds wonderful, but is it achievable? It sure doesn't seem so as ourselves and the people we know haven't achieved it. Is it possible to actually get to this state of complete freedom? It is, but it takes effort and discipline. There have been many instances throughout history and there are many exemplars present right now of people who have achieved complete equanimity. Jesus is a wonderful example. He worked hard and suffered to make his world a better place but in the end accepted what was. The Buddha, Christian mystics, Sufi masters, Zen masters, Gandhi, and a host of everyday people have all achieved true liberation. So, it is possible.
We do not, however, have to be aiming only at complete liberation. It is far better to work to simply improve on our current state and thereby become more and more liberated. We can do this by engaging in mindfulness practices such as meditation, yoga, tai chi, contemplative prayer, etc. we can learn to focus more and more on the present moment. We can learn to appreciate what is. We can learn to enjoy every moment. Just by improving a little we can become happier and happier, more accepting, and more liberated from our desires. We can achieve greater equanimity and with it greater freedom. But, we get there slowly and incrementally, building toward our complete liberation. Now wouldn't that be a reason to celebrate Independence Day.
"Happy 4th of July.  Celebrate your freedom mindfully- express love and gratitude for all situations, people, places and things you encounter today. This practice of loving what is, is a mindful behavior. When we celebrate our freedom as a country, we bring love to the abundance we are free to encounter today. Take each situation you encounter as an opportunity to express your love, gratitude  – any kindness will do – that is freedom!" –  Regina Huelsenbeck
CMCS – Center for Mindfulness and Contemplative Studies
This and other Contemplative Studies posts are  also available on Google+ https://plus.google.com/106784388191201299496/posts and on Twitter @MindfulResearch