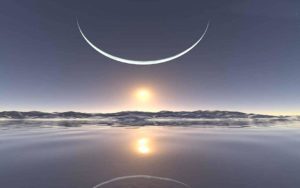 Enhance Enjoyment of the Holidays with Mindfulness
By John M. de Castro, Ph.D.
"Many Americans celebrate both Christmas and Xmas. Others celebrate one or the other. And some of us celebrate holidays that, although unconnected with the [winter] solstice, occur near it: Ramadan, Hanukkah and Kwanzaa." – John Silber:
The end of December marks transitions. It marks the new year, transition from 2017 to 2018. It's also the time of the winter solstice, the shortest day of the year, transitioning from shortening days to lengthening days. Since the beginning of recorded history, the solstice has been a time of celebration and merriment. For most of that time it was an extremely popular pagan celebration. The Christians tried to suppress it, but were unsuccessful. So, instead they coopted it, turning it into a celebration of Jesus' birth. There are no records of the actual date of Jesus' birth, so any day could be chosen, and the time of the pagan solstice celebration was perfect. There are still many remnants of that pagan celebration carried into the Christmas celebration, including the tree, wreaths, mistletoe, holly, and even the name yule, the yule log, and the use of the word "jolly".
Regardless of the purported reason, the end of December is a time of celebration. We now look on it as a time for giving, but the gifts are a relatively new addition that has been enthusiastically promoted by merchants. Should we be jaundiced about the celebration because of it's confusing history, its crass commercialism, and varied religious meanings or should we participate with enthusiasm? Mindfulness tells us not to judge, just to experience what life has to offer in the moment. The holiday season has much to offer us. So, mindfulness would suggest that we don't judge or criticize but engage mindfully in whatever way is appropriate for us.
Perhaps the greatest gift we can give to our family and friends at any time but especially during the holidays is our presence, not just our physical presence but our mindful attentive presence. We give to them when we deeply listen. So many conversations are superficial. So, engaging deeply with others is a special gift. It involves employing an underused skill of true listening with full attention to another, not listening on the surface while composing the next communication, but just listening with mindfulness. We in effect give to them our most precious gift, our fully engaged selves. We may be surprised by what we now hear that we may have been missing for years, and what reactions occur. Just know that you're giving what most people need most, to feel listened to, respected, valued and cared about.
The holidays are a time to focus on children. Here, also, mindfulness can improve the experience. If we mindfully observe and truly listen, we can see that what children desire most is our attention and love. Presents of toys and gadgets are opened with enthusiasm and glee. But the joy is short-lived. As with most things the happiness produced is fleeting. But, if you engage with the child, playing and giving your full attention to him/her the happiness is much more enduring. Doing this mindfully, without expectations or judgment will bring a joy and happiness to you that will also be enduring. Don't engage with the child for personal gain, but enjoy the gain when it happens.
The holidays are also a time of revelry, with abundant parties and celebrations at work, with friends, and with family. Once again, engaging mindfully can improve the experience and help prevent excess. Being mindful can help us keep alcohol intake under control. By being aware of our state in the present moment we are better able to know when we reached our limit and especially, to know when to refrain from driving. Mindful eating can also help us enjoy all of the wonderful foods presented during the holidays while being aware of our actual physical state. It can help us to eat slowly, savoring the exquisite flavors, without overindulging. Engage socially mindfully without judging and you'll enjoy the interactions all the more.
Mindfulness can also help with holiday depression. Because of the high expectations of what the holidays should be like in contrast to the experienced reality, many people get depressed. It is the time of the highest suicide rates of the year. Mindfulness is known to combat depression in ourselves. But, for the holidays we could use our mindfulness skills, particularly listening, to help vulnerable people deal with the holidays. Our compassion and loving kindness can go a long way toward helping people overcome negative mood states. Just a genuine smile can sometimes be a great mood enhancer. Mindfully give of yourself, without expectation of getting anything back. You'll be amazed at how much good it does for others and at the benefit you will receive.
Finally, the underlying theme of the holidays is transformation and renewal. Just as the slow decent into the short days of winter ends the slow ascent to the long days of summer begins. We can use this time to begin to transform and renew ourselves. New year's resolutions are a common tradition in this regard but few are entered into with sufficient dedication and energy to actually carry them out. We should use this holiday season to reflect mindfully on our own lives, looking deeply at what will truly help us to thrive physically, emotionally, socially, and spiritually in the coming year. Then set realistic goals and concrete plans to fulfill them. A good one that can help to lead us to a more fulfilling life is to simply make a commitment to be more mindful in the coming year. This should include a plan for engaging in regular practice and working to transfer mindfulness skills obtained outside of the practice. But, be realistic as to what can actually be accomplished and then set a firm concrete plan to achieve it.
So, enhance the enjoyment of the holidays with mindfulness.
"I hope that in this year to come, you make mistakes. Because if you are making mistakes, then you are making new things, trying new things, learning, living, pushing yourself, changing yourself, changing your world. You're doing things you've never done before, and more importantly, you're doing something." – Neil Gaiman
CMCS – Center for Mindfulness and Contemplative Studies
This and other Contemplative Studies posts are also available on Google+ https://plus.google.com/106784388191201299496/posts and on Twitter @MindfulResearch