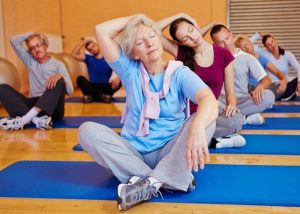 Manage Symptoms in Cancer Survivors with Yoga
By John M. de Castro, Ph.D.
"when it's used alongside conventional medical treatment, yoga may help relieve some of the symptoms linked to cancer." – American Cancer Society
Because of great advances in treatment, many patients today are surviving cancer. But cancer survivors frequently suffer from anxiety, depression, mood disturbance, post-traumatic stress disorder (PTSD), sleep disturbance, fatigue, sexual dysfunction, loss of personal control, impaired quality of life, and psychiatric symptoms which have been found to persist even ten years after remission. Also, cancer survivors can have to deal with a heightened fear of reoccurrence. This is particularly true with metastatic cancer. So, safe and effective treatments for the symptoms in cancer and the physical and psychological effects of the treatments are needed.
Mindfulness training has been shown to help with general cancer recovery . Yoga is both an exercise and a mindfulness practice that has also been shown to be helpful with the residual symptoms in cancer survivors, the psychological and physical ability to deal with cancer treatment and improves sleep. So, it's reasonable to review what has been learned about the benefits of yoga practice to improve the residual symptoms of patients who have survived cancer.
In today's Research News article "Yoga for symptom management in oncology: A review of the evidence base and future directions for research." (See summary below or view the full text of the study at: https://www.ncbi.nlm.nih.gov/pmc/articles/PMC6541520/ ) Danhauer and colleagues review and summarize the published randomized controlled studies of the effectiveness of yoga practice for the treatment of the symptoms of cancer survivors. They identified 29 published randomized controlled trials, 13 conducted during treatment, 12 after treatment, and 4 both before and after.
They report that the published research found that yoga during treatment for cancer significantly improved the patient's quality of life, including physical, emotional social, and cognitive quality of life. They also report that yoga significantly reduced fatigue, distress, perceived stress, and biomarkers of stress and inflammation. Yoga after treatment completion was found to significantly reduce fatigue and sleep disturbance and improve quality of life. There were no serious adverse events resulting from yoga practice reported.
The published research then suggests that yoga practice is a safe and effective treatment both during and after cancer treatment for the relief of the patients' residual physical and psychological symptoms. Yoga practice is a complex of practices that includes postures, breath control, and meditation. It has not been clearly established which of these components or which combination of components are required for the benefits. So, conclusions cannot be made regarding mechanisms of action by which yoga produces its benefits. But it can be concluded that yoga practice is very beneficial for cancer sufferers.
So, manage symptoms in cancer survivors with yoga.
"yoga can combat fatigue and improve strength and range of motion for patients undergoing cancer treatment," – Dr. Maggie DiNome
CMCS – Center for Mindfulness and Contemplative Studies
This and other Contemplative Studies posts are a also available on Google+ https://plus.google.com/106784388191201299496/posts and on Twitter @MindfulResearch
Study Summary
Danhauer, S. C., Addington, E. L., Cohen, L., Sohl, S. J., Van Puymbroeck, M., Albinati, N. K., & Culos-Reed, S. N. (2019). Yoga for symptom management in oncology: A review of the evidence base and future directions for research. Cancer, 125(12), 1979–1989. https://doi.org/10.1002/cncr.31979
Abstract
As yoga is increasingly recognized as a complementary approach to cancer symptom management, patients/survivors and providers need to understand its potential benefits and limitations both during and after treatment. We reviewed randomized controlled trials (RCTs) of yoga conducted at these points in the cancer continuum (N=29; n=13 during treatment, n=12 post-treatment, n=4 with mixed samples). Findings both during and after treatment demonstrated efficacy of yoga to improve overall quality of life (QOL), with improvement in subdomains of QOL varying across studies. Fatigue was the most commonly measured outcome, and most RCTs conducted during or after cancer treatment reported improvements in fatigue. Results additionally suggest that yoga can improve stress/distress during treatment and post-treatment disturbances in sleep and cognition. A number of RCTs showed evidence that yoga may improve biomarkers of stress, inflammation, and immune function. Outcomes with limited or mixed findings (e.g., anxiety, depression, pain, cancer-specific symptoms such as lymphedema, positive psychological outcomes such as benefit-finding and life satisfaction) warrant further study. Important future directions for yoga research in oncology include: enrolling participants with cancer types other than breast, standardizing self-report assessments, increasing use of active control groups and objective measures, and addressing the heterogeneity of yoga interventions, which vary in type, key components (movement, meditation, breathing), dose, and delivery mode.
https://www.ncbi.nlm.nih.gov/pmc/articles/PMC6541520/