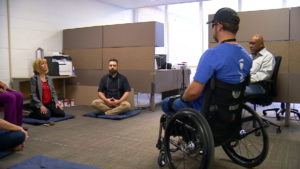 Improve the Psychological Well-Being of Patients with Multiple Sclerosis with Meditation
By John M. de Castro, Ph.D.
"Meditation has been shown to decrease cortisol levels and improve sleep in both beginning and experienced meditation practitioners. Since stress has been linked to MS relapses, and meditation has been shown to relieve biological markers of stress, it could help slow MS progression by regulating the body's stress response." – Maria Joao Almeida
Multiple Sclerosis (MS) is a progressive demyelinating disease which attacks the coating on the neural axons which send messages throughout the body and nervous system. It affects about 2 million people worldwide and about 400,000 in the U.S. It is most commonly diagnosed in people between the ages of 20 and 50 years.  Unfortunately, there is no cure for multiple sclerosis. There are a number of approved medications that are used to treat MS but are designed to lessen frequency of relapses and slow the progression of the disease, but they don't address individual symptoms.
Although there is a progressive deterioration, MS is not fatal with MS patients having about the same life expectancy as the general population. Hence, most MS sufferers have to live with the disease for many years. Mindfulness practices have been shown to improve the symptoms of multiple sclerosis. But it is not known what changes in the patients that mindfulness produces that are responsible for the improvements. One possibility is that mindfulness practice may fundamentally alter the enduring personality characteristics of the patients allowing them to better cope with stress and their disease.
In today's Research News article "Effect of Mindfulness Meditation on Personality and Psychological Well-being in Patients with Multiple Sclerosis." (See summary below or view the full text of the study at: https://www.ncbi.nlm.nih.gov/pmc/articles/PMC5991502/ ), Crescentini and colleagues recruited adults with Multiple Sclerosis forming a meditation group and a treat-as-usual control group. Meditation training occurred in 8-weekly 2-hour sessions containing training, 30 minutes of meditation followed by discussion. Patients were also asked to meditate daily for 30 minutes at home. The patients were measured before and after training for the Big 5 personality characteristics of neuroticism, conscientiousness, agreeableness, extraversion, and openness and also for self-directedness, cooperativeness, self-transcendence, anxiety, depression, and mindfulness.
They found that following meditation practice but not treatment-as-usual, there were significant increases in mindfulness and self-maturity as reflected by the self-directedness, cooperativeness, and conscientiousness and a significant decrease in anxiety levels. Mindfulness training has been previously routinely shown to reduce anxiety levels. The changes in personality characteristics produced by meditation in multiple sclerosis patients are interesting and have not been previously reported.
The changes in the personality characteristics reflect an increased self-maturity in the patients. The increased conscientiousness, self-directedness, cooperativeness suggests that the meditation practice improves the patients' ability to take control of their situation and feelings. These appear to result from the increases in thoughtfulness, impulse control, goal-directed behaviors, organization, and mindfulness of details. This greater self-maturity would allow them to better cope with their disease. This is important for effectively living with this life-long disease.
So, improve the psychological well-being of patients with Multiple Sclerosis with meditation.
"Mindfulness practice appears to be a safe, drug-free approach to coping with stress and anxiety, which may in turn help reduce your MS symptoms." – Amit Sood
"Mindfulness teaches important life lessons aside from helping you manage chronic symptoms. What you learn through meditation is that life is not perfect, but the journey is very interesting. Along the way, you'll examine the roses and smell the flowers. You'll look at that rainbow and say, 'Wow, that's incredible!'" – Ruth Geller
CMCS – Center for Mindfulness and Contemplative Studies
This and other Contemplative Studies posts are also available on Google+ https://plus.google.com/106784388191201299496/posts and on Twitter @MindfulResearch
Study Summary
Crescentini, C., Matiz, A., Cimenti, M., Pascoli, E., Eleopra, R., & Fabbro, F. (2018). Effect of Mindfulness Meditation on Personality and Psychological Well-being in Patients with Multiple Sclerosis. International Journal of MS Care, 20(3), 101–108. http://doi.org/10.7224/1537-2073.2016-093
PRACTICE POINTS
Personality changes, a common symptom in patients with MS, are often associated with poor coping and reduced quality of life.
We exposed patients with MS to an 8-week mindfulness-oriented meditation course and evaluated the effects on personality traits and anxiety and depression symptoms.
Mindfulness-oriented meditation led to changes in personality/character traits reflecting the maturity of the self at the intrapersonal and interpersonal levels and also led to decreases in trait anxiety.
Abstract
Background:
Varied evidence shows that mindfulness-oriented meditation improves individuals' mental health, positively influencing practitioners' personality profiles as well. A limited number of studies are beginning to show that this type of meditation may also be a helpful therapeutic option for persons with multiple sclerosis (MS).
Methods:
We evaluated the effects of an 8-week mindfulness-oriented meditation training on the personality profiles, anxiety and depression symptoms, and mindfulness skills of a group of patients with MS. A control group of patients with MS not enrolled in any training was also tested.
Results:
After mindfulness-oriented meditation training, participants in this group (n = 15) showed an increase in character traits reflecting the maturity of the self at the intrapersonal (self-directedness) and interpersonal (cooperativeness) levels. Moreover, increased mindfulness and conscientiousness and decreased trait anxiety were observed in participants after the training.
Conclusions:
These data support the utility for patients with MS of therapeutic interventions based on mindfulness meditation that may lead to enhanced character and self-maturity.
https://www.ncbi.nlm.nih.gov/pmc/articles/PMC5991502/